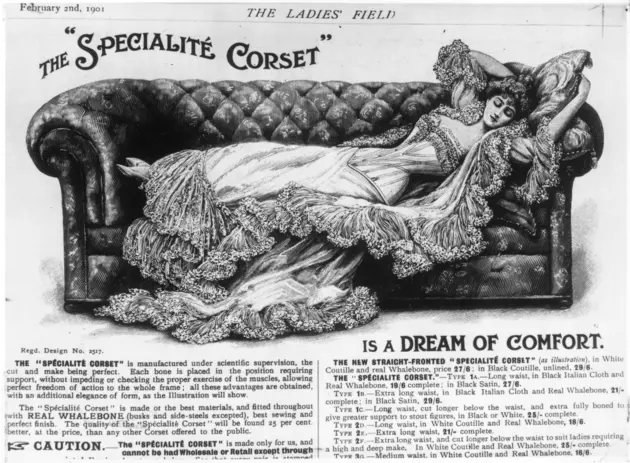 Kalamazoo's History as the World's Leading Corsetiere
Getty Images
There's no escaping Kalamazoo's rich history. Victorian homes still stand proudly in bustling neighborhoods, gargoyles grace the Ladies' Library, and if you look hard enough in the right places, you'll spot a carriage step or two still in their original curb location. That era, so romantic in it's grandeur, conjures up one very specific image; the corseted waists of the Victorian women. I write this in 2019 while wearing a hoodie, jeans, and steel-toe boots, so it's hard to imagine that women of that era wouldn't be caught dead outside their homes without wearing a corset. And Kalamazoo Corset Company was the world leading corsetiere.
According to the Kalamazoo Public Library website, the "Kalamazoo Corset Company was the largest employer in the city and the largest manufacturer of women's corsets in the world. It was also the site of the first major strike by women workers in the Kalamazoo region." Originally founded in Three Oaks as the Featherbone Corset Company, the president moved the business to the corner of Church and Eleanor Streets in 1891. Using turkey feathers in lieu of traditional whalebone, the Kalamazoo Corset Company patented their production methods and produced over a million corsets a year. One of the largest employers of women in the area, they boasted a workforce of over 800 workers. But, issues with "poor wages, long hours, unsanitary conditions, and sexual harassment" forced 500 employees on strike March 2nd, 1912. The news of the strike caught fire, and after national stories were printed hinting at sexual exploitation of the female workforce by male foremen, a boycott of Kalamazoo Corset Company and their products spread. A march of 1,500 union workers only followed. On June 15th, 1912, a compromise was reached between employer and employee, giving women a safe and fair workplace, though after such a high profile strike, the company was forced to re-brand.
In 1922, the Kalamazoo Corset Company was renamed the Grace Corset Company, and began making and distributing bras, girdles, and other women's undergarments as corsets fell out of favor. In 1957, Grace Corset Company was sold to a company in New Jersey. Even though production ceased in Kalamazoo, there is no doubt that the Kalamazoo Corset Company left an indelible mark on Kalamazoo industry and worker's rights.