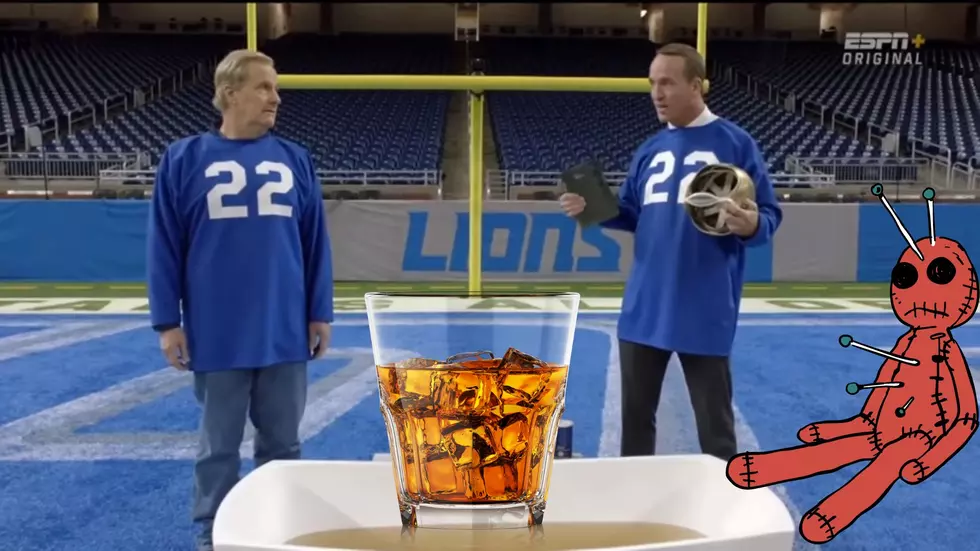 Jeff Daniels and a Bathtub Full of Whiskey Lifted The Lions Losing Ways
Youtube
Lions fans are known for their perseverance. You have to be, to hang your hat on so many games that you NEARLY won, and know that at least ONCE a year, all eyes are on Detroit for a big game (Thanksgiving).
But this year, the Lions' Losing Ways may have been righted by breaking a curse... and all it took was Peyton Manning, Jeff Daniels, a bathtub, and whiskey.
The season started out very hopeful for Lions fans. Hard Knocks on HBO was in town, and behind the scenes, things looked very optimistic... aaaaand then the season started. One close loss against a REALLY good Eagles team kept hope alive, and a win over the Commanders reignited a possible winning culture.
But the next five games were not as hopeful. "Snatching Defeat from the jaws of Victory" as we say in the studio.
But out of nowhere, the Lions come alive against the Packers... then the Bears... then the Giants!
WHAT HAPPENED? Where has this team been all year?
What if I told you... it wasn't the team that changed, but rather a curse lifted by none other than Michigander and lifelong Lions fan, Jeff Daniels?
In a recent episode of "Peyton's Places" on ESPN+, Peyton Manning visits Jeff in Detroit to talk about the Lions. Jeff takes Peyton to Ford Field in his 1957 Lincoln, which also happens to be... "the last time the Lions won a World Championship..." Peyton had to remind him.
But it's what happened at Ford Field that seems to be where the Lions magic begins. The two walk into Ford Field in Blue "22" jerseys, to find a bathtub sitting in the endzone, which obviously piques Daniels' interest.
Then Peyton explains...
"Google Curse Breaking Spell, and you'll come up with this. Fill a bathtub full of 100 cups of water, and a cup of salt."
But Daniels notices it's not water in the tub.
"It's Whiskey. Bobby Lane would have preferred that."
Daniels asks Peyton why he didn't use it against the Patriots during his time in the league, but Manning says Bill Belichick's "Dark Magic" was just too strong.
It's a funny bit, and I highly encourage you to watch the full episode if you get a chance, but I find it NO COINCIDENCE, that since that segment aired on TV, the Lions have been undefeated. They beat the Packers at home, and beat the Bears and Giants on the road, giving Dan Campbell his first two road wins as a head coach.
Believe in this stuff, or not, but the Lions are winning and will need that extra voodoo magic on Thursday, as the Bills (stay) in town for the annual Thanksgiving Day Game.
Top Detroit Lions Storylines Neglected By Hard Knocks
HBO's annual "Hard Knocks" NFL training camp program highlights one team and the biggest stories surrounding it each preseason. But this year the show, which has been on air for nearly 20 NFL seasons, has inexplicably missed several of the issues most critical to the Detroit Lions.