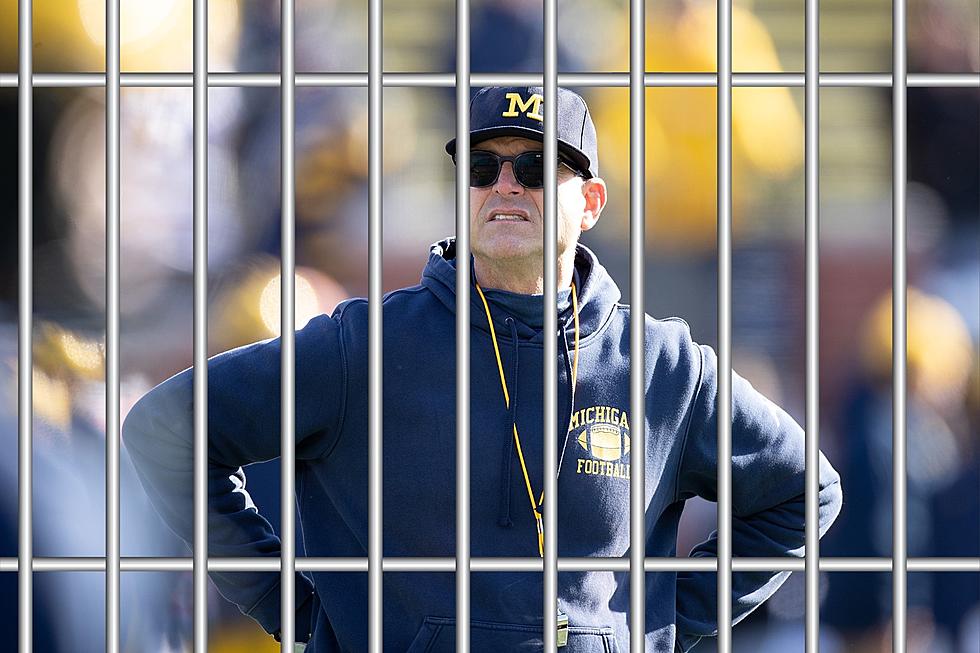 Michigan Reportedly Self-Imposing 3-Game Suspension For Jim Harbaugh
Getty Images
A week after the NCAA's disciplinary board decided a four-game suspension for Jim Harbaugh wasn't enough, Michigan is attempting to stay the harsher hand of college sports' governing body by...conceding less than it did in the first place?
U-M is set to self-impose a three-game suspension for Harbaugh, according to Maize & Blue Review. The ban would cost Harbaugh the entirety of the Wolverines' murderer's row of a non-conference schedule in 2023, which includes heavyweights East Carolina, UNLV, and Bowling Green — all in Ann Arbor.
Last week, the NCAA's Committee on Infractions rejected a four-game suspension for Harbaugh that had been negotiated between NCAA officials and Michigan. That move meant the matter would go to a full hearing, likely extending the issue into 2024. It was also an obvious sign that the NCAA COI wants a harsher penalty for Harbaugh.
It was the first time the COI had rejected a disciplinary sentence recommended by the NCAA, according to Yahoo's Dan Wetzel. The NCAA also bucked precedent by releasing a statement, admonishing those who disingenuously distill the Harbaugh case down to the simple purchase of a cheeseburger.
The Michigan infractions case is related to impermissible on- and off-campus recruiting during the COVID-19 dead period and impermissible coaching activities -- not a cheeseburger. It is not uncommon for the COI to seek clarification on key facts prior to accepting.

The COI may also reject an NR [negotiated resolution] if it determines that the agreement is not in the best interests of the Association or the penalties are not reasonable. If the involved parties cannot resolve a case through the negotiated resolution process, it may proceed to a hearing, but the committee believes cooperation is the best avenue to quickly resolve issues.
So how did Michigan arrive at the three-game mark for its self-imposed suspension of Harbaugh, given that the NCAA's disciplinary board deemed four insufficient?
Maybe U-M thinks the NCAA Powers That Be will cool off in the interim and take the Wolverines' self-administered discipline as acceptable?
Or maybe Michigan believes the worst the NCAA will mete out is the previously agreed-to four-game ban, and that the NCAA will give Harbaugh credit for time served? That would mean Harbaugh would miss the Wolverines' season opener in 2024 vs. Fresno State then return the following week for Michigan's home showdown with Texas.
Perhaps U-M and Harbaugh are simply laser-focused on having this matter resolved ahead Michigan's critical Week 4 clash with... *checks notes*... Rutgers?
I'm a big believer in Occam's razor, a philosophical doctrine dictating that the simplest explanation is also the most likely. When you take a look at this situation through that lens, suddenly everything comes into sharp focus.
Is there anything more on-brand for Michigan than arrogantly refusing to fully cooperate with an investigation, having the four-game suspension it favored for its head coach rejected, then turning around and self-implementing a ban that's somehow even lighter than the one it pissed the NCAA off with a week prior?
How TV Networks Are Ruining College Sports
As major college sports sells off the final bits and pieces of its dignity and soul, the industry is growing more and more unrecognizable to longtime fans. The never-ending drive for added revenue and new revenue streams has given TV networks hegemony over college sports the likes of which we've simply never seen. It's good for business, but hardly ever good for anyone else.
5 Things The Detroit Media Should Look Into Instead Of MSU Athletics Donations
The Detroit Free Press is suing Michigan State University for records pertaining to donations from two billionaire alumni that helped fund Mel Tucker's 10-year, $95 million contract extension. It's peculiar that the Detroit media has such dogged interest in menial and old news at Michigan State after displaying a distinctly different appetite for coverage of the Robert Anderson scandal at Michigan.
Regardless, it appears that the Detroit media is eager to wield its investigative power to hold public institutions and figures to account. With that in mind, we've come up with a few things that would actually merit their attention, effort, and resources, unlike beating down the door for MSU's tax-deduction receipts.