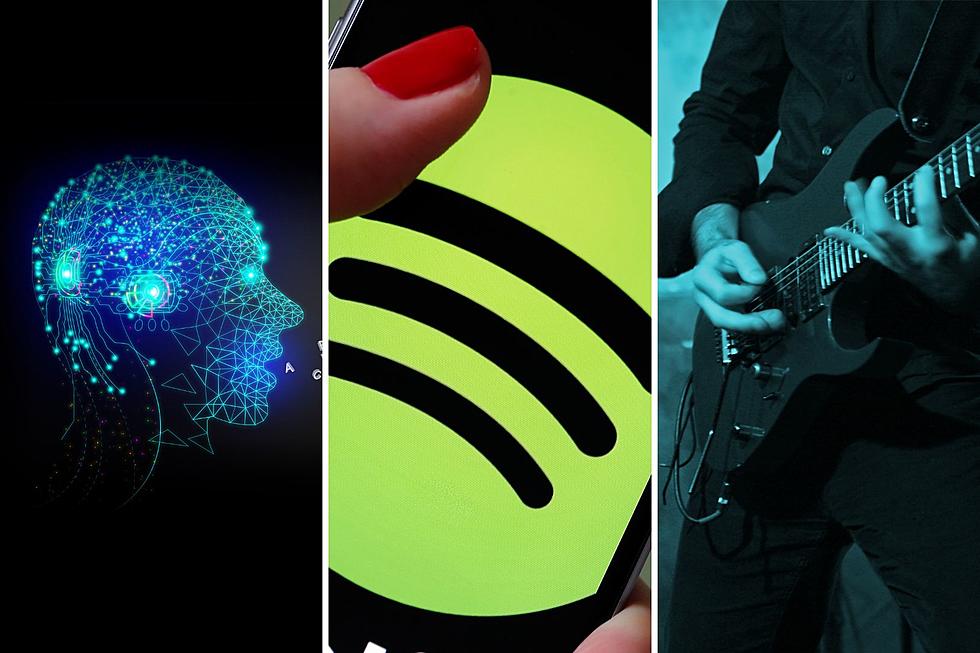 Is Spotify Giving Preference to AI-Generated Music?
iStock (2) / Chesnot, Getty Images
Is Spotify inserting AI-generated music into its artist radio playlists on the ubiquitous streaming service? And where is that music coming from in the first place?
A media mogul on Twitter seemingly suggested as much this week when they shared a playlist of 49 songs they found on Spotify that evidently are all the exact same track but with different artist names, song titles and album artwork. Is it evidence of music driven purely by artificial intelligence?
Hear the playlist near the bottom of this post.
READ MORE: How to See Your 'Spotify Pie Chart'
"i've officially stumbled upon the weirdest thing i've ever seen," Adam Faze, studio chief of FazeWorld, explained in a Twitter thread Tuesday (April 18).
The producer continued, "On a spotify radio this week, [one] song annoyingly kept playing. Except every time I looked, it was a different song name and artist entirely. So I started keeping track. Here's 49 of them."
Faze added, "To make matters weirder, when you click on the writing credits, it's comprised of completely different names on each one. All of the songs have come out between now and last august."
The producer's curiosity about the odd songs comes as AI music continues to work its way to listeners. Some bands now produce their own AI tunes.
AI-Generated Drake + The Weeknd Song
Perhaps the most notable instance of an AI-generated song capturing a large listener base happened days ago when an AI-voiced rap song replicating the hip-hop artists Drake and The Weeknd went viral Sunday (April 16). It was removed from streaming services within days, NBC News reported.
The fake Drake and The Weeknd song, "heart on my sleeve," was streamed 15 million times after being originally uploaded on the platform by a user called Ghostwriter977, according to Axios. Some versions are still available online. Hear that below, as well.
Get the Loudwire newsletter and Loudwire app.
"these are all the same song" Spotify Playlist
"heart on my sleeve" (Fake/AI-Generated Drake + The Weeknd Song)
11 Rock + Metal Bands You Won't Find on Spotify
Spotify doesn't have everything, even when you're just looking at rock music from the last handful of decades. To that end, here are 11 rock and metal groups you can't currently stream on Spotify.