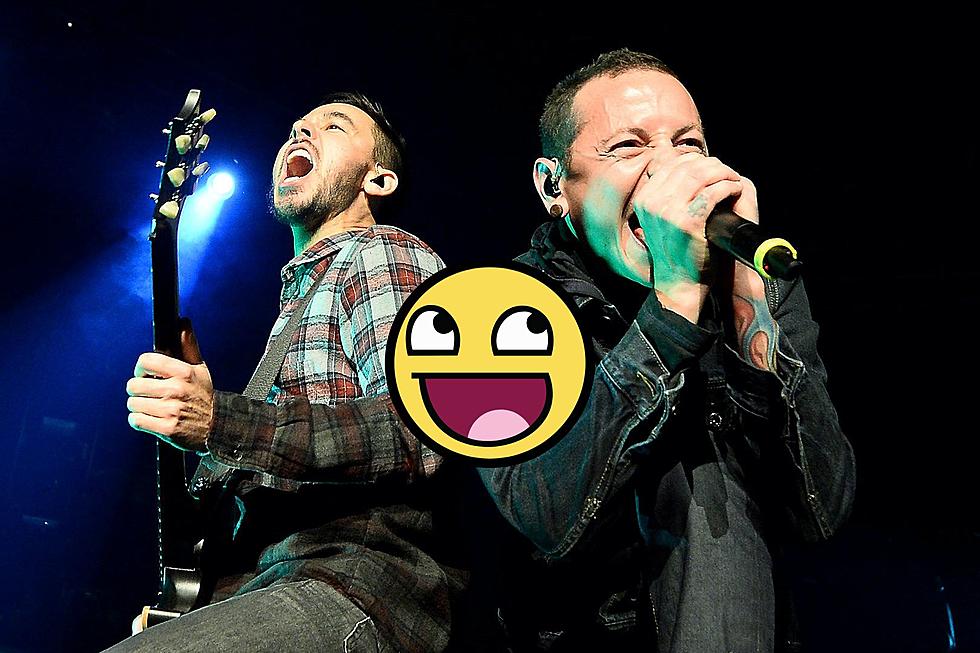 Linkin Park's 'Lost' Debuted at No. 1 on This Billboard Chart
Ethan Miller, Getty Images / Canva
Last Friday (Feb. 10), Linkin Park finally unveiled a previously unreleased Meteroa-era track – "Lost" – to the bittersweet reactions of countless fans. In fact, the powerful tune was so heavily anticipated and popular that it became the first song in over a decade to debut at No. 1 on Billboard's Rock & Alternative Airplay chart.
As described by Billboard yesterday (Feb. 17), during the "Feb. 10 – 16 tracking week," the song "earned 10.1 million audience impressions, according to Luminate. That's the best weekly impression count for any song since Lana Del Rey's 'Doin' Time' earned 10.5 million in its sixth and final week at No. 1 (Oct. 12, 2019)."
Although Twenty One Pilots' "Jumpsuit" launched with a higher total (10.2 million audience impressions) back in July 2018, it only earned it the No. 4 spot for that week. On that note, Billboard clarified, "Lost" is "one of just four songs to bound in at No. 1" on the chart since its June 2009 formation.
So, which was the first? None other than Linkin Park (with "The Catalyst" from A Thousand Suns in August 2010)! Afterward, Foo Fighters' "Rope" (from Wasting Light) did it in March 2011 and Green Day's "Oh Love" (from ¡Uno!) did it in August 2012.
Unsurprisingly, Linkin Park did it a couple more times, too, with "New Divide" reigning supreme for a dozen weeks in 2009 and "Burn It Down" going strong for 11 weeks in 2012. They've appeared a few more times (with lower rankings) as well, but not since frontman Chester Bennington died in 2017.
In fact, Billboard continued, "Lost" is "the first song in the chart's archives to hit No. 1 after the passing of its vocalist." It also landed at No. 6 on the Mainstream Rock Airplay chart.
You can view more of Billboard's coverage of the achievement here.
Speaking of Meteora, Linkin Park also recently revealed details regarding the upcoming 20th anniversary box set of their landmark sophomore LP. As Loudwire previously reported, it's set to arrive on April 7 and will be available "in various configurations," including as a Limited Edition Super Deluxe Box Set, a Deluxe Vinyl Box Set, a Deluxe 3-CD set and a digital download.
All options can be pre-ordered here.
15 Times Linkin Park's Chester Bennington Sang What You Were Feeling
The singer had a knack for delivering powerful emotions through Linkin Park's lyrics.