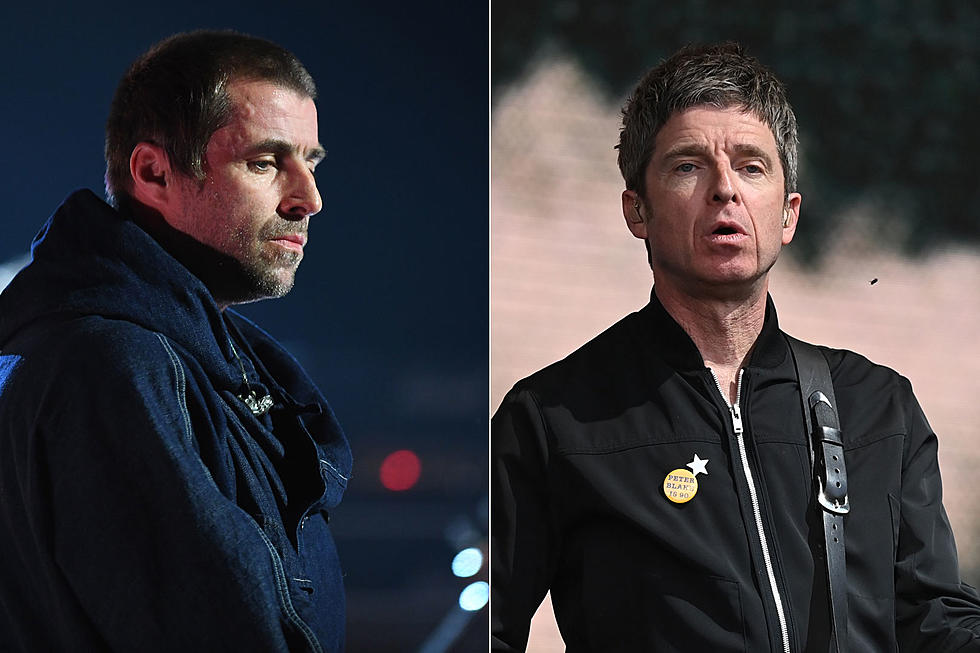 Liam Gallagher Responds to Noel Gallagher's Public Challenge Over Oasis Reunion Talk
Dave J. Hogan / Kate Green, Getty Images
The back-and-forth between bickering brothers Noel and Liam Gallagher continues to be quite entertaining. While there seems to be no movement on a potential Oasis reunion, it hasn't stopped both outspoken siblings from trading barbs through traditional and social media. The latest comes as Noel Gallagher issued a public challenge for his brother to call him if he's seriously interested in a reunion, baiting him that he won't because they'd then have to share space together if the reunion came to fruition.
To recap, during an interview with Seattle's 98.9 KPNW, Noel turned to the camera with his challenge, addressing Liam, "I dare him. If you're watching this now ... I fucking dare you to call me. I dare you to call me. And you won't call me because if you do call me and I go, 'Actually that's a good idea, actually that might work,' then the ass falls out of his trousers because then, then you've got to be in the same room with me. And we both know how that ends up. So you call me. Stop tweeting. You're bigger than that. You're better than that."
Within the chat, Noel reiterated that he's been open to a conversation about it, but claiming that Liam is as uninterested in the idea as he is despite his public appeals to reunite over the years.
"He doesn't want it and he knows that neither of us is particularly fucking interested in it. I know he doesn't want it, and I'm very comfortable in what I do. I couldn't give a flying fuck one way or the other," stated Noel. "But he keeps going on about it and I'm like, 'Well, okay. Call us then. Let's see what you've got to say. You've made up all these imaginary ground rules down the years and telling kids it's happening, it's happening now, it's coming, it's definitely happening, blah, blah, blah."
In recent months, when Noel has publicly shared his desire that he's open to a phone call if Liam is serious about a reunion, the singer has often countered via his Twitter account, calling out Noel for damaging the Oasis brand by dismissing past reunion opportunities. While Liam was initially quiet as Noel's latest public challenge made the media rounds, he's since been actively busy with a series of tweets addressing Noel's latest comments.
"Rkids been in usa 2 days and he's turned into RIC FLAIR it's coming up it's DARE," Liam began, dropping a famous wrestler and a Gorillaz lyric all in his first comment on the challenge. When a fan asked what would happen if they were in the same room together, Liam countered, "Don't know he sounds a bit scary id defo tool up."
When another fan asked why Noel doesn't just call him, Liam stated, "Exactly he split the band up put lots of people out of jobs ruined many folks lives and he wants me to do the calling he is fucking DELUSIONAL he can call me though id love to hear from him it's been to long."
Liam added that he feels Noel's "mind games" in this case have backfired, explaining, "He's lost the plot thinks by playing mind games he's gonna win over the fans all his doing now is getting asked about me in his interviews while promoting his new drip snookered himself once again little tart."
When another fan asked if Noel had called yet, Liam replied, "Don't be silly."
Liam then continued to tweet, calling Noel "Cuckoo," but telling one fan, "He knows how I feel about him deep down don't know why he don't call me I'm here I love him he's my BIG brother well little BIG little you know what I mean."
He then addressed Noel directly, stating, "Listen Noel I know you check my tweets call me I'm actually concerned about you we all are you don't seem yourself Cmon big guy pick it up."
From there, Liam's "love" fest began, with the singer seemingly trying to paint a picture that it's all love and positivity in his world.
Does this get us any closer to an Oasis reunion or push it further apart? That remains to be seen. But Liam has now countered that he's open for a phone call as well. Perhaps a "Sunday Morning Call"? We'll see.
READ MORE: Noel Gallagher - 'AI Will Be the Final Nail in the Coffin of Music'
Regardless of the current state, we do know that there will be a 30th anniversary reissue of Oasis' Definitely Maybe in 2024. Liam Gallagher has gone on record with plans to play the album in full at a few "biblical" venues next year, while Noel has explained why he won't revisit the record in full though he still does honor Oasis' past within his setlists.
Noel, meanwhile, is currently making the rounds in the U.S. on tour with Garbage and Metric in support of his newly released Council Skies album. You can get your tickets here.
10 Huge Rock + Metal Bands Whose Singer Isn't the Main Lyricist
The lyrics to these bands' songs were mostly written by other members.