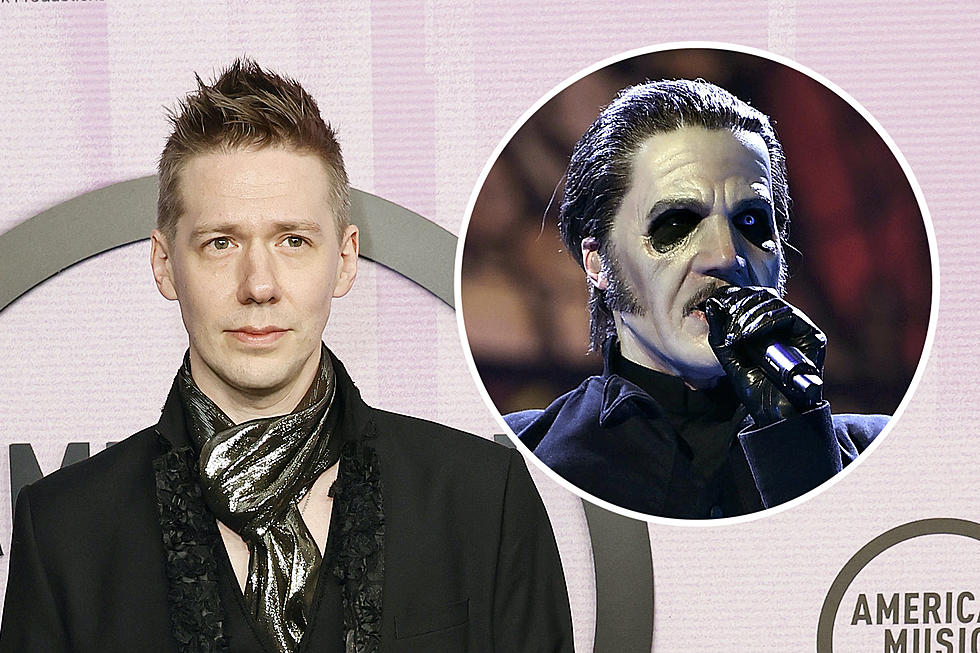 Ghost's Tobias Forge Comments on Modern Conservatism – 'It's Just Stupidity!'
Frazer Harrison / Theo Wargo, Getty Images
Ghost mastermind Tobias Forge opined that the counterrevolutionary tactics of the modern conservative movement, not just in the U.S. but globally, influenced his decision to release Ghost's cover of Genesis' early-'90s televangelism satire "Jesus He Knows Me" on Easter Sunday (April 9).
"It's just stupidity!" the musician says of the movement that "wants to regress the world and just completely turn the clock back," as he summarizes.
The cover version of 1992's We Can't Dance single recorded by the Ghost bandleader known in character as Papa Emeritus IV et al., joins four other covers on Ghost's Phantomime EP, out May 18.
READ MORE: 10 Heaviest Bands to Play Late-Night TV
To NME, Forge said the song's message is more pertinent today than in the recent past.
"A few years ago, maybe 10 years ago, it almost felt like this song — these other songs too — were a little bit dated lyrically," the singer explains. "That's because they were! You know, this band, these guys in Genesis, were singing about early-'90s ladies, about televangelists!"
He continues, "It felt dated a few years ago. Whereas now, everything that we're singing about on this song, everything that this song is about is actually right back up beside what I'm writing about in my own material."
Forge says, "What I'm writing about is a completely contemporary commentary on basically a movement within the free Western world who wants to flatten the Earth. This movement wants to regress the world and just completely turn the clock back to Mediaeval times. I don't know what that's about — it's just stupidity!"
What Forge Thinks About Conservatism
For the Ghost bandleader, the Genesis cover "is actually a very important song to put out. I think that Phil [Collins], who I'm assuming wrote the lyrics, was (and still is) hitting the head of the nail pretty hard."
Referring to the current aura around right-wing ideology, Forge muses, "There's this almost outspoken like mantra of, 'Let's be stupid!' Because that's so much more fucking comfortable. You know, [it's like] 'Let's just be ignorant!' And what actually ends up happening is that because we seem to collectively just decide this, everybody follows it."
READ MORE: Tobias Forge Shouts Out Maneskin
The musician, who is Swedish, continues, "The Western world is going through a very similar time everywhere. It's just that we don't really have a Trump anywhere else but America. We don't have a GOP, we don't have a Marjorie Taylor Greene. But there are a lot of the things that are happening in America actually happening all over Europe."
How Are Conservatives Going Backward?
Last year, the Supreme Court overturned Americans' right to abortion, maintained for the last half-century under 1973's Roe v. Wade decision.
The controversial overturn represents the court's current supermajority of conservative justices. Now, conservatives are now going after medication that assists in abortions, as Fox News reported. Yet 61 percent of Americans say abortion should be legal, according to a 2022 poll from Pew Research Center.
Last month, as The Hill reported, Tennessee became the first U.S. state to enact a law restricting drag shows. The ban prohibits public "adult cabaret performance." It's the first enacted of several similar proposed bills currently working their way through GOP-led state legislatures. Tennessee's Senate Bill 0001 bans gender-affirming care for trans individuals.
More Ghost
Ghost's latest studio LP, IMPERA, arrived last year. Their "RE-IMPERATOUR" kicks off this summer. Get tickets here. Subscribe to Loudwire's newsletter and get the Loudwire app for more rock and metal news.
Ghost, "Jesus He Knows Me" (Music Video)
Ghost Albums Ranked
Loudwire's ranking of every full-length album by Ghost.