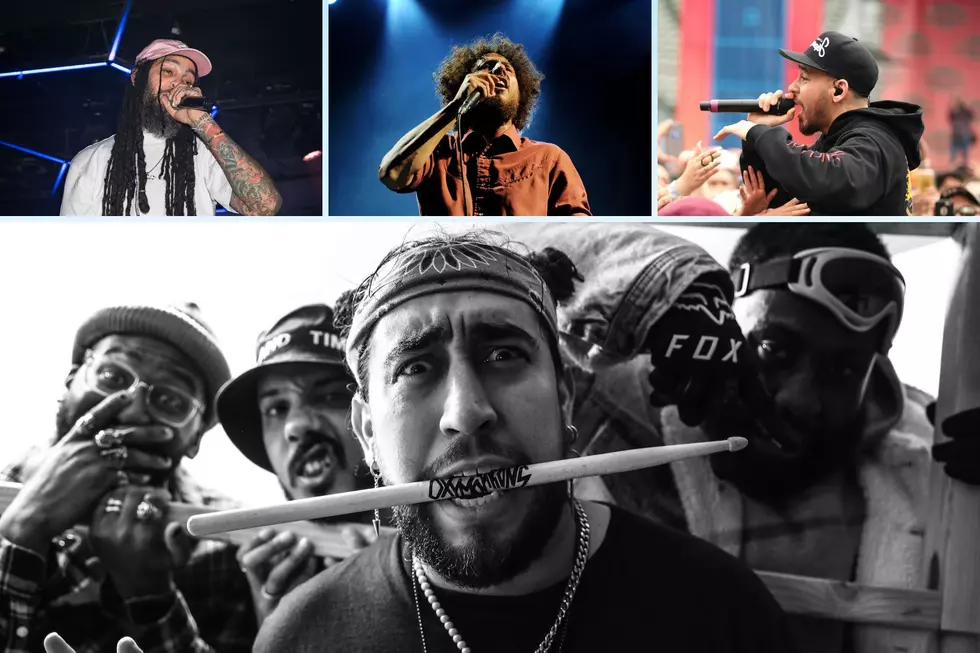 The Best Rappers in Rock Music, as Chosen by Oxymorrons
Jason Koerner, Kevin Winter, Christopher Polk (Getty Images) / GEEKLiFE MEDIA
Who are the best rappers in rock music? Oxymorrons have a few ideas — they're the talented hip-hop/rock fusion band from New York that just released the new metal anthem "Enemy." And naturally, they have their fingers on the pulse of rapping in rock music.
So who do Oxymorrons say are the best rappers in rock music? Some of their answers may surprise you.
Listen to "Enemy" below, then see Oxymorrons' picks for the best rappers in rock music.
Oxymorrons have a lot influences to choose from. "From my dad playing Lionel Richie to Phil Collins, to our older brother playing Biggie to Metallica, I was definitely an MTV baby," Oxymorrons vocalist K.I. told Loudwire. "I would watch videos from acts like Soundgarden and Nirvana and pretend to be a rock star, even breaking my bed a few times."
It was acts like NERD, Jay-Z, The Diplomats, Outcast, Jamiroquai, Lupe Fiasco and Kid Cudi that influenced the band the most, Oxymorrons vocalist Deee added. "They inspired us to be ourselves."
It's that "real New York braggadocious shit that our city is known for," Oxymorrons said when Loudwire premiered their track "Green Vision" in 2021. "It's Oxy: Hip-hop low end, heavy hitting drums, wailing guitars and most importantly, swag. We here to break down genre barriers, kick down walls of what people consider rock music. Rock has evolved but it's here to stay and so are we! Get used to it!"
So with a true love and appreciation for both rap and rock, who better to ask to list out the best rappers in rock bands? Head below to see what the experts had to say!
Learn more about Oxymorrons at oxymorrons.com.
Oxymorrons, "Enemy" (Music Video)
10 Best Rappers in Rock Music
As chosen by the New York hip-hop fusion rock act Oxymorrons.
35 Important Rock + Metal Albums Turning 20 in 2023
Two decades later and these rock and metal albums released in 2003 still hold up.