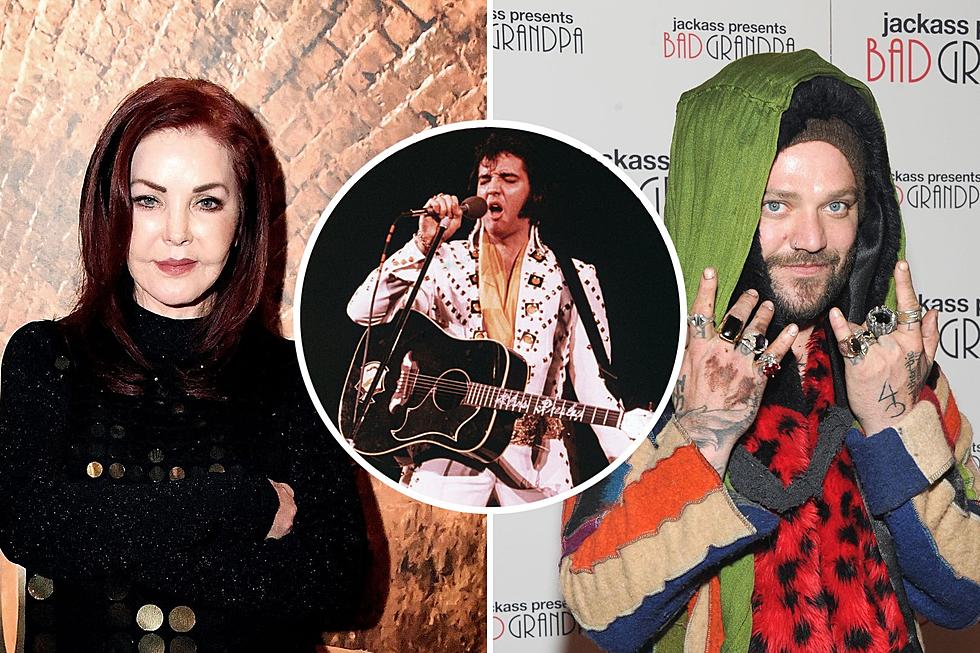 Priscilla Presley Says She Didn't Give Rare Elvis Items to Bam Margera
Gerardo Mora / Fotos International / Jamie McCarthy, Getty Images
Priscilla Presley, former wife of late rock icon Elvis Presley, has denied Bam Margera's story that she gave the Jackass personality some of Elvis' personal items.
Earlier this month, Bam shared a set photos of himself with Priscilla, the hip-hop artist Yelawolf and Navarone Garibaldi, Priscilla's adult son and the singer of the band Them Guns. (Garibaldi's half-sister, Lisa Marie Presley — Priscilla's daughter with Elvis and an artist herself — died last month at 54.)
This week, it was reported that Priscilla had gifted Bam one of Elvis' robes and a ring. Bam said he gave the robe to his father, Viva La Bam's Phil Margera.
But now, according to an update from TMZ, Priscilla has refuted that she gave him the items and claimed that Bam "came over, talked non-stop about his new ventures and personal struggles and asked for a photo with me for his father, who is a big fan."
She continued, "Unbeknownst to us at the time, Bam chose to circulate those photos accompanied by false information and storytelling. After what Bam has chosen to do, my son and I want no further communication with him. I consider him a dishonest and unstable individual. I had no idea who he was or that he was filming in my home without my consent."
Priscilla added, "At no time during the visit did I give him anything of Elvis'. I still have everything he ever touched. I would never disrespect Elvis who was the love of my life by giving away anything. … I have always protected them. … Elvis belonged to all of you and I cherish my life with him too much to ever squander anything."
Subsequently, Bam said he was sorry. "I want to apologize to [Priscilla] and Navarone Presley for my behavior," he wrote in an Instagram post on Wednesday (Feb. 15). "I'm very sorry and embarrassed, and I can't apologize enough for acting like a jackass."
Bam Margera Apologizes to Priscilla Presley - Feb. 15, 2023
He clarified, "Navarone gave me a robe and ring that I gave Phil to be a part of Phil's Elvis stuff. I'm making Navarone a $10,000 Heartagram necklace because I love his band … with hopes to record and tour."
Bam first found fame skating in films such as 1999's CKY. He hit peak popularity in the 2000s when he starred in his own show, Viva La Bam. Bam is also in 25 episodes of the original Jackass series. He appears in the first three Jackass films and makes a brief cameo in Jackass Forever, the latest movie.
On pal Steve-O's Wild Ride! podcast last month, Bam discussed his history of addiction struggles. He said he "basically was pronounced dead" after being hospitalized with COVID-19 and pneumonia last year. Before that, he was in and out of rehab after completing a 12-month rehabilitation program.
"At one point, I was on so many pills at once that my thing was, I would wake up around 3:00AM [and] sleepwalk till I knocked myself out like fainting or whatever," Bam told Steve-O. "And an ambulance would come, they'd take me to the hospital, check my head, do an MRI [or] CT scan [and] realize that I'm okay. The very next night, same thing, same time — I'd knock myself out sleepwalking. I did this for a week straight."
If you or someone you know is struggling with drug and/or alcohol dependence, help is available now through the Substance Abuse and Mental Health Services Administration website. Call 1-800-622-HELP (1-800-622-4357) or send a text to 1-800-487-4889.
Watch: Bam Margera With Elvis Robe (TMZ)
Bam Margera With Priscilla Presley, Navarone Garibaldi + Yelawolf - Feb. 8, 2023
Rock Star Kids Then and Now
Photos of famous children of musicians. What are they doing now?
Beavis + Butt-Head's Top Ten Brutal Music Video Reviews
We rounded up the most scathing music video commentaries from MTV's Beavis + Butt-Head.