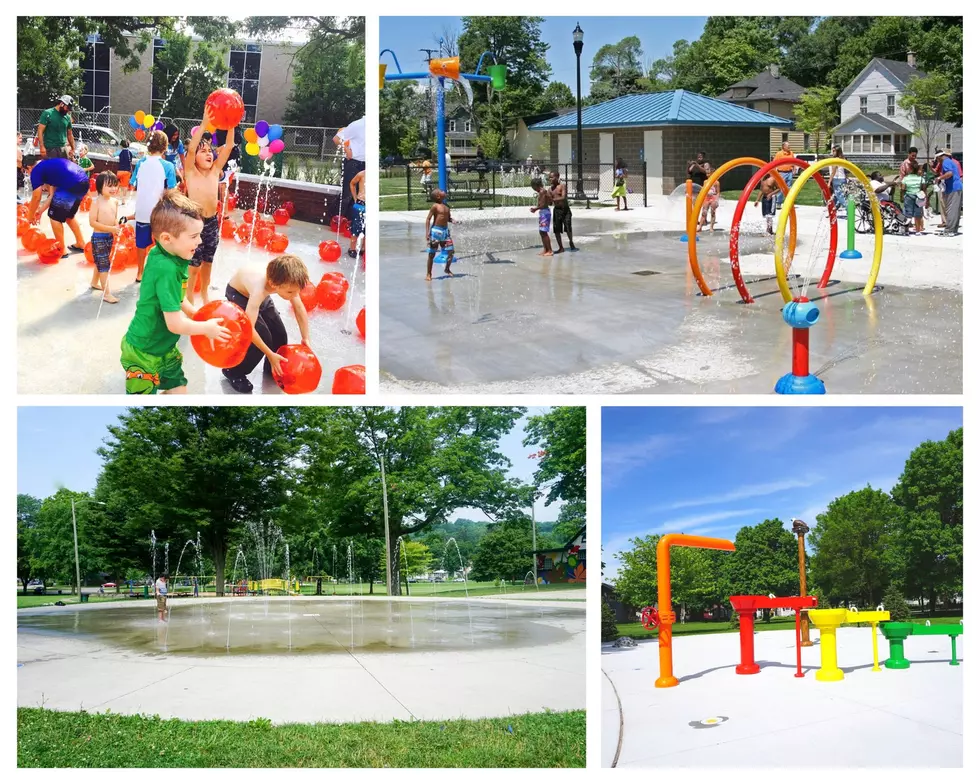 Coming Soon – City of Grand Rapids to Get Its 16th Splash Pad
City of Grand Rapids Park and Recreation, Facebook
Summer might seem a loooooong way off...
But soon enough, sunny days and hot temps will return, and you'll be looking for a place to cool off with the kiddos.
Well, the City of Grand Rapid has announced plans for the area's 16th splash pad!
Where are Grand Rapids Splash Pads?
Currently, the City of Grand Rapids has fourteen splash pads - and a 15th already in progress. Grand Rapids' splash pads are free to use!
Aberdeen Park -2230 Eastern Ave NE
Alger Park - 921 Alger Street SE
Campau Park - 50 Antoine Street SW
Cherry Park - 725 Cherry Street SE
Fuller Park - 300 Fuller Avenue NE
Gerald R Ford Middle School - 851 Madison Avenue SE
Heartside Park - 301 Ionia Street SW
Highland Park - 523 Grand Avenue NE
Joe Taylor Park - 1030 Bemis Street SE
Lincoln Park - 231 Marion Avenue NW
Mary Waters Park - 1042 Lafayette Ave NE
Mulick Park - 1632 Sylvan Avenue SE
Roosevelt Park - 739 Van Raalte Drive SW
Wilcox Park - 100 Youell Avenue SE
Progress is ongoing at the City's 15th splash pad at Garfield Park at 2111 Madison Ave SE, which should open to the public in summer 2023.
City splash pads are usually open daily from mid-June to mid-September.
So where is the new splash pad going in? Camelot Park!
Grand Rapids Camelot Park to Get New Splash Pad
The City of Grand Rapids Parks and Recreation Department has announced that Camelot Park will be getting the City's 16th splash pad. Camelot Park is located at 2230 Rowland Ave. SE.
Other Camelot Park improvements include a new restroom and picnic shelter with grill, drinking fountain, new park sign, and accessible pathways.
The City says planning and design is currently underway, with construction set to begin in 2023.
Renovations at Camelot Park are made possible due to the parks millage passed by Grand Rapids voters in 2019. See more past and future park projects here.
Grand Rapids Highland Park Boulder Wall Gets New Murals
Artist Nick Nortier has created a new public art piece on the boulder wall at Grand Rapids' Highland Park.
Outdoor Games, Gear, and Equipment You Can Rent for FREE From Grand Rapids Gear Library
Grand Rapid Parks and Recreation
recently added skateboards to the
Thrive Outside
Gear Library. Did you know about all the cool stuff you can rent for free? Just about anything you'd need for a camping trip you'll find in the Gear Library at Roosevelt Park Gym, plus team sports equipment, clothing, picnic supplies, even gear for cold weather activities too! The Gear Library is located at the gym at Roosevelt Park at 739 Van Raalte Dr. SW in Grand Rapids. The library is open on Wednesdays, Thursdays and Fridays from 2:00 pm to 7:00 pm.