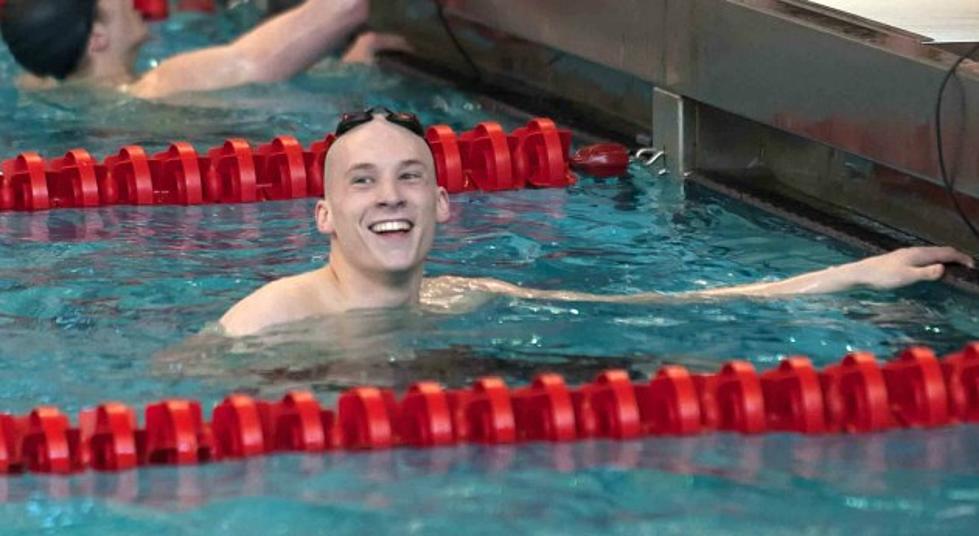 East Grand Rapids Boys' Swimming's Andy MacGregor Named High School Athlete of the Week
Andy MacGregor took two freestyle titles and was on a winning freestyle relay at the MHSAA Division 3 boys' swimming state championships. (Photo: Loren Filion)
MacGregor won the 200-yard freestyle in 1 minute, 40.96 seconds and took the 100 freestyle in 46.09 seconds for two individual titles at the MHSAA Division 3 state meet last month at Oakland University in Rochester Hills.
He also anchored the Division 3 state record-setting 200 freestyle relay, teaming with Braden Wiener, Jack Filion and Bart Christian in a victorious 1:26.06 clocking to edge Chelsea by 0.54 second and Cranbrook-Kingwood by 0.81 second with Hamilton fourth. In addition, he anchored East Grand Rapids' runner-up 400 freestyle relay with Filion, Cade Vruggink and Nathan Hein as the Pioneers 3:08.15 was behind Cranbrook-Kingwood's record-setting 3:06.15 with Hamilton third.
Hein also won the 50 freestyle in 21.27 seconds as the Pioneers took third with 248 points, to Cranbrook-Kingwood's 430, Chelsea's 299.5 and Hamilton's 215 with Grand Rapids Christian fifth and Catholic Central eighth at the state championships.
East Grand Rapids Coach Butch Briggs said MacGregor and Hein, also a junior, were catalysts as third-year varsity swimmers for the squad all season long, with both having had top 10 state finals finishes as sophomores.
"He's probably the hardest worker I have," Briggs said of MacGregor. "He has a great work ethic.
"The thing that has helped is he's made the effort and is doing all the little things he needs to improve."
That includes outside the pool, where the off-season training and strength room work helped the 6-foot, 1-inch MacGregor get stronger. That helped him improve at the state meet, where he'd finished second in the 200 freestyle and fifth in the 500 freestyle in 2014.