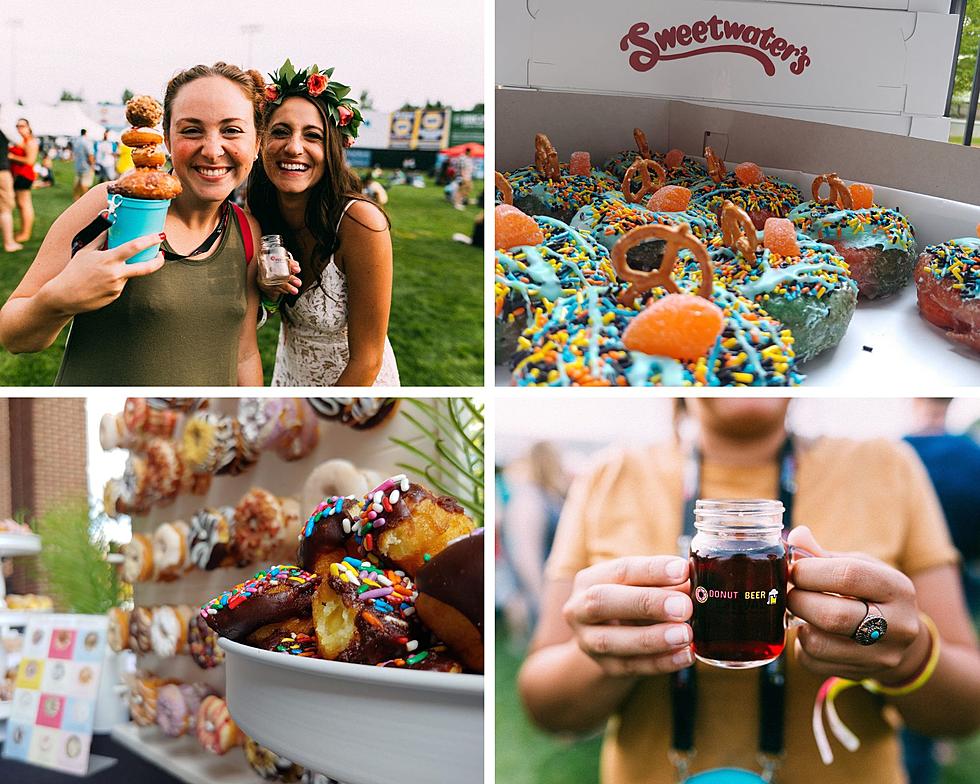 Donut and Beer Festival Returns to Grand Rapids After Four Years
Donut and Beer Festival, Facebook
Mmmm donuts... and beer!
For the first time since 2019, a Donut and Beer Festival is coming back to the Grand Rapids area!
The Donut and Beer Festival Grand Rapids 2023
The first ever Donut and Beer Festival was held in Kalamazoo, Mich. in 2017. Since then, it has moved to different cities across the country, including Grand Rapids.
Grand Rapids' Donut and Beer Festival 2023 is Saturday, May 6, 2p.m. to 6p.m. at LMCU Ballpark, home of the West Michigan Whitecaps.
Brian Colopy, founder of the Donut and Beer Festival, said in a release,
We can't wait to bring this event back to Grand Rapids. The community came out in full force at our 2019 event and we are taking this event to new heights.
You'll be able to enjoy donuts and other treats from up to 30 vendors and samplings from over 50 Michigan breweries.
Looks like some vendors come up with some pretty wild (and delicious looking) creations!
There will also be yard games, live music, and more.
Each guest will get donut samples, beer/cider samples, a mason jar sampling glass, and more.
This is an event for all ages and includes non-alcoholic "Cider" tickets. Kids 12 and under get free entry with an adult, sample tickets not included.  Additional tokens for samples can be purchased at the event: $2 donut, $3 drinks.
Stay tuned for updates on the event here.
Tickets For Grand Rapids Donut and Beer Festival
According the Donut and Beer Festival website, the event has sold out each year!
Tickets go on sale March 9, but if you join the Priority List, on March 9 you'll have early access to tickets.
VIP tickets are $59 and grant access to the event one hour before the general public. General admission tickets are $44.
VIP tickets include:
Souvenir sampling cup
Branded lanyard
10 beer sampling tokens
10 donut sampling tokens
General Admission tickets include:
Souvenir sampling cup
Branded lanyard
6 beer sampling tokens
6 donut sampling tokens
There are also non-alcoholic ticket options. Find out more on tickets here.
25 Breweries to Hit Up in Grand Rapids
Michigan is filled with 100's of great craft breweries. Both large and small companies, there is no beer shortage here. Check out 25 breweries in Grand Rapids here.
Incredible MI Breweries You Have to Visit
Michigan is an absolute Mecca for beer lovers! Check out some of our favorite breweries around the state from A to Z...Any you would add? Let us know!
Quench Your Thirst With The 20 Most Instagrammed Michigan Breweries
Michigan is known as the 'Great Beer State' and with nearly 500 breweries, we are living up to the title. We searched hashtags on Instagram to find the most tagged Michigan breweries. Check out the 20 most Instagrammed breweries in the Great Beer State below.