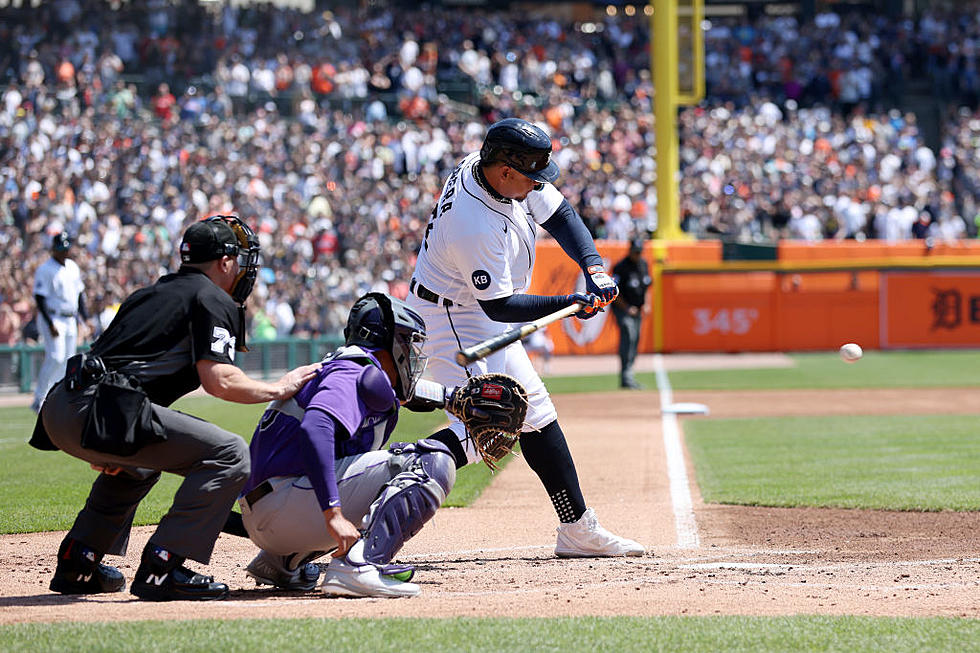 Didn't See It? Watch Miggy Hit Big Number 3000 and One More!
Katelyn Mulcahy/Getty Images
What, you didn't see the Detroit Tiger's Miguel Cabrera get his historic 3000th hit? Thousands of other fans did, on TV, in packed Comerica Part.
Okay enough shaming, neither did I. Drat, but family first,  so I spent Saturday watching both soccer and hockey. When you have kids/grandkids, you have to be there.
But, what a huge, exciting milestone it was when Miguel Cabrera reached the 3,000 career hits Saturday at Comerica Park, becoming the 33rd player in major league history to do so.
Miggy Running to 1st!
Fox17 reported 3,000th hit came on a single in the first inning of a 13-0 Detroit Tigers win over the Colorado Rockies, the first game of a split doubleheader.
Here is Cabrera's historic hit!
Certainly after that they had to stop the game for an on-field celebration that included members of Cabrera's family. Cabrera later returned to the field at the end of the inning for a curtain call from the announced crowd of 37,566 at Comerica Park.
Even Red Wings got to celebrate at Little Caesars Arena, because Cabrera's milestone at-bat was shown live to the crowd watching the Penguins-Red Wings game.
From a Fan's View, So Exciting!
Cabrera is in pretty darn good company because only Ty Cobb and Al Kaline have reached 3,000 with the Tigers! He's also only the seventh player in major league history with at least 3,000 career hits and 500 career home runs.
There is only one other active major leaguer who has 3,000 hits, and he's no slouch of a player. It's  Albert Pujols, and he had recorded a message to Miggy thay the team played on the big screen in the game.
At that moment, Cabrera tied Baseball Hall of Famer Roberto Clemente with 3,000 hits.  But he wasn't through. He passed Clemente in the 6th inning with a two-run single for hit number 3,001.
The Tigers said they have plans to honor Cabrera's with a pregame ceremony at Comerica Park on June 12.
LOOK: MLB history from the year you were born
Stacker
compiled key moments from Major League Baseball's history over the past 100 years. Using a variety of sources from Major League Baseball (MLB) record books, the Baseball Hall of Fame, and audio and video from events, we've listed the iconic moments that shaped a sport and a nation. Read through to find out what happened in MLB history the year you were born.