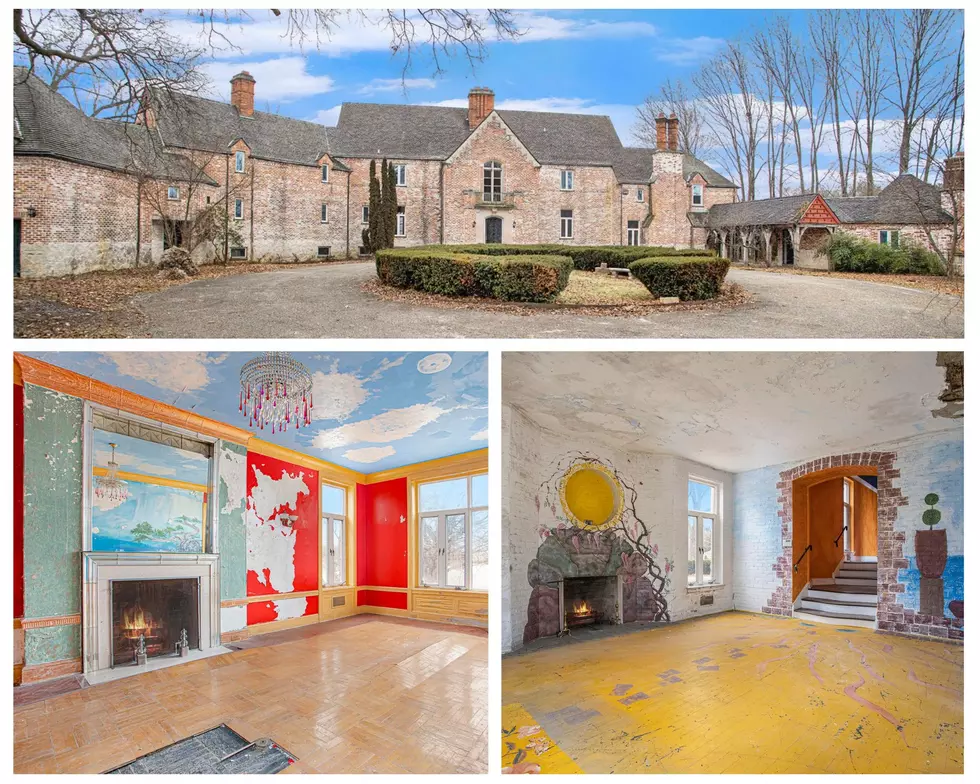 Up for a Project? Lakefront Michigan Mansion for Sale Could Be STUNNING with Some TLC
Jim Criteser, ReMax
Warning: Some of the paint jobs on the walls and ceilings are REALLY something...
That said, this Battle Creek mansion for sale could be absolutely beautiful if someone is willing to fix it up! Plus, it's lakefront!
The 8,480-square-foot, nine-bedroom, 13-bathroom home sits on more than 2 acres and has 250 feet of lake frontage on St. Mary Lake.
It's full of fireplaces and cool built-ins There are two kitchens and butlers pantry on the main level with a food elevator ''dumb waiter'', and four large entertaining areas. Outside you'll find multiple patios, gazebos, and gardens, plus a four-car garage, and a separate guest house.
As the listing says, the possibilities are endless with what you could do with the place!
It screams wedding venue to me. Or you could open a bed and breakfast, or heck, turn it into a fantastic party pad for you and your friends!
I mentioned the unusual walls and ceilings... Here's just one example, you can see more in the gallery below:
Is that a Chinese dragon on the floor?
This had me SO curious about what the place used to be... apparently it was once a recreational retreat for nuns! In the 1970s it was owned by the Sisters of Mercy of Detroit.
Construction on the estate known as White Gates began in 1935 and was completed in 1938. The owners were the Burt family, descendants of Wellington Richardson Burt of Saginaw, a millionaire financier-lumber baron. The Burts hosted many lavish parties on the grounds.
And now it could be yours for $799,000!
Lakefront Michigan Mansion, Former Nun Retreat, On Market for $799K
Built by a wealthy family in the 1930s, this Battle Creek mansion became a recreational retreat for the Sisters of Mercy of Detroit in the 70s. While it could use some work, it still seems like a deal for
$799K
. Sure, some of the interior paint jobs are pretty weird... but the gazebos! The fireplaces! And that lovely view of St. Mary Lake!
Famed Architect, Louis Kamper-Designed Castle for Sale in Detroit for $1.2M
A magnificent mansion in Detroit designed by Louis Kamper and built in 1906 has
hit the market
for $1.2 million. Boasting 25 rooms, unique features of the home include intricate woodwork, hand-painted decorative ceilings, marble mosaics, custom hand-cut beveled glass, and more.
Own a Piece of History with Magnificent Michigan Lakeside Castle
A stone castle with 113 feet of lakefront property has
hit the market
in Saint Clair Shores, Michigan, for $850K.
The unique, five-bedroom, four-bathroom, 4,000 square foot home was originally built in 1926. The property boasts terrazzo flooring throughout the main level, and hardwood floors on the second. Other features include stunning views of Lake St. Clair, a widows walk, turret, Juliet balconies, multiple fireplaces, boathouse, and a 700 square-foot carriage house.