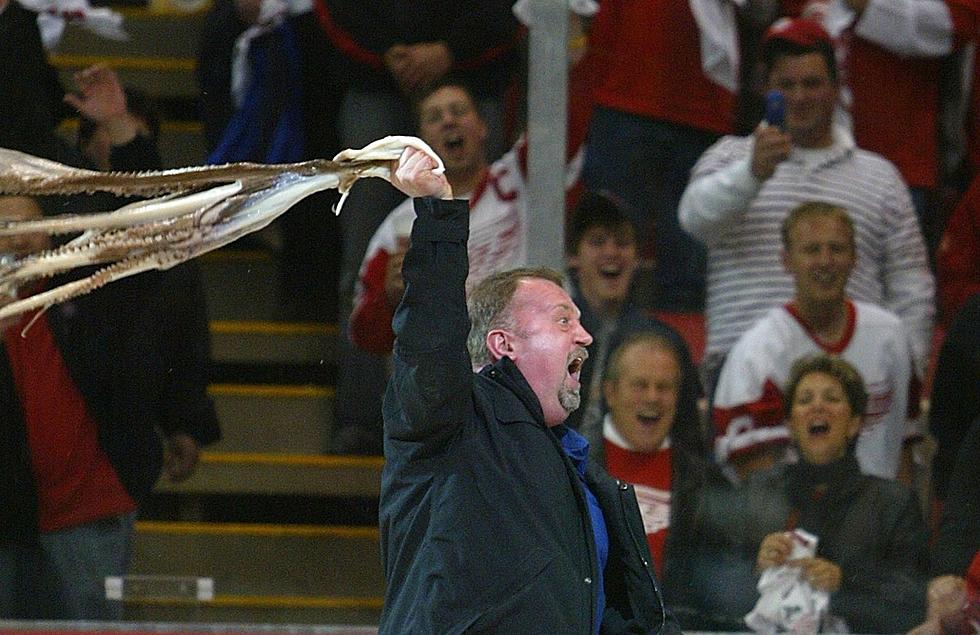 We Now Know Why The Red Wings Fired Beloved Zamboni Driver Al Sobotka
Credit: Getty
We now know why long-time Detroit Red Wings Zamboni driver Al Sobotka was fired.
Al Sobotka was fired by the Detroit Red Wings on February 17th, 2022.
Even if you're not a huge hockey fan you most likely have seen pictures or videos of him cleaning up an octopus off the Ice after being tossed by fans.
Why Do Red Wings Fans Throw Octopus On The Ice?
According to Wikipedia, on April 15, 1952, two brothers, Pete and Jerry Cusimano, who owned a fish market, decided to throw an octopus onto the ice at Olympia Stadium, with the eight tentacles of the octopus symbolizing the eight wins it took to win the Stanley Cup at the time. The Red Wings were a perfect 7–0 in the playoffs and were one win away from not only winning the Cup but becoming the first perfect team in the NHL's post-season history. The Red Wings won that game, and the media made mention of the octopus "omen" in the papers the following day, thus establishing the octopus legend in the process. Fans have been throwing octopi onto the ice at Red Wings games ever since.
Why Was Long-Time Detroit Red Wings Zamboni Driver Al Sobotka Fired?
Clickondetroit reported that Al suffers from benign prostatic hypertrophy, a condition that causes "a frequent and uncontrollable need to urinate." Al had just finished cleaning and maintaining the ice in the main rink on February 2nd when he moved the Zamboni into the garage.
There's a pit in the garage where the ice is unloaded and drained before it runs into the sewer, It's not open to the public, and access is limited to the ice crew, all of whom are men.
Al suddenly experienced an uncontrollable urge to urinate due to his BPH condition, To access a restroom, Al would have had to exit the garage and walk 60-70 feet to a public restroom. Instead, standing behind two Zambonis and seeing no one around, he urinated into the pit, which contained water to be drained.
The lawsuit says another employee who works under Sobotka saw what happened and reported it to management.
I believe you should definitely talk to your boss or HR contact at work if something happens that you don't feel comfortable with. I also think that since nobody was around, except for another male employee, this could have been handled with some kind of punishment, write-up, and/or suspension.
Firing a person for this after working for you for over 50 years seems heartless and unnecessary. As a Red Wings fan, I'm disappointed in how Al was treated.
What do you think? Email Me your thoughts.
Justin Abdelkader Through The Years With The Red Wings
Justin Abdelkader has resigned with the grand Rapids griffins following a storied career in the NHL.
Famous Celebrities You Might Not Know Are From Michigan
You will definitely recognize these names and faces, but might be surprised to find out they're from Michigan.