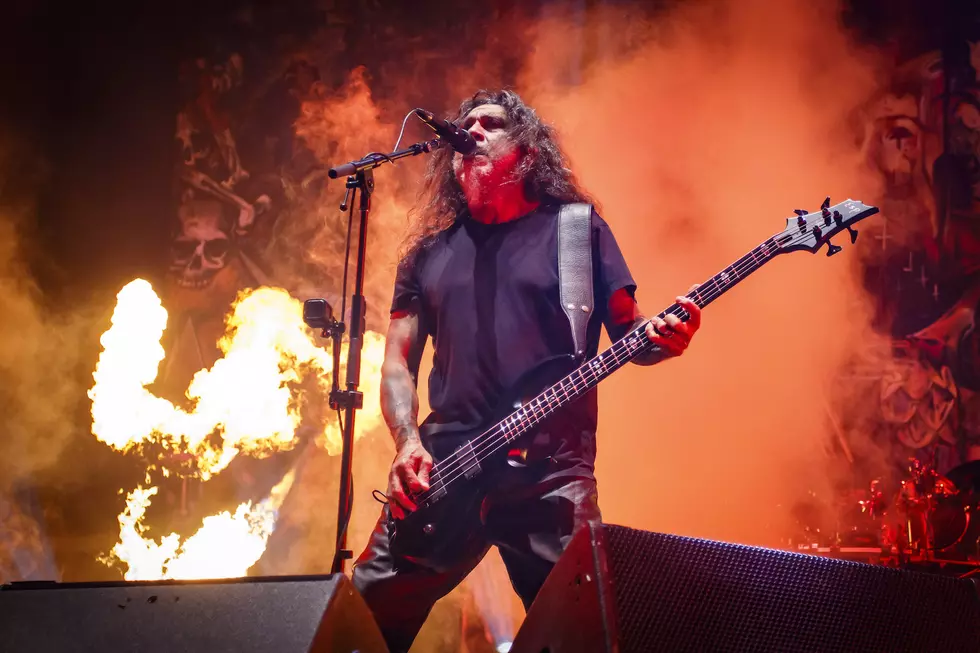 Watch Slayer's Tom Araya Say Goodbye to Europe in Emotional Video
Mark Horton, Getty Images
On Saturday, Aug. 3, Slayer played their last-ever concert in Europe. At the conclusion of the show in Stuttgart, Germany, Tom Araya walked out to a raving crowd, thanking them before trotting offstage one last time.
The moment was captured on video by Anthrax's Frank Bello, who described, "It was an emotional night as Tom says goodbye to Europe." As the frontman made his way to the microphone, he used the neck of his shirt to wipe his yes, which were presumably flooded with a mix of sweat and tears.
It's difficult to discern exactly what he said to the still roaring crowd other than one "goodbye," and he appears to be a bit choked up by the entire ordeal. As he exited, he put his hands together as a sign of his appreciation for all they've given back to him over the last 35-plus years.
Slayer's ongoing farewell tour will reach its definitive end in November with one last North American run. The trek, which also features Primus, Ministry and Philip H. Anselmo and the Illegals, will stretch from Nov. 2 through Nov. 30, closing out with back to back shows in Los Angeles.
See the list of Slayer's final tour dates below.
Slayer, Primus, Ministry + Philip H. Anselmo & the Illegals 2019 Tour Dates
Nov. 2 - Asheville, N.C. @ Explore Asheville Arena
Nov. 3 - Pittsburgh, Pa. @ PNC Arena
Nov. 5 - Salem, Va. @ Salem Civic Center
Nov. 6 - Hershey, Pa. @ Giant Center
Nov. 8 - Springfield, Mass. @ Mass Mutual Center
Nov. 9 - New York, N.Y. @ Madison Square Garden
Nov. 11 - Louisville, Ky. @ KFC Yum Center
Nov. 12 - Columbus, Ohio  @ Nationwide Arena
Nov. 14 - Moline, Ill. @ TaxSlayer Arena
Nov. 15 - Sioux Falls, S.D. @ Denny Sanford Center
Nov. 17 - Fargo, N.D. @ Fargodome
Nov. 18 - Omaha, Neb. @ CHI Health Center
Nov. 20 - Colorado Springs, Colo. @ Broadmore Arena
Nov. 22 - Billings, Mont. @ Rimrock Arena
Nov. 24 - Spokane, Wash. @ Spokane Arena
Nov. 26 - Oakland, Calif. @ Oracle Arena
Nov. 27 - Las Vegas, Nev. @ MGM Arena
Nov. 29 - Los Angeles, Calif. @ The Forum
Nov. 30 - Los Angeles, Calif. @ The Forum