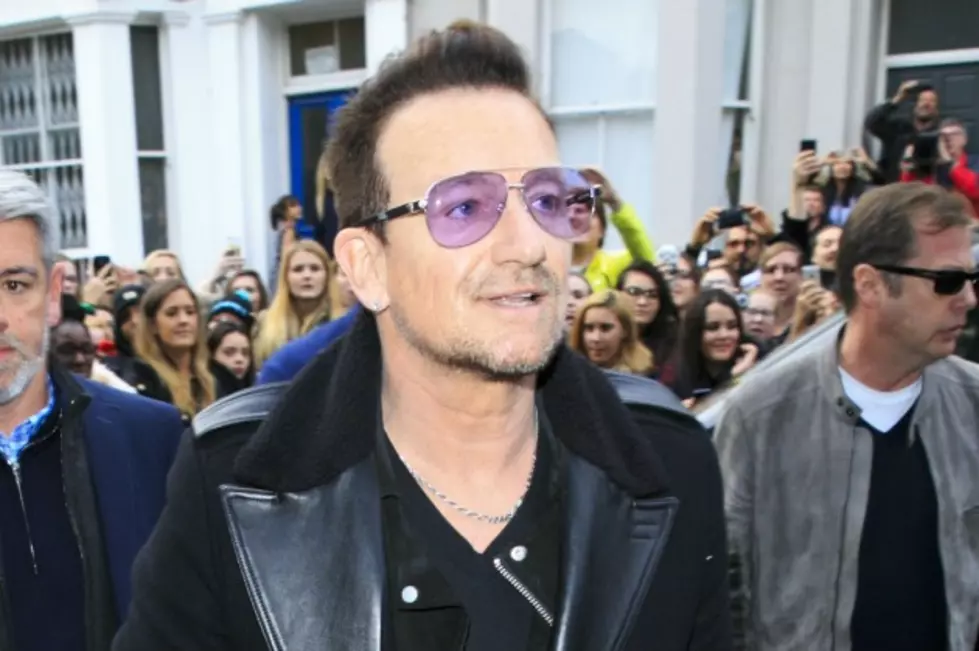 U2's Bono Says He May Not Be Able to Play Guitar Again
John Phillips, Getty Images
Last night (Jan. 1), U2's frontman Bono posted a lengthy and forthright note on the band's website, which he titled "A Little Book of a Big Year: Bono's A to Z of 2014."
After canceling a series of appearances due to a bike injury in Central Park back in November, the Irish singer says the band will continue to cancel all scheduled appearances for the first half the year to allow time for recovery and prepare for their upcoming tour, which will still happen according to plan.
But before he got into the details of the upcoming U2 arena tour, Bono discussed his cycling accident and the resulting serious injury. "I blanked out on impact and have no memory of how I ended up in New York Presbyterian with my humerus bone sticking through my leather jacket," he wrote. "Very punk rock as injuries go."
"The consequences of this freak accident are significant enough that I will have to concentrate hard to be ready for the U2 tour in fitness terms," he added. "As a result I have cancelled every public appearance and decided this missive is all the communication I can manage for this first half of 2015, beyond muttering and singing to myself of course."
Nevertheless, Bono wrote that the show will go on. "U2 is a live band. Live is where we live or die," he continued. "The songs continue to grow night after night. We have some extraordinary ideas up our sleeve for this tour. I've just got to be rebuilt by the 14th May."
And while Bono thinks he'll be ready for May 14, he's skeptical whether or not he'll ever be able to play guitar again.
"Recovery has been more difficult than I thought," he wrote. "As I write this, it is not clear that I will ever play guitar again. The band have reminded me that neither they nor Western civilization are depending on this."
"I personally would very much miss fingering the frets of my green Irish falcon or my (RED) Gretsch. Just for the pleasure, aside from writing tunes," Bono admitted in his lengthy note. "But then does the Edge, or Jimmy Page, or any guitarist you know have a titanium elbow, as I do now? I'm all elbows, I am."
Beyond his injury, Bono even addressed the now-infamous release of their latest album, 'Songs of Innocence,' via iTunes, and the criticism that followed.
"[There was] no flagrant abuse of human rights, but very annoying to people who a) like to be annoyed, and/or b) felt it was like someone robbing their phone in the pub and taking a couple of photos before leaving it back on the table … some kind of breach of privacy which was not intended," he wrote. "I empathize with the b)'s, but for the a)'s I've started referring them to the philosopher Jimmy Kimmel."
In addition to an update on his health, Bono took time to express his gratitude to his wife, Ali Hewson, children and bandmates -- even writing that the Edge "is the only one who doesn't know that he is the most influential guitar player in a quarter century."
And just like everyone else with Internet access and a list of favorite albums from 2014, Bono cited Kanye West and Noel Gallagher as some of his favorite artists in his year in review.
Read Bono's full post here.
Marky Ramone Discusses U2's 'The Miracle (Of Joey Ramone)'