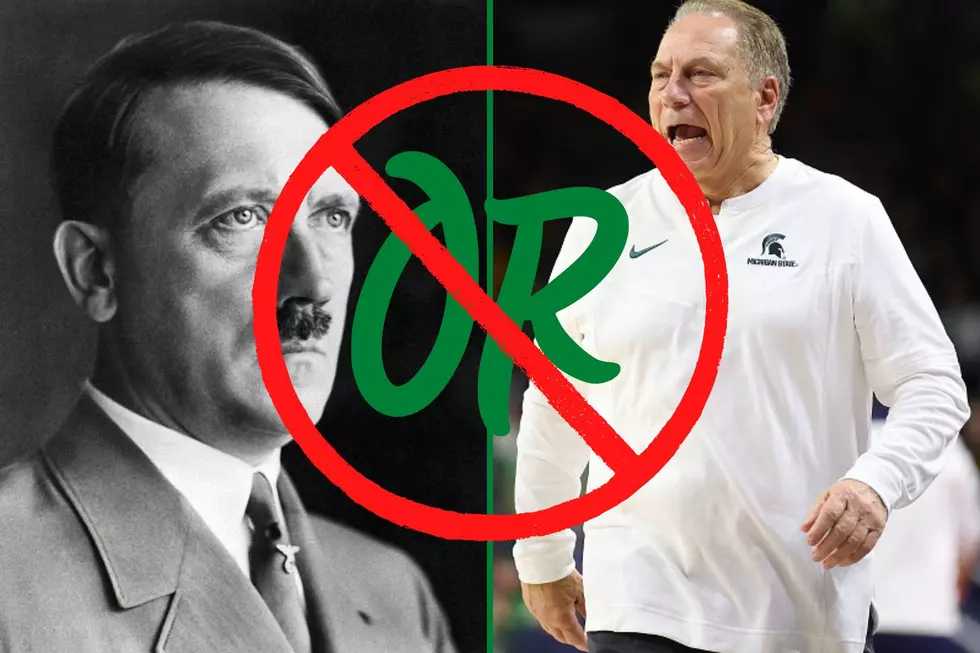 U of M Player Wants No Part of Hitler/Tom Izzo Comparison
Bettmann Archive/Michael Reaves/Getty Images/Canva.com
It's natural for people to compare something or someone they are talking about to help make a point in a conversation but not a good idea if Hitler is the comparison.
It's Not Good To Use Adolf Hitler As A Comparison
Unless you are describing a power-hungry dictator that is trying to wipe out a race of people who were a part of millions of people getting tortured and slaughtered then Adolf Hitler might be a comparison. In any other conversation, do not compare anyone or anything to Hitler. I can't believe I even have to write that down.
Michigan State Coach Tom Izzo Does Not Deserve a Hitler Comparison
There is no reason at all to compare Michigan State head coach Tom Izzo to Hitler in any fashion at all. Izzo has won 10 regular-season conference titles. He has won the most Big Ten tournament titles in conference history. He has won a national championship title, plus has been to 8 Final Fours, and has the most wins by a men's basketball coach at a Big Ten school. Sure, he may be a hothead at times and expect more from his players but he hasn't tortured or slaughtered anyone to make it to the tournament.
If you want to compare Izzo to anyone, make sure it's another basketball coach college or pro.
U of M Basketball Player Distancing Himself From a Hitler/Tom Izzo Comparison
Many players and coaches in college and pro sports are part of podcasts. Let's face it, these guys and gals have spent their whole lives playing or coaching, it's in their DNA to talk about sports so it only makes sense.
U of M center Hunter Dickinson often frequents a podcast by the name of Barstool Sports. One of the hosts compared MSU basketball coach Tom Izzo to Hitler.
According to WOOD, Dickenson said, "A lot of the episodes kind of come together for me so I can't remember explicitly if I was on there, but if I was, I don't condone it. I have a lot of respect for Tom Izzo."
Dickenson and the Barstool Sports host made the decision to remove the podcast altogether.
Sports Figures That People Love to Hate
Sports would be boring if you loved everyone. There always has to be a villain, and we've put together a list of prominent sports figures that a lot of people can't stand.
15 Most Important Games In The Michigan vs Michigan State Rivalry
Michigan and Michigan State have been battling it out on the gridiron since 1898. You can imagine that playing each other for that long will lead to a pretty heated rivalry. The Michigan / Michigan State rivalry is one of the best in all of sports. There have been many moments that helped to build that rivalry over the years. Check out 15 of the most important games over the decades of the Backyard Brawl.