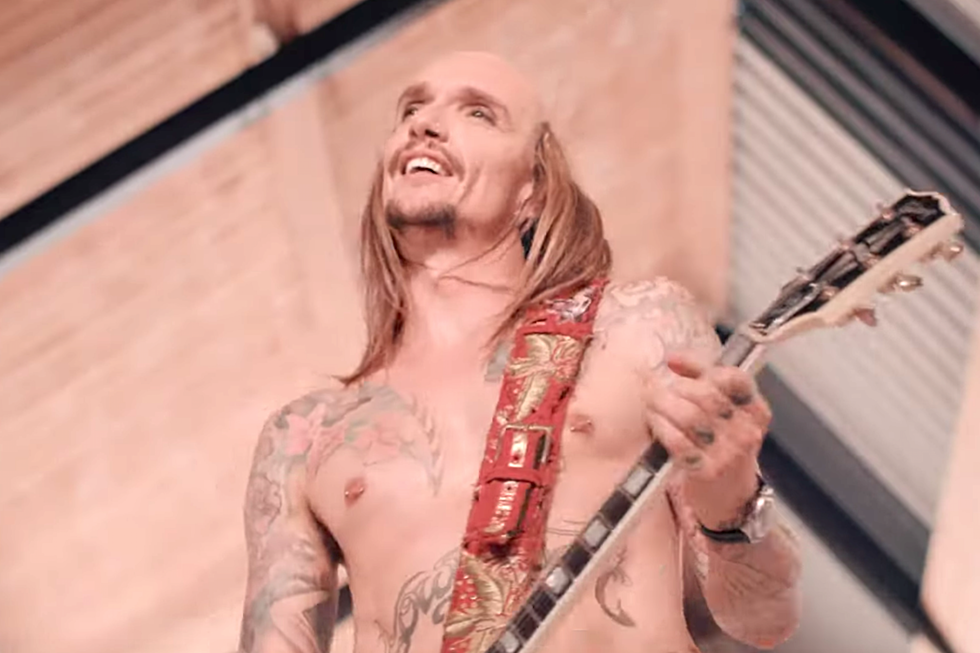 The Darkness Proclaim 'Rock and Roll Deserves to Die'
Cooking Vinyl
According to the Darkness, "Rock and Roll Deserves to Die." The 2000s favorites are back with another killer cut, criticizing the complacency of rock music.
Leave it to the Darkness to sing a eulogy for their own beloved genre. "Rock and Roll Deserves to Die" is a diverse trip, switching off between acoustic gloom and electric excitement. And of course, there are plenty of scorching guitar parts to act as the Darkness' rock 'n' roll defibrillator.
"A lot of bands have relinquished their duty. Rock and roll is so uniform now," says Darkness bassist Frankie Poullain. "Everybody dresses the same, looks the same, sounds the same. It's pathetic. It deserves to die. Let's kill the cliché. Let's break the crucifix. That's partly what the album is about."
The Darkness' sixth studio album, Easter Is Cancelled, is also the band's first concept record. "At the end of days, humankind must consider the essential truths of existence. The Darkness, your vanguard in life's journey, have stared into the abyss. The observations we bring from the edge are set out in a new record album," frontman Justin Hawkins explains.
"This far-reaching communiqué examines man's brutality to man, the dichotomies that we live within and the alternate realities that exist alongside our blinkered comprehension of the Universe. The song cycle defines human existence through a parable – the slow lingering death and eventual glorious re-birth of rock and roll … The result is a literally Biblical record, and those who have said that rock and roll is the Devil's music should listen and understand that it is, in truth, the voice of God."
Easter Is Cancelled won't be released until Oct. 4, but you can watch the brand new video for "Rock and Roll Deserves to Die" above.
The Darkness, Easter Is Cancelled Track Listing:
1 Rock and Roll Deserves to Die
2 How Can I Lose Your Love
3 Live 'til I Die
4 Heart Explodes
5 Deck Chair
6 Easter Is Cancelled
7 Heavy Metal Lover
8 In Another Life
9 Choke on It
10 We Are the Guitar Men
Best Rock Albums of 2019… So Far