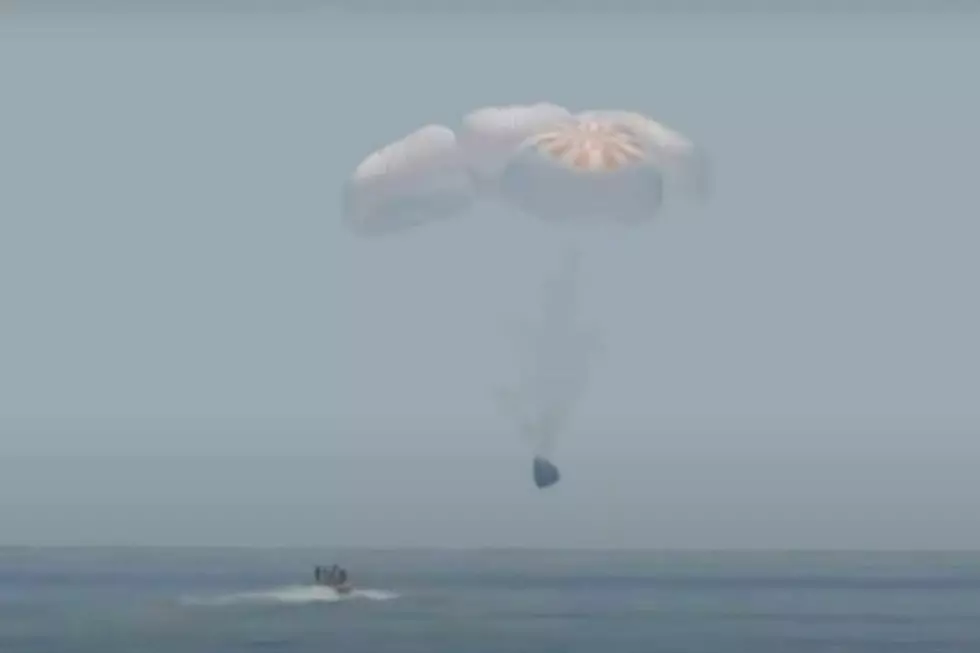 YouTube/NASA
It's been 45 years since the last one, but on Sunday, August 2nd, 2020, NASA astronauts returned to earth with an ocean splash down in the Gulf of Mexico.
This time it was a Elon Musk's SpaceX capsule with NASA astronauts onboard, returning back to earth from the International Space Station.
On Sunday morning at 11:48 am, the SpaceX Crew Dragon passengers -- astronauts Bob Behnken and Doug Hurley -- landed safely in the waters of the Gulf of Mexico. The astronauts safely exited the spacecraft on Sunday afternoon after a recovery at sea.
Bob and Doug arrived at the International Space Station in late May after a smooth launch. Their return schedule faced a little uncertainty due to the arrival of Isaias, a major tropical storm along the Florida coast. They had seven potential splashdown sites in the Gulf of Mexico and Atlantic Ocean to choose from. It was finally a spot off the coast of Pensacola, Florida, that was chosen, with the weather cooperating and giving the astronauts calm waters to land in.
You can watch the splash down here...
Growing up I remember getting so excited to watch a blast off and splash down with our country's journey into space. There have been generations, that up until yesterday, never had the opportunity to watch a live splash down.
We have had many astronauts born in Michigan...
Cass City:
Brewster H. Shaw — STS-9, STS-61-B, STS-28
Detroit:
Dominic A. Antonelli — STS-119, STS-132
Gregory Jarvis (1944–1986) — No spaceflights; died on the Challenger
East Detroit:
Jerry M. Linenger — STS-64, STS-81/84
Flint:
Michael J. Bloomfield — STS-86, STS-97, STS-110
Donald R. McMonagle — STS-39, STS-54, STS-66
Grand Rapids:
Roger B. Chaffee (1935-1967) — No spaceflights; died on Apollo 1
Christina Koch — Soyuz MS-12, Soyuz MS-13
Jack R. Lousma — Skylab 3, STS-3
Jackson:
Alfred Worden — Apollo 15
Mount Clemens:
Richard A. Searfoss — STS-58, STS-76, STS-90
Muskegon:
David Leestma — STS-41-G, STS-28, STS-45
Pontiac:
Brent W. Jett, Jr. — STS-72, STS-81, STS-97, STS-115
KEEP READING: Scroll to see what the big headlines were the year you were born