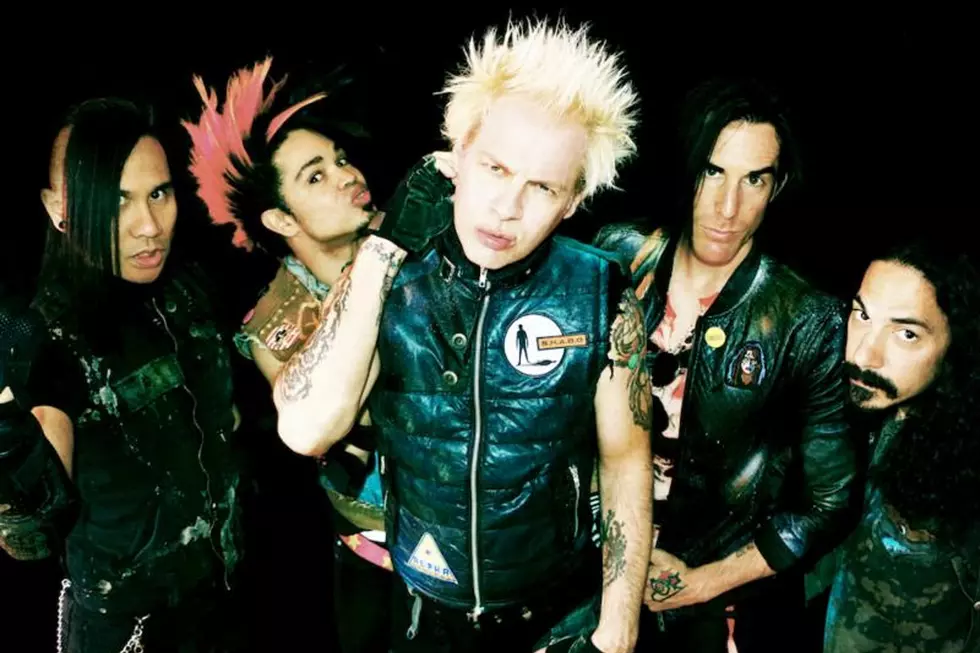 Powerman 5000, 'New Wave' – Exclusive Album Stream
Pavement Music
Powerman 5000 are back this week and ready to ride the wave of their latest studio album, New Wave. But before the album arrives in stores and online tomorrow (Oct. 27), the group has partnered with Loudwire to bring you an exclusive first listen through the music stream below.
Singer Spider One tells us, "New Wave is 10 songs of angry compassion for stubborn rebels, a noisy reminder of how to give a fuck in a world that doesn't." For those who've been keeping up with the band in recent months, you've likely already heard the no holds barred rocker "Sid Vicious in a Dress." The video premiered right here at Loudwire earlier this year. A second song, the oddly chipper "Cult Leader," has an undeniable beat despite its darker lyrical nature.
New Wave gets off on an aggressive note with "Footsteps and Voices," while the intriguingly titled "David Fucking Bowie" vacillates between catchy Nine Inch Nails-esque synth moments and a driving industrial-leaning chorus. "No White Flags" provides a respite from the aggression with a somber recording, but things pick right back up with the chaotically intense "Thank God." Late album gems include "Get a Life" and the poppy synth work on "Run for Your Life." You can get your full listen to the album in the player below.
Powerman 5000's New Wave arrives tomorrow (Oct. 27) through Pavement Entertainment. Go ahead and order the disc through Amazon and iTunes. The band recently kicked off their fall tour and will play in Hollywood tonight (Oct. 26) at the Whisky-a-go-go. The trek continues through mid-November and you can see where they will be playing here.
Powerman 5000, 'New Wave' - Exclusive Album Stream Premiere