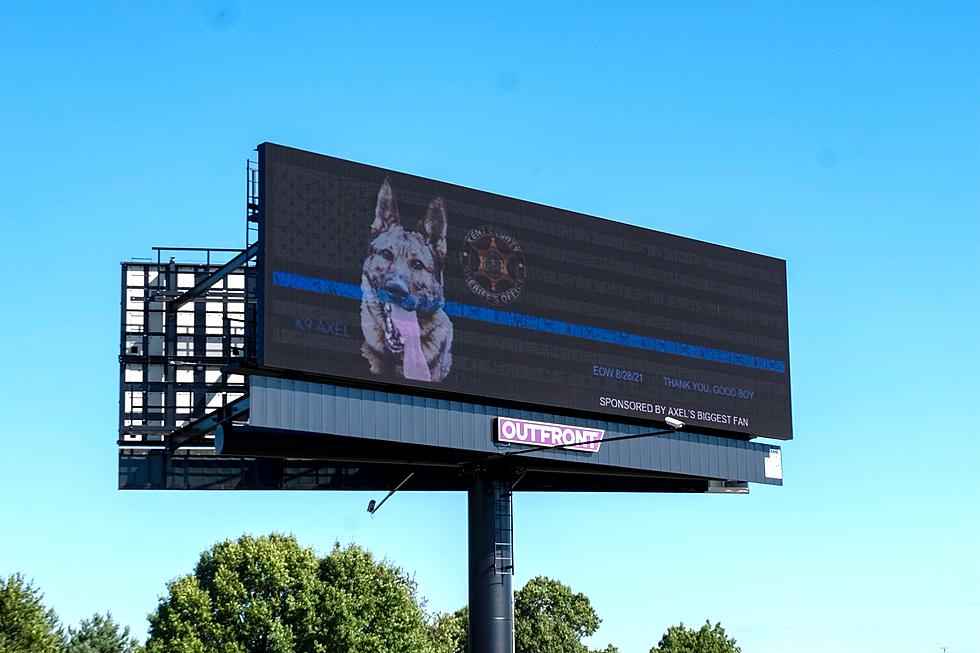 New Billboards Honor Kent County K-9 Axel Who Died in the Line of Duty
Kent County Sheriff's Office, Facebook
R.I.P. Axel.
New billboards have gone up in Kent County, honoring K-9 Axel, who died in the line of duty after suffering a medical emergency while tracking a home invasion suspect in Sparta last month.
The billboards can be seen on the west side of southbound US-131 near the Post Dr. exit and the west side of northbound US-131 near the 44th St. exit.
According to the Kent County Sheriff's Office, resident Denise Bartholomew sponsored the billboards that read:
K9 Axel EOW 8/28/21
Thank you, good boy
Sponsored by Axel's biggest fan
In response to the billboards, the sheriff's office says,
Denise, thank you so much for commemorating K9 Axel in such a special way; it's bringing many smiles to our agency. The #KCSOFamily is very lucky to have your support!
The public is invited to a memorial service for Axel Saturday, September 18 at 11a.m. at Cedar Springs High School Football Stadium at 204 E Muskegon St N.E.
According to WZZM-13, Axel had served with the Kent County Sheriff's Office since May of 2019 and was the department's only explosive detection K-9.
Axel's handler, Kent County Sheriff's deputy Krystal Stuart recently shared memories of her time with Axel, who was more than a work partner to her.
RANKED: Here Are the 63 Smartest Dog Breeds
Does your loyal pup's breed make the list? Read on to see if you'll be bragging to the neighbors about your dog's intellectual prowess the next time you take your fur baby out for a walk. Don't worry: Even if your dog's breed doesn't land on the list, that doesn't mean he's not a good boy--some traits simply can't be measured.