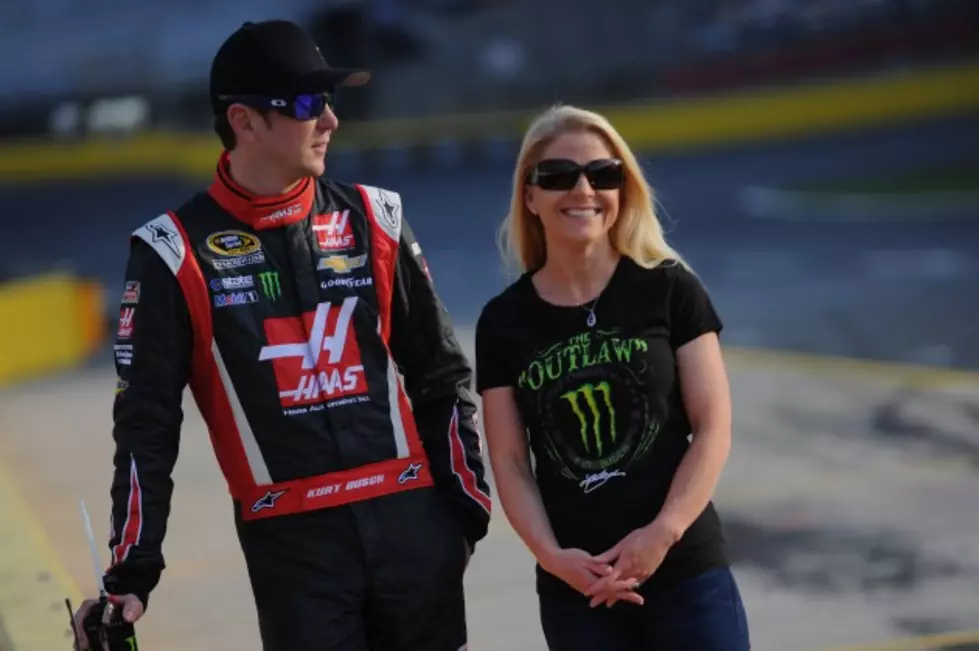 NASCAR's Kurt Busch Testifies His Ex-Girlfriend Is Trained Assassin [Video]
NASCAR driver Kurt Busch and his girlfriend, Patricia Driscoll, hang out during qualifying for the NASCAR Sprint Cup Series Coca-Cola 600 at Charlotte Motor Speedway last May in Charlotte. (Photo: Will Schneekloth/Getty Images)
NASCAR driver Kurt Busch's ex-girlfriend, Patricia Driscoll, claims he smashed her head against a wall three times last fall.
They've been in court in Dover, Del., this week and this story is flying COMPLETELY off the rails. Here's what you need to know.
Busch claims Driscoll is a "trained assassin, who's dispatched on covert missions around the world," WMDT-TV reported.
He says: "Everybody on the outside can tell me I'm crazy, but I lived on the inside and saw it firsthand."
She's supposedly talked to him about how she would take down drug lords with long-range sniper rifles and close combat tactics, like using knives and poison. One time, Driscoll told him she was a mercenary who killed people for a living and showed him pictures of bodies with gunshot wounds. The very next day, she left in camouflage gear and returned later wearing a trench coat over an evening gown that was covered in blood and other stuff. Other times, she returned bruised up, The Wilmington News-Journal and USA Today reported.
Busch also said Driscoll once told him that a woman character in the movie "Zero Dark Thirty" was a composite of her and other women. Of course, the movie is about the CIA's hunt for Osama bin Laden.
Amazingly, a personal assistant of Busch's backed up some of this, saying that Driscoll once told him she was an assassin for the U.S. government. The assistant added that she said: "I take down foreign governments. I own Washington."
Now, if you worked in intelligence and possibly even killed some people, wouldn't you want to keep that on the 'down low'? And assuming that is the case, Driscoll seems to be terrible at keeping her side gig under wraps. Seriously, it sounds like she can't stop blabbing about it.
Anyway, Busch admits to getting physical with Driscoll when she refused to leave his motor home, after showing up unannounced. He says he "cupped his hands around her face," but denies smashing her head against any walls, WBOC-TV reported.
Busch says she's a rejected ex-girlfriend out for revenge, not a victim of abuse.