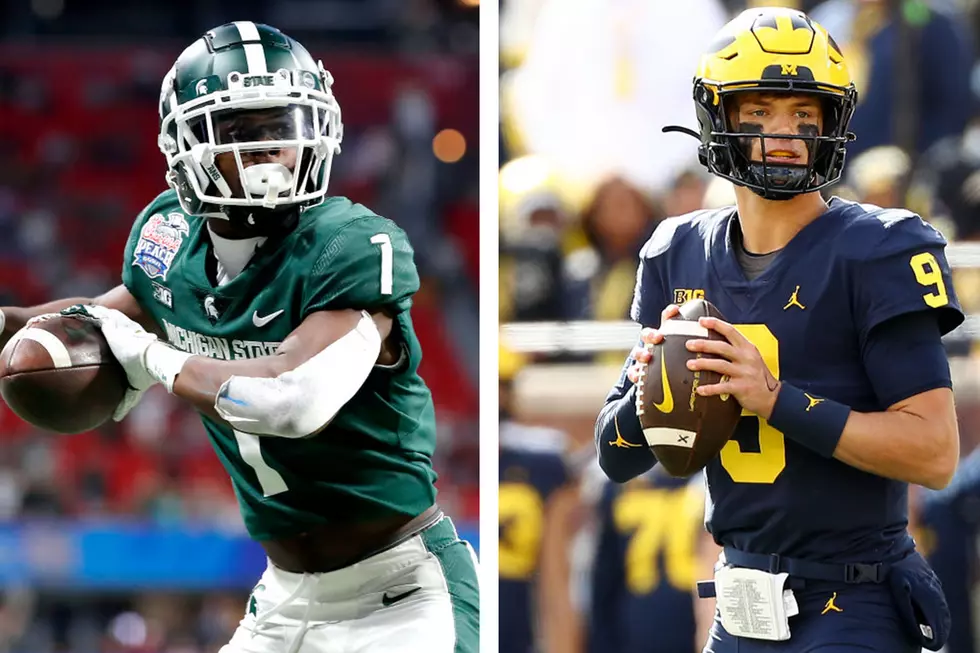 Michigan Vs. MSU Sports Betting: History Shows Spartans At +22.5 Is Great Value
Getty Images
You know what they say about rivalry games in college football — "Throw out the records, because anything can happen!"
That's probably giving Spartan fans hope heading into Michigan State's trip to No. 4 Michigan this weekend for the pair's annual rivalry game. It's probably giving some Wolverine fans anxiety, too.
As cliche as it is, though, that adage has often proven to be true in the case of this rivalry. All-time, Michigan leads by a dominant margin, 71-38-5. For almost every decade and/or period, U-M has owned distinct advantages over its in-state rival in talent, coaching, and resources — which is why it's remarkable that the series is nearly even since 1950, with Michigan holding a slim 37-32-2 edge.
Michigan State has dominated the rivalry since 2008, winning 10 of 14 matchups. But the Spartans have held their own against their arch-nemesis for the last 71 years.
And that's why a point spread verging on three scores is a hell of a value for sports bettors playing this rivalry game this year.
A Competitive Rivalry
These games are not often lopsided. In the 22 installments played since 2000, only six have been decided by two or more scores. Put a different way, that means about three out of four tilts between Michigan and MSU this millennium are competitive. And Michigan has beaten its in-state rival by three scores or more only twice in that same span.
Going even further back, U-M has beaten MSU by 23 or more points just five times in the last 45 years.
Those numbers are likely to appeal to sports bettors, given the current point spread for this weekend's matchup.
On Sunday, most sports books set Michigan as a 21.5-point favorite. By Tuesday, the line had moved further to 22.5. It's a considerable number for any college football game, but in the context of this rivalry the point spread is enormous. So big that it makes Michigan State a value that's almost too good to pass up.
But don't just take my word for it.
Reverse Line Movement
According to Action Sports, 73 percent of all bets on the Michigan-MSU point spread have been placed on the Spartans, and an eye-popping 97 percent of all money wagered is on the Green and White side.
We can glean two things from those public-betting stats: That the general betting public thinks MSU getting three touchdowns is a great value, and that professional sports bettors are hammering the Spartans to cover.
Generally, you can get a sense of what pro gamblers — called "sharps" — think by looking at the total money distribution for a given bet. Sharps are people who bet on sports professionally, meaning they wager in vastly larger amounts than your typical sports bettor. One of the most widely held precepts in sports gambling is that you're better off siding with the sharps, given that handicapping games is literally their livelihood.
The point spread for Michigan vs. Michigan State is also appealing because it's exhibiting a phenomenon known as reverse line movement, which is something serious gamblers look for when deciding which games to play.
Sports books move lines in an effort to better balance bets, because that helps the books to mitigate potential losses on a given wager, and, of course, because it gives the books a better shot at making money.
You have to remember that point spreads don't always indicate who Vegas thinks will win a given game; oddsmakers set — and move — the line with the explicit intent of limiting their book's exposure to losses.
Typically, when a given bet is lopsided in terms of the action placed on it, the book will move the line in a way designed to entice more wagers on the opposite side. This helps to balance the action on either side of the bet, which, again, helps the book protect itself.
So with three-fourths of the wagers and virtually all the money placed on the U-M/MSU point spread siding with the Spartans, it would make sense for sports books to change the line in a way that would improve Michigan's value. You would think the overwhelming action on MSU would cause that opening -21.5 number for Michigan to fall, since logic dictates that bettors would be more likely to take an undefeated Top Five team playing at home to cover if the spread were smaller.
But the exact opposite has happened. Despite the completely one-sided action for the Spartans in this game, the spread has continued to grow, making MSU an even more attractive pick. This is reverse line movement in a nutshell: Sharp money causes a point spread to change in the opposite direction one would expect.
Michigan Vs. MSU ATS
Something else to consider when handicapping this game is how both teams have performed against the spread.
So far this season, the Wolverines are 4-3 ATS, while the Spartans are 3-4. But what's more interesting, and perhaps more pertinent, are both teams' records ATS spread in the recent history of this rivalry.
Since 2008, Michigan is 2-12 ATS in matchups with Michigan State, meaning the Spartans are 12-2. MSU is 6-1 ATS in Ann Arbor over that same time.
+22.5 Is Too Good To Pass Up On
It's not crazy to think Michigan will cover a three-score spread against MSU this weekend, by the way. A good U-M team beat a bad MSU team by that kind of margin as recently as 2019. This year's Michigan team is probably better that that one, and the 2022 Spartans are probably worse than they were three years ago.
But even with Michigan State at 3-4 in the middle of a disappointing season and Michigan cruising through its season so far, the history and data make MSU too good of a value to ignore here.
Sports betting is about playing trends and statistics that are proven to be replicable, and this rivalry has simply been too close and too competitive for the last three-quarters of a century for a bettor to feel good about laying 22.5 points.
That doesn't mean Michigan won't end up dismantling MSU the way the Wolverines destroyed Penn State. But the data does suggest that that outcome is significantly less likely in this series, and that's the kind of trend bettors should pay attention to in rivalry games like this.
15 Most Important Games In The Michigan vs Michigan State Rivalry
Michigan and Michigan State have been battling it out on the gridiron since 1898. You can imagine that playing each other for that long will lead to a pretty heated rivalry. The Michigan / Michigan State rivalry is one of the best in all of sports. There have been many moments that helped to build that rivalry over the years. Check out 15 of the most important games over the decades of the Backyard Brawl.
Take A Look Into The Home Of MSU Head Football Coach Mel Tucker