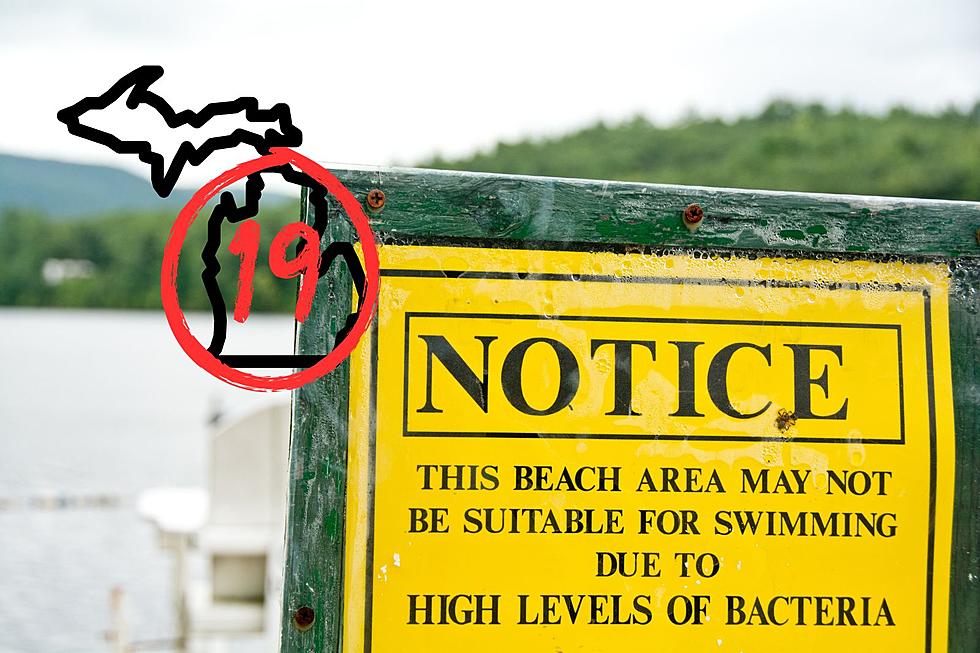 Michigan Beaches to Avoid For July 4th Weekend With High Bacteria Levels
canva.com
If you are making plans to hit the beach for the July 4th weekend or the actual holiday, there are nearly 20 beaches that are closed for high bacteria levels.
How Do Bacteria Get Beach Closed?
Obviously, things get in our water and unfortunately, most of it's man-made that gets our beaches closed.
Polluted water that drains after rainfall (which we have not had much of) and untreated sewage that gets released into the water are one of the biggest reasons a beach gets closed down. Some of that raw sewage is from dogs, birds, raccoons, and other animals that can get washed into the water. The microorganisms called "pathogens" can be very harmful to humans who decide to swim in these waters.
E. coli is the reason beaches get tested often because it is very dangerous to young children, the elderly, and anyone with a compromised immune system. Some strains can cause severe and even life-threatening complications, such as bloody diarrhea, kidney failure, and even death.
Michigan Beaches That Are Closed for the July 4th Weekend
Usually when it's the July 4th holiday, weather permitting, many have beach plans for the weekend or holiday. There are some beaches to avoid in Michigan that have been closed due to high levels of bacteria.
According to the Michigan Department of Environment, Great Lakes, and Energy, there are 19 beaches that are closed as of June 29, 2023, and you can find the complete list below:
Burt Lake - Burt Lake State Park - Cheboygan County
Duck Lake - Axfors Acres - Ramada Road - Oakland County
Eagle Lake - Lakeland Estates - Oakland County
Haynor Lake - Hamburg Fitness Center & Camp - Livingston County
Houghton Lake - Denton Township Public Beach - Roscommon County
Houghton Lake - Houghton Lake Heights - Roscommon County
Houghton Lake - Lakeview Waterfront Park - Roscommon County
Indian Lake - Indian Lake State Park - Schoolcraft County
Lake Huron - Lakeside Beach Port Huron - St. Clair County
Lake Huron - Lexington Beach - Sanilac County
Lake St. Clair - Metropark Beach - Macomb County
Lake St. Helen - Richfield Township Public Fishing Site - Roscommon County
Lake Superior - Brimley State Park - Chippewa County
Mullet Lake - Aloha Day Use Area - Cheboygan County
Otter Creek - Sleeping Bear Dunes - Cheboygan County
Saginaw Bay-Lake Huron - Arenac County Park - Arenac County
Saginaw Bay-Lake Huron - Singing Bridge Beach - Arenac County
There are plenty of West Michigan beaches that will be open but take a look at the air quality and decide how much time in the smokey air is right for you and your family.
Bring Your Pet And Enjoy These 20 Pet Friendly Michigan Beaches
There is no need to leave your pet behind. Check out these 20 pet-friendly beaches in Michigan all summer long.
7 Fantastic Michigan Beaches That are Worth a Road Trip
Michigan is known for its beautiful beaches. If you are looking for a new spot to visit this summer, here are a few suggestions for you.