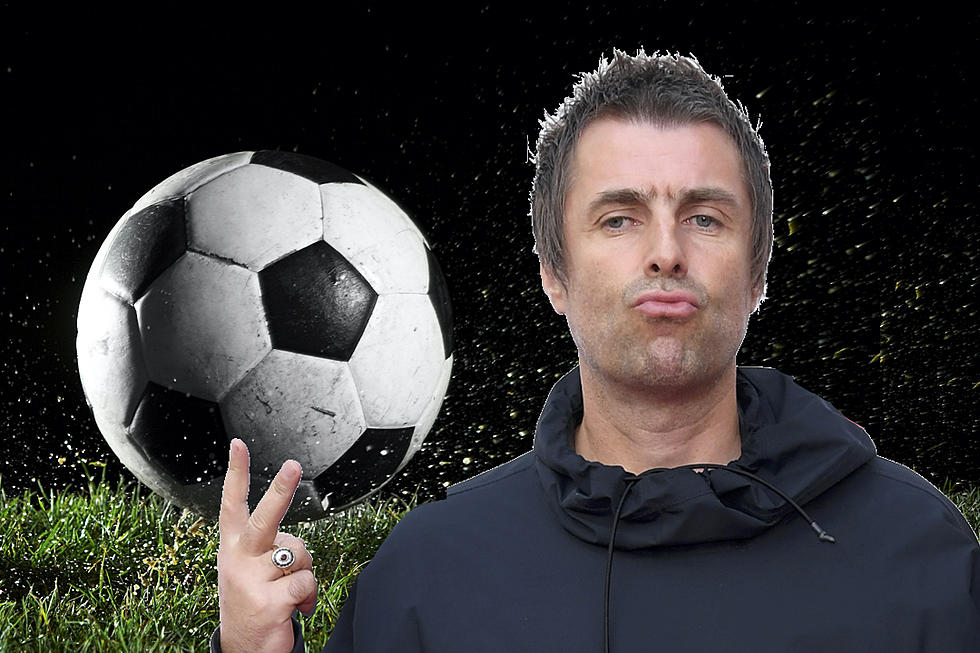 Liam Gallagher Apologizes After Making Death Threat to Soccer Player on Twitter
Karwai Tang / iStock, Getty Images
Former Oasis singer Liam Gallagher has offered an apology on Twitter after he used the social network to seemingly jokingly make a death threat on association footballer Stefan Slavic, a player for Atletico Madrid, which is a rival of Manchester City, Gallagher's favored football club from his English home base.
According to NME, Gallagher said in a now-deleted tweet, "Stefan Savic this is a threat if I come across you ya goofy looking CUNT your dead MCFC."
The musician was apparently angered that the athlete appeared to head-butt Manchester player Raheem Sterling in a game earlier this week, though the match ended in a 0-0 draw, but after getting a little bit heated, Gallagher eventually cooled off and reconsidered his words.
On Friday (April 15), replying to an alarmed response from some of his followers, Gallagher tweeted, "Im really upset and annoyed at myself I feel I've let all my fans down by my outlandish behavior I'm a role model to GROWN UPS hope you can forgive me LFUCKING x."
As his fans are no doubt aware, the musician is a prolific Twitter user. The singer's upcoming solo album, C'mon You Know, takes its name from one of Gallagher's frequently cheeky Twitter sign-offs, just like his first solo LP, 2017's As You Were.
Last month, Gallagher was among many who paid tribute to Foo Fighters' Taylor Hawkins after the drummer's unexpected death. Before that, however, the Oasis alum opined that most rock stars are useless and "live a very boring fucking life" to Loudwire Nights.
Earlier this year, Gallagher defended Taylor Swift after the pop star shot down Damon Albarn, singer of Blur and Gorillaz, for saying Swift didn't write her songs herself. Blur and Oasis were big Britpop rivals in the 1990s. But there doesn't seem to be an Oasis reunion on the horizon, though Gallagher has hinted at it.
Pre-order C'mon You Know, out on May 27, here.
The Most Famous Anti-War Songs in Rock + Metal
Tunes that stood up for peace.