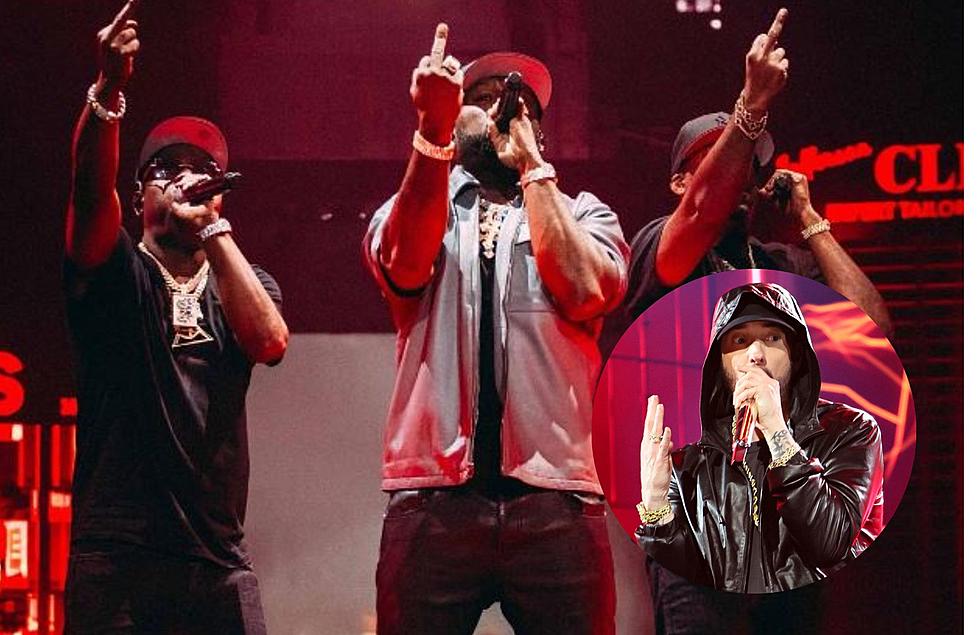 50 Cent Brings Out "Best Friend" Eminem & Detroit Legends Kash Doll & Peezy at Pine Knob
Canva / Gettys
I will have to officially declare this to the world!
50 Cent will always kill a stage.
With what could be the rapper and television mogul's last tour, 50 Cent pulled out all of the stops at his Detroit show.
On Sunday, September 17th, 50 Cent brought his "The Final Lap Tour" to Clarkston, Michigan at Pine Knob Music Theater.
With openers like Jeremih and Busta Rhymes, you cannot go wrong!
Jeremih and Busta killed their setlist. However, 50 Cent really showed how to give a REAL show!
From the lights, outfit changes, dancers, special effects, fireworks, and more, there was never a dull time at the show.
While 50 Cent went down his 30-year discography, he decided to treat his Detroit fans with special appearances by our very own.
Detroit Legend Appearances
One of the biggest highlights of the night was hearing the crowd go crazy when 50 Cent brought out Detroit's very own, Eminem.
It was truly a crazy situation to witness.
Eminem came out and rapped 'Patiently Waiting' and 'Crack The Bottle' with 50 Cent and the crowd soaked it all in.
During the special set, Eminem even referred to Fif as his 'best friend'.
"Detroit, make some noise for one of the best friends that I've ever known, 50 Cent! And also, make some noise for Hip Hop's 50th birthday, y'all … Detroit, I love y'all, man."
You simply had to be there!
 

 

 

View this post on Instagram

 

 
However, Fif was not done yet!
Besides the surprise ( "not really") from Eminem, 50 Cent also brought out Kash Doll for 'Ice Me Out."
The crazy part is he did not stop there either.
He also brought out Peezy with '2 Million Up." Fif also brought Vezzo too! It was honestly the part way to celebrate with his Detroit fans.
50 Cent knows exactly what he is doing for this potential last tour. If you missed out, I truly feel bad for you.
50 Cent + Busta Rhymes LIVE in Tuscaloosa
See 50 Facts About 50 Cent
Do you know everything about 50 Cent?