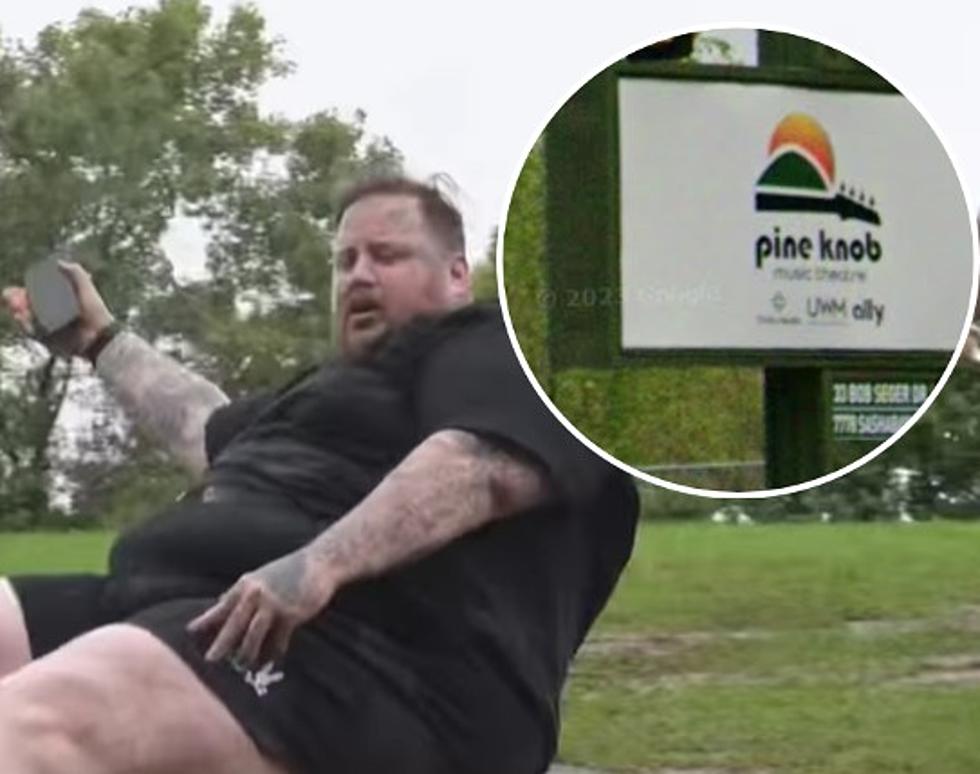 Watch Jelly Roll Slide Down Hill At Michigan's Pine Knob
Jelly Roll Instagram/Google Maps
Jelly Roll had some fun in Clarkston, Michigan before his show at Pine Knob Music Theatre on Thursday, August 17th, 2023.
The popular music venue features a large hill for lawn seating. If it rains, you can be sure that the hill at Pine Knob is going to be very slippery, and very muddy.
Before the gates opened for the show, Jelly Roll and some of his crew had some laughs and slid down the wet and muddy hill at Pine Knob. The singer shared a video of the fun on his social media platforms.
To date, the video has been viewed over 38,000 times (and that is just on Instagram).
It is not a surprise that Jelly Roll's most recent stop at Pine Knob was a sold-out show. This past May the superstar hosted a listening party in the Great Lakes State for his latest album 'Whitsit Chapel' at Greenhouse of Walled Lake.
Jelly Roll made it very clear during the listening party in Walled Lake that he loves Michigan, and Michigan marijuana (video below). This is what Jelly Roll said about Michigan marijuana at the event,
'Michigan's got some of the best weed in the United States. There's no other way to say it. And trust me, I've smoked everywhere'
You can check out the video of Jelly Roll sliding down the hill at Pine Knob, and see pictures from his listening party in Walled Lake below.
9 Spots In Genesee County to Enjoy Live Music
Michigan Home With Unbelievable Taxidermy Collection
This East China, Michigan home features a stunning great room, which boasts 22-foot ceilings, a magnificent brick fireplace, and a taxidermy collection like nothing you've ever seen before.
Gallery Credit: Zillow