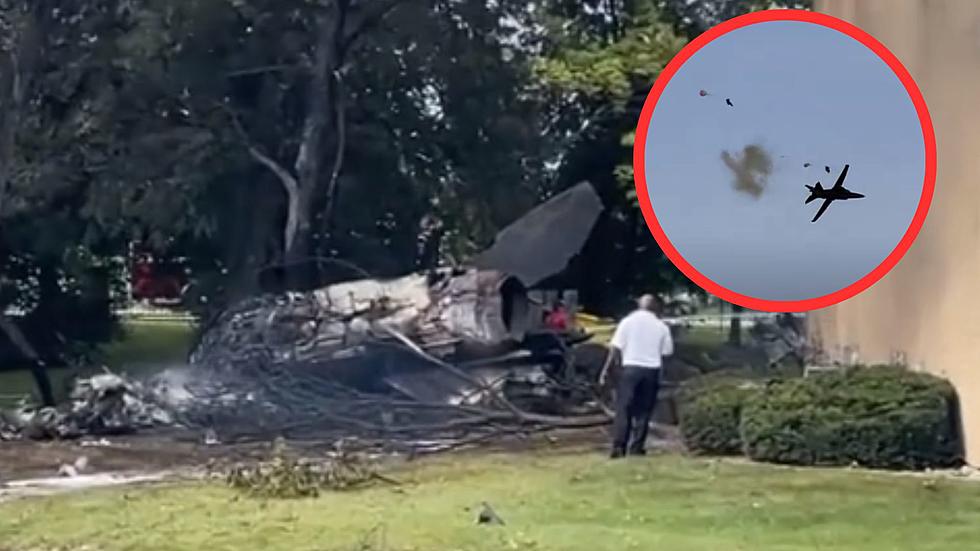 WATCH: Fighter Jet Crashes, Explodes In Ypsilanti Neighborhood During Air Show
Canva/TikTok
When you go to an air show, you're expected to be "ooh-ed and aah-ed" with daredevil tricks and the grandeur of the incredible machines we manage to put in the air. Typically, these shows go off without a hitch, since there are consummate professionals behind the sticks, flying these incredible vehicles.
But once in a while, disaster will strike, and for the Thunder over Michigan Air Show this past weekend, disaster not only struck, but it crashed in a neighborhood that was full of people.
Thankfully, nobody was hurt, including the pilot and co-pilot of the aircraft that crashed, but the damage it did was certainly a sight to see.
During This past weekend's Air Show in Ypsilanti, a MiG-23 aircraft (like the one pictured above) lost control during its performance. The pilots seemed to do their best to steer the jet toward an unoccupied area, then ejected over Wayne County Airport.
However, as you can see in video captured below, the plane soared over an apartment complex, and crashed in an open property area owned by the complex.
Two people have now been confirmed as injured following the crash, but considering how violent the crash was, and the ensuring explosion, it's a miracle that nobody else was hurt, or even killed. What's even crazier is HOW close the jet came to landing on the actual apartment complex, which you can see in the TikTok video below.  
Unbelievable that nobody was seriously injured, or killed.
The rest of the show was cancelled, and the debris from the crash is being taken in for an investigation as to what happened.
Nashville, MI Man Builds Airplane RV From Real Plane Body
Gino Lucci, of Nashville, MI, spent a year building the plane RV at his home, and now travels the country with it and his family.
22 Strange Items You Can Actually Carry on a Plane in Michigan
If you are planning on flying out of DTW or any other Michigan airport, check out this list of 22 weird items approved for travel by the TSA.