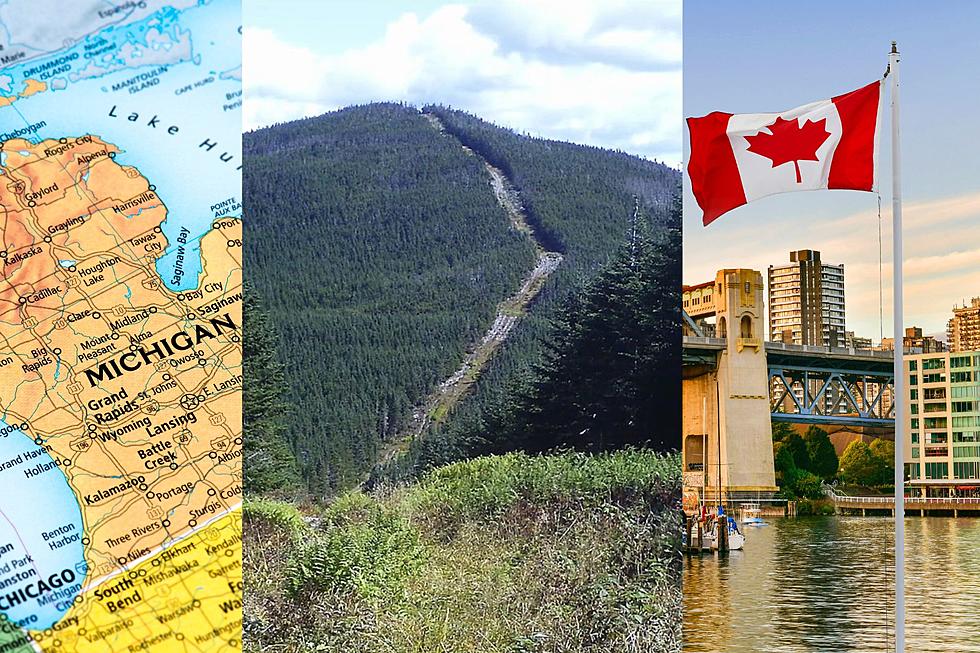 You Can't Accidentally Wander Into Canada Because of This Border
@_amazingworld__ on TikTok and Canva
The world's largest international border has the craziest man-made slash that skips Michigan.
You may already know that the world's longest international border is the one that separates the United States of America from its Northern neighbor Canada.  The length is astounding according to AtlastObscura.com,
It stretches 5,525 miles from Maine to Alaska, traversing land, sea, and untouched wilderness.
But, did you know about the crazy man-made border of deforestation that was made to keep us honest?  It's affectionately called "the slash."  According to a TikTok from @_amazingworld__, a group of workers got busy cutting down a 20-foot-wide section of forest along nearly the entire 5,525 miles of the U.S.-Canada border.  That way, if you're out walking your dog in Northern Minnesota, you can't claim that you accidentally walked into Canada due to the large physical mark left by deforestation.  This project costs around $1.4 million a year to maintain.
Earlier I mentioned that "nearly the entire 5,525 miles of the U.S.-Canada border" has a 20-foot wide divide.  That's because Michigan was completely skipped.  There is no part of Michigan's upper or lower peninsula that physically touches Canada without a bridge.  Michigan borders Canada with nothing but water.  You're welcome Mother Nature.
Even though they don't want you accidentally wandering into the polite country of Canada.  It may be the "easiest" country to visit from the United States.  However, there is a small list of offenses that can keep you out of Canada for good.
15 Offenses That Can Keep Michiganders from Entering Canada
There are a lot more charges than you think that could keep you from getting across the Michigan border in Canada.
Canada's Best Pop Artists and Bands
Over the decades, Canada has quietly risen as one of the greatest exporters of pop, providing us with some of the biggest names in the music industry to date. From chart-toppers to award-winners, rising stars to legendary icons, Canada is the unsung home of some of the best in pop music.
Discover some of the greatest, top-selling and most influential Canadian pop artists and musicians, as well as their triumphs, below.