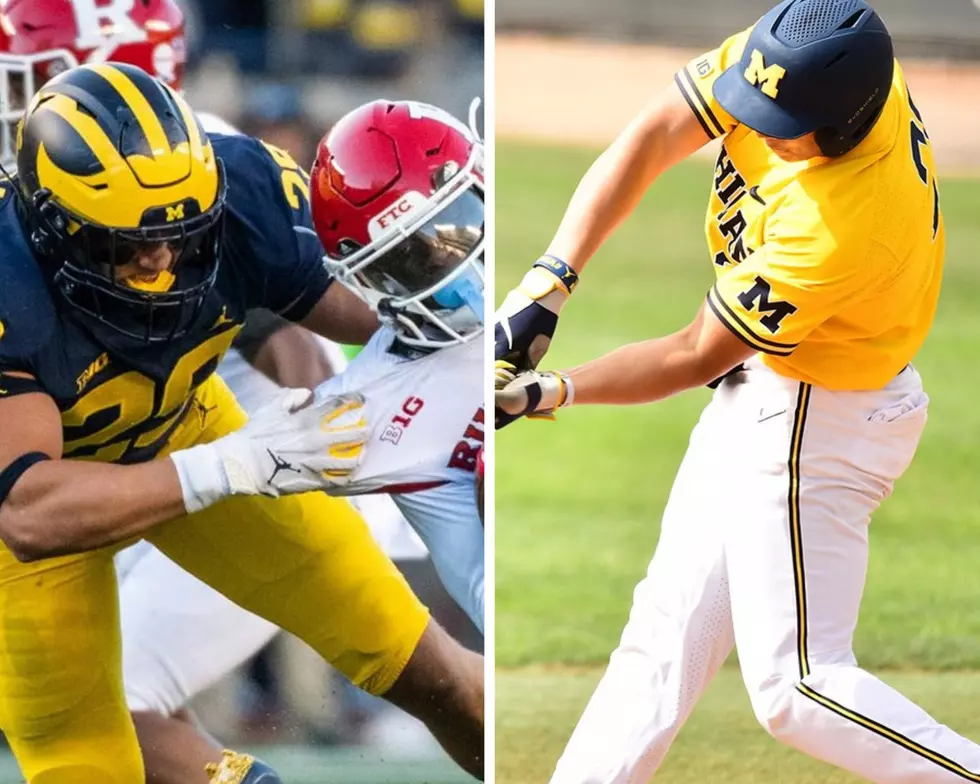 Joey Velasquez Is The First UM Athlete Since 1978 To Do This
UM Athletics/Canva
Not since Ricky Leach in 1978 has a Michigan athlete accomplished this feat.
Velasquez Is The First Since Leach To Win Two Big Ten Titles In The Same Year
Joey Velasquez, a Michigan senior who hails from Columbus, Ohio, of all places, became the first Wolverine since Ricky Leach to win Big Ten championships in baseball and football in the same year.
Leach, who is originally from Flint, pulled off the feat back in 1978.
Velasquez, who plays linebacker and special teams for the football team, earned a second straight football title last Saturday when Michigan defeated Purdue, 43-22, in Indianapolis.
Back in May, Velasquez won a Big Ten baseball title with the Wolverines, hitting .272 in 32 games as an outfielder. 
The baseball team went on to the NCAA baseball regionals in June, where they were eliminated by the host Louisville team.
Leach Made HIs Name As A Quarterback, But Later Became A Major Leaguer
Leach started at quarterback all four years as a football player for the legendary Bo Schembechler, leading the Big Ten in touchdown passes his sophomore year with 13, which is an almost laughable number now.
He was co-MVP of the 1979 Rose Bowl, after leading the Wolverines to the Big Ten title with a win over Ohio State in November of 1978.
In May of 1978, Leach was a starting outfielder as the Wolverines won the Big Ten baseball title with a 13-3 record. Michigan went on to win the Ann Arbor NCAA baseball regional to earn a berth in the 1978 College World Series.
They were eliminated by USC, ironically, the same school that would defeat Leach and Michigan later in the football Rose Bowl game.
Leach was drafted by the Detroit Tigers in the 1979 baseball draft, just months after he chosen by the Denver Broncos in the NFL draft. Leach chose baseball, and made his Major League debut in April of 1981 with the Tigers.
He would go on to play with the Toronto Blue Jays, Texas Rangers and San Francisco Giants before retiring in 1990
He was elected to the Michigan Sports Hall of Fame in 2008.
Velasquez' Two Sport Feat Honored With A Special T-Shirt
In honor of Velasquez' accomplishment, the Wolverines Den created a special t-shirt design, which plays off the old TV commercials for pro two-sport star Bo Jackson, which went by the catch phrase 'Bo Knows'.
The shirt features Velasquez in both uniforms with the phrase 'Jo Knows'.
Michigan Defeats Ohio State In Columbus For First Time Since 2000