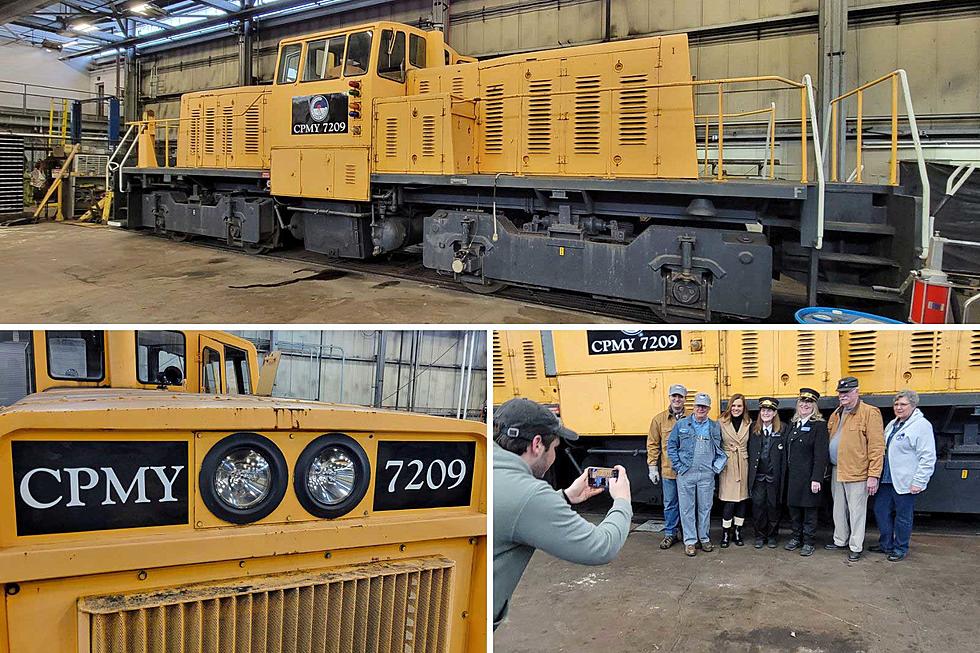 Consumers Energy Makes 125-Ton Donation to Local Organization
Photo: Friends of the Coopersville and Marne Railway via Facebook
How do you get rid of a spare 125-ton locomotive you just have sitting around? Well, if you are Consumers Energy -- you donate it to a local non-profit group!
The utility company was no longer using a 1979 125-ton locomotive at their West Olive generating plant. These things can be pricey and the cost to ship them is not cheap according to Jeff Dupilka, the president of the Coopersville and Marne Railroad Company. They were delighted to be able to take the locomotive from Consumers Energy!
Here is a group from Friends of the Coopersville and Marne Railway holding the key. (I'm guessing that is not the real key that starts the locomotive!)
The Life of the Locomotive
This locomotive, the CPMY 7209 engine, was used to transport coal across the power plant. It could pull as much as 8.7 million pounds of coal in a single trip. The locomotive is almost 45 years old, but is in great condition.
Some stats on the CPMY 7290 locomotive:
Original Manufacture date: 1979
Refurbished / Repowered with new Technology around 2010
Manufacturer: General Electric
Model: Center Cab 125 Ton Switcher
Locomotive weight 250,000LBS
Engine: Twin Caterpillar C16, 600HP Each. 1200HP total
In a recent Facebook post, the Friends of the Coopersville and Marne Railway released the following statement:
The railway is very grateful for this wonderful gift that will allow for better scheduling of resources and enhance both our freight and passenger services. This engine will be the newest equipment in operation on our Vintage railway. We currently run 5 passenger coaches from the 1920's for event trains and recreational excursions. Come join us and experience history firsthand.
Some of their passenger train rides include the April Bunny Trains, May school charters, a Special Veteran's train, The Great Train Robbery, the evening Murder Mystery Train, the October Pumpkin trains, and December's famous Santa Train.
More about the Friends of Coopersville & Marne Railway
The Friends of Coopersville & Marne Railway is a non-profit (501-C)  volunteer organization that has operated passenger trains between Coopersville and Marne, Michigan for the past 35 years.  Over the years, hundreds of thousands of passengers and their families have enjoyed a trip on their vintage trains. More information can be found on the mitrain.net website.
They are located right in downtown Coopersville at 306 Main Street.
When you get a new locomotive, you need to learn how to start it up...
Here is a video of one of the Friends of Coopersville and Marne Railway engineers starting up their newly donated locomotive...
1871 Restored Train Depot is Now Unique Michigan Airbnb: Look
Located in the village of Colon, Michigan, this train depot found new life when it was moved to its current location in 1993. The owners spent painstaking time renovating and refurbishing the historic depot piece by piece making sure to salvage the original doors and nearly all of the interior beaded wainscoting as well as all of the unique antique "window weight" windows. The 2 bedroom 1.5 bath "home" sleeps 5 guests comfortably amongst charming decor in every room. Keeping with the historical theme, visitors will find antiques, a stunning restored sleigh, and beautiful custom-made cabinets inside. Take a look!
Train Car Diners