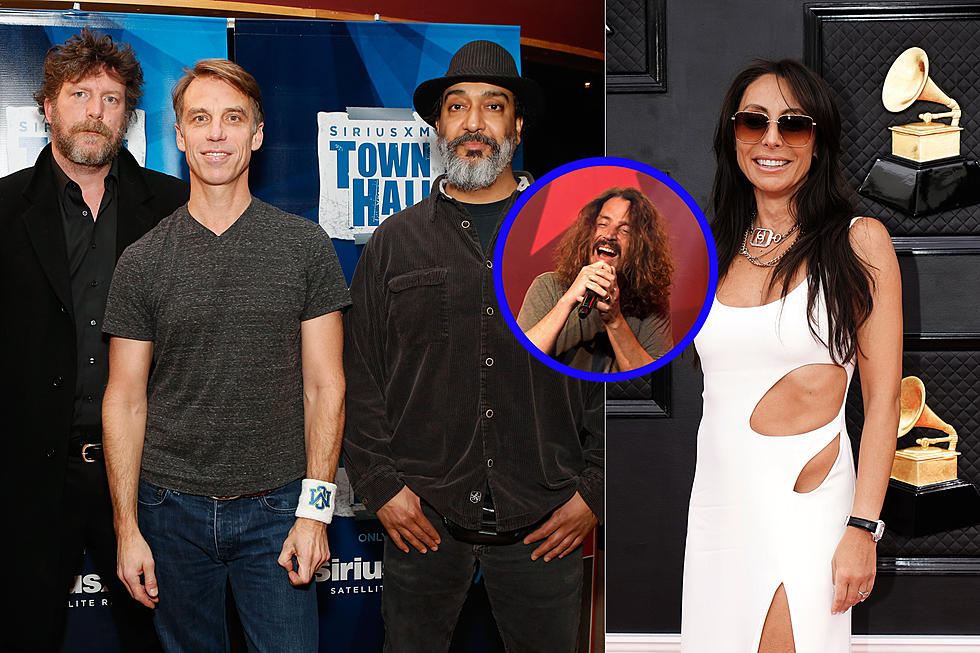 Soundgarden + Vicky Cornell Issue Joint Statement on Resolution of Court Battle, Chris Cornell's Final Songs to Be Heard
Cindy Ord / Kevin Winter / Jeff Kravitz, Getty Images
The members of Soundgarden and Vicky Cornell have ended their long-running legal conflict. In a joint statement issued on both the Chris Cornell and Soundgarden social media accounts, it's been revealed that the two sides have reached "an amicable out of court resolution." This is notable, as it now clears the way for Cornell's final recordings that he was working on with the band to finally be shared with fans.
The statement from both Vicky Cornell and the group reads as follows:
Soundgarden and Vicky Cornell, on behalf of the Estate of Chris Cornell, are happy to announce they have reached an amicable out of court resolution. The reconciliation marks a new partnership between the two parties, which will allow Soundgarden fans around the world to hear the final songs that the band and Chris were working on. The two parties are united and coming together to propel, honor and build upon Soundgarden's incredible legacy as well as Chris's indelible mark on music history - as one of the greatest songwriters and vocalists of all time.
In 2019, Vicky Cornell sued the surviving members of Soundgarden over the rights to seven unreleased recordings. The suit also claimed that the band was "withholding hundreds of thousand of dollars in royalties"
In 2020, Soundgarden refuted her claims, stating that the material they had been working on was for the band and not for a Cornell solo effort, and they also denied withholding any money from the widow and her family. Later that spring, the band countersued Cornell, claiming that she had misused the Chris Cornell charity concert earnings. Those claims against Vicky Cornell were later dropped from their lawsuit
In February 2021, Vicky Cornell filed another lawsuit against the band over reaching a deal on a buyout price. In March 2021, a Washington State federal judge ruled that the band had not been withholding royalties from Cornell.
READ MORE: Soundgarden Announced Among 2023 Rock and Roll Hall of Fame Nominees
There was also a period during this back and forth of litigation in which the band were locked out of their social media accounts, leading them to ask a judge to reinstate their access. In June of 2021, that access was granted back to the band in a temporary agreement, while marking the first productive step toward an opening dialogue between the two parties..
At that point, both Soundgarden and Vicky Cornell had expressed their desire for Chris Cornell's final recordings to be posthumously released. And in the year since that positive stride, it appears as though the two sides have now come to an agreement moving forward that will allow the final recordings to finally be heard.
Every 'Big 4' Grunge Album, Ranked From Worst to Best