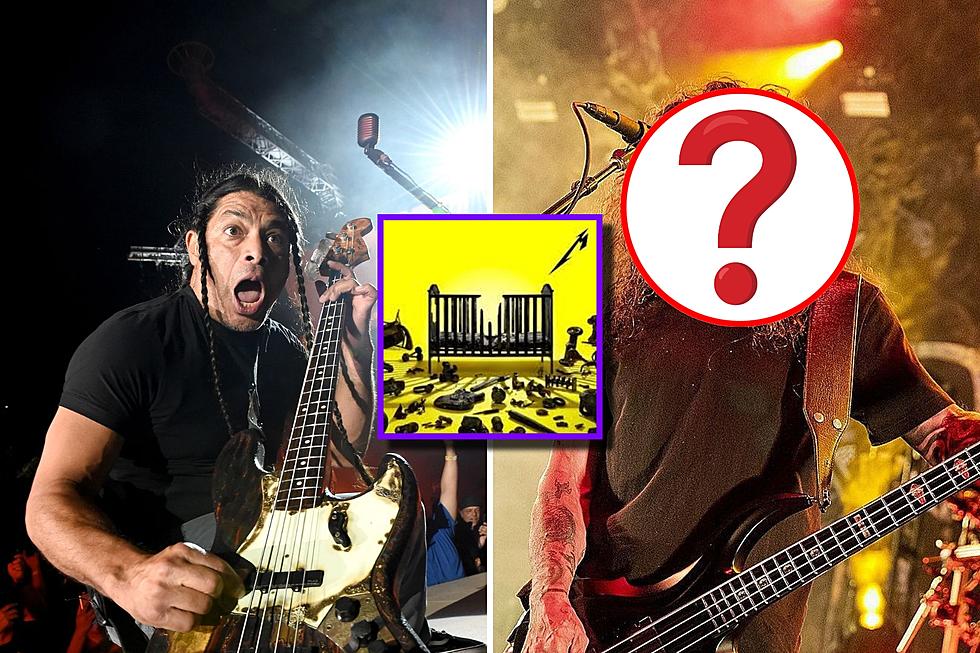 Robert Trujillo Names the One Band He'd 'Love to Hear' Cover '72 Seasons' Title Track
Kevin Winter, Getty Images / Scott Legato, Getty Images / Blackened Recordings / Elena Brovko. iStock/Getty Images Plus
There have been a lot of Metallica covers over the last 40 years, and with the recent release of 72 Seasons, it won't be long before those tracks are adapted as well. According to bassist Robert Trujillo, the one band who should definitely put their spin on the LP's title track is fellow 'Big 4' thrash legends Slayer.
During his May 2023 chat with Mexico's Alfa 91.3 FM, Trujillo was asked about artists he'd like to see tackle songs from 72 Seasons. After considering why "stoner" comedy duo Cheech & Chong would do a "humorous" reimagining of "If Darkness Had a Son," he delved into why Slayer would totally nail "72 Seasons":
Let's see. What would be a really powerful song? I mean, I would love to hear, like, . . . this is gonna sound crazy. What if "72 Seasons" was covered by Slayer? I mean, that would be pretty cool [laughs]. You know?

No one would expect that, but I would love it. 'Cause I always feel like . . . some people say there's a competition [between us]. Maybe it's because I came into the band later, [but] I view it as more as two signature sort of icon powerhouses, you know, that had this energy back in the early '80s, you know? Really strong. But, like, what if, what if the classic Slayer lineup covered a song like "72 Seasons"? That would be pretty cool.
You can watch the whole clip below.
Slayer may've never covered Metallica before (at least according to Secondhandsongs.com), but they have covered plenty of other artists (including Black Sabbath, Minor Threat and even Judas Priest). Plus, Metallica have tried their hands at numerous Slayer classics in the past, such as "Raining Blood" and "Black Magic," so it'd be somewhat conceivable if Slayer were still around.
READ MORE: Rockers Who've Defended Metallica's Lars Ulrich
Would you be down for a Slayer cover of "72 Seasons," though? Let us know!
In related news, former bassist Ron McGovney recently championed Megadeth mastermind Dave Mustaine's work on Metallica's 1982 No Life Til Leather demo.
Also, it was just announced that Epica will be taking over for Five Finger Death Punch at Metallica's June 18 show in Gothenburg, Sweden because FFDP frontman Ivan Moody is still recovering from hernia surgery.
On that note, Metallica's current M72 World Tour has been going quite strong so far! You can check out the remaining dates here and grab your tickets here.
Robert Trujillo Discusses Slayer Covering "72 Seasons" with Alfa 91.3 FM (May 18, 2023)
What 10 Artists Thought About Huge Bands That Covered Their Songs
Imitation is the sincerest form of flattery, right? See how these 10 artists reacted to another artist covering their song.