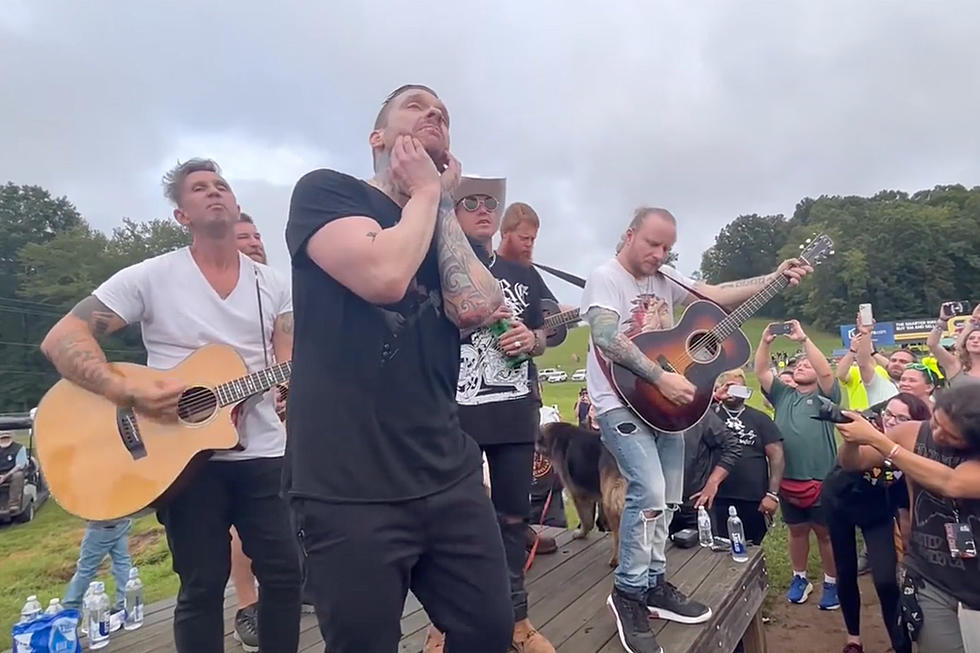 Oliver Anthony Joins Shinedown for 'Simple Man' Campground Jam After Blue Ridge Rock Fest Cancellation
Facebook: Rock Ambassadors Media
The 2023 Blue Ridge Rock Fest may have truly been a wash, but some of the musicians on the festival still tried to give fans a positive lasting memory. Shinedown's Brent Smith, his bandmates, Jacoby Shaddix of touring partner Papa Roach and current viral country sensation Oliver Anthony gave fans an impromptu pop-up set in the Blue Ridge Rock Fest campground area after weather forced the cancellation of the festival's last two days.
In video shared on Rock Ambassadors Media's Facebook page (as seen below), the musicians all found their way to a makeshift stage for an acoustic set, pulling out one of Shinedown's biggest songs - their cover of Lynyrd Skynyrd's "Simple Man." Campers gathered around, filming the performance and singing along with Smith as the chorus of the song rang out.
Shinedown and Papa Roach had been booked for months for the festival, which actively sought fan input in deciding who to invite to the massive Virginia-based music weekend. Oliver Anthony was a late addition to the festival, with the singer's star rising significantly over the past month thanks to the viral song "Rich Men North of Richmond."
The impromptu set served as a de facto festival closer. Watch the performance of "Simple Man" below.
Shinedown, Jacoby Shaddix + Oliver Anthony Perform "Simple Man" at 2023 Blue Ridge Rock Fest
Other Actual Good Things That Happened at 2023 Blue Ridge Rock Festival
Blue Ridge Rock Festival has been known in recent years as one of the largest rock-centric music festivals, proclaiming itself to be a festival created by the fans. However, there was plenty of fan backlash over the weekend as a good portion of Friday's performances were washed away by weather issues leading to mass complaints over evacuation of the area, with organizers then having to call off Saturday and all of Sunday's sets as well due to inclement weather, once again leading to plenty of hostility over how things played out. In addition, fans complained over transportation, parking, garbage, the bathrooms and how security enforced things over the course of the weekend, causing additional headaches for festival goers.
READ MORE: Photos + Video - Fans Document Disastrous 2023 Blue Ridge Rock Festival
But despite the issues, there were some good things to come out of the 2023 edition of Blue Ridge Rock Fest. Before the weather issues on Friday (Sept. 8), Trust Company took the stage for the first time in 12 years and the first time in 17 years with their original lineup. The band had a pair or radio hits in the mid-2000s with "Downfall" and "Stronger," and finally made it back to the stage with the lineup from their heyday.
Trust Company Perform "Downfall" at 2023 Blue Ridge Rock Festival
Meanwhile, it was a pretty big weekend for Job for a Cowboy, who played their first official concert in seven years at the Blue Ridge Rock Festival on Friday (Sept. 8). This came after a secret show the night before in Richmond, Virginia where they were billed as Above Ground Pool. The set also included a guest turn from Lorna Shore's Will Ramos, who appeared on the song "Entombment of a Machine." See fan-shot footage below.
Job for a Cowboy, "The Agony Seeping Storm" at 2023 Blue Ridge Rock Fest
Job for a Cowboy With Will Ramos, "Emtombment of a Machine" at 2023 Blue Ridge Rock Fest
And with some last minute lineup shifts, self-proclaimed major Sleep Token fan Will Ramos of Lorna Shore no longer had to play opposite Sleep Token on the bill, giving him the opportunity to head over and catch the show. See some footage of Ramos in the crowd and Sleep Token's performance of "Granite" below.
Will Ramos in the Crowd During Sleep Token's 2023 Blue Ridge Rock Fest Performance
Sleep Token Perform "Granite" at 2023 Blue Ridge Rock Festival
10 Ways Not to Be an A--hole at Concerts
Because wtf is going on lately?