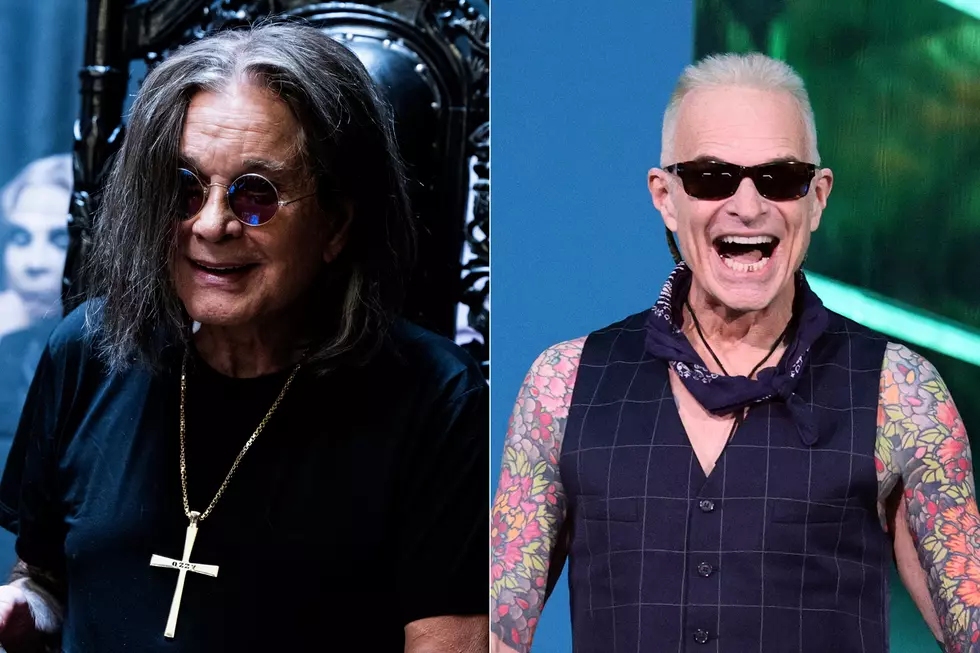 Charity Auction – See All the Cool Items Donated By Ozzy Osbourne, David Lee Roth + More Legends
Scott Dudelson / Theo Wargo, Getty Images
Music memorabilia collectors, it's that time again! Julien's Auctions is ready to auction off some great items from some of music's biggest names as part of their annual MusiCares Charity Relief Auction, which is set to take place Sunday, Feb. 5 in Beverly Hills, California.
There's plenty for hard rock, metal and classic rock fans to take in, including some signed and personalized music instruments from rock legends. Ozzy Osbourne has signed one of his personally owned and used Gibson SG electric guitars, which is estimated to go for between $2,000 and $4,000 at the auction.
Led Zeppelin great Robert Plant also signed one of his Gretsch Electric guitars, which is expected to fetch between $1,000 and $2,000 at the auction. Guns N' Roses guitar god Slash not only signed but added a doodle to his Gibson Les Paul electric guitar that's going up. It's expected to garner between $2,000 and $4,000. And Aerosmith great Joe Perry also signed and doodled on his stage-played Gibson Les Paul electric guitar, which should net between $4,000 and $6,000 at the auction.
The members of Fleetwood Mac all signed a Gibson Les Paul electric guitar at their MusiCares Person of the Year ceremony, and that guitar is currently on the block for an estimated $4,000 to $6,000.
It wasn't all signed guitars, as Slipknot's Jay Weinberg signed one of his stage-played drum heads that should net between $600 and $800 at the auction. And speaking of Slipknot, there's also a limited edition 2022 band-signed concert poster that should fetch between $600 and $800 as well.
One of the more interesting items in the auction comes from David Lee Roth, who has been selling his paintings of late. One of Roth's originals, titled "Dark Ocean," is part of the auction, expected to net between $4,000 and $6,000.
You can see all of these items in the gallery below.
Meanwhile, artists such as Tom Petty, Eagles, Lenny Kravitz, Elton John, Sting, BTS, Taylor Swift, Snoop Dogg, The Beatles, The Rolling Stones, The Who, Bob Dylan, Joni Mitchell, Katy Perry, Elvis Costello, Jimmy Buffett, Depeche Mode, Eminem, Cher, Barbra Streisand, Brandi Carlile, Miranda Lambert, Olivia Rodrigo, Selena Gomez, Harry Styles, Daft Punk and more are represented at this year's MusicCares Charity Relief Auction. Dig into the catalog of items available here.
Proceeds from the sales will benefit the MusiCares preventive, emergency, and recovery programs for musicians.
The auction items will be on exhibit starting Feb. 1 through Feb. 3 at Julien's Auctions in Beverly Hills, with the auction then set to take place on Feb. 5 at 11AM PT in person and online via Julienslive.com. If you wish to bid, make sure to register ahead of time. Learn how here.
2023 Julien's Auctions MusiCares Charity Relief Auction Items
See what's going on the block.
The 40 Most-Played Songs on Rock Radio in 2022
These songs had the most spins on U.S. rock radio in 2022.