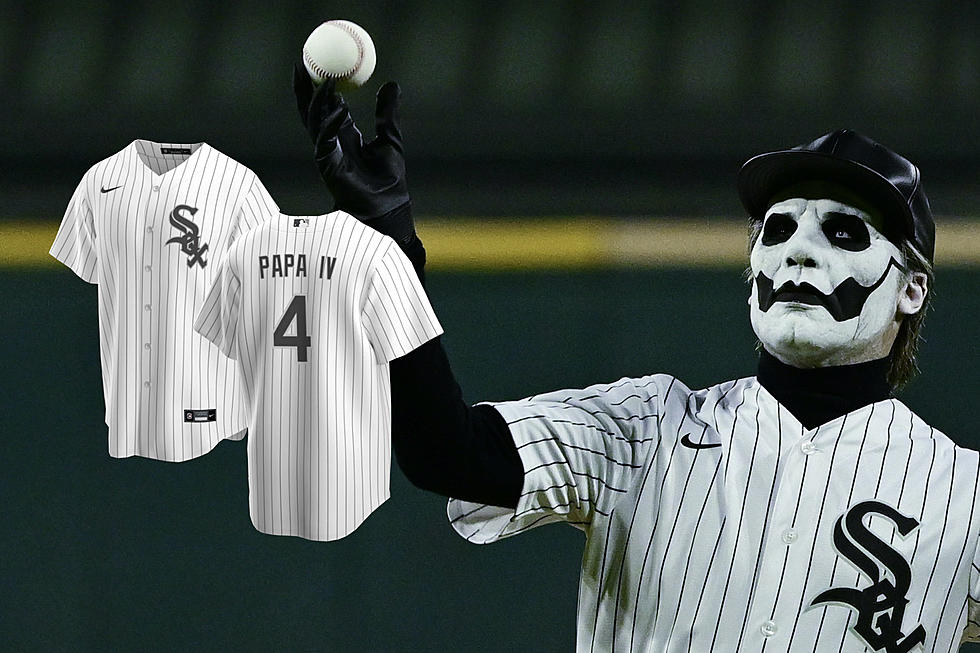 Now You Can Buy Your Own Ghost Papa Emeritus IV White Sox Jersey
Quinn Harris, Getty Images / shop.ghost-official.com
Ghost fans can now buy their own replica Papa Emeritus IV Chicago White Sox jersey — a reproduction of the same one the Ghost singer, whose real name is Tobias Forge, wore last year.
A commemorative Ghost baseball T-shirt is also available as part of the Swedish theatrical heavy rock band's new capsule collection commemorating Papa's first pitch at a 2022 White Sox game.
See images of the jersey below. Go here to buy.
Papa Emeritus IV Ghost Baseball Jersey
Ghost got into America's favorite pastime on Sept. 22, 2022, when Forge lobbed the ceremonial toss before the White Sox played the Cleveland Guardians at Guaranteed Rate Field, the Sox's home stadium.
READ MORE: Viral Yankees Batboy is a Rock Drummer
While jarring to see the heavily made-up Forge in a baseball uniform, it was exciting to know he was uniting rock and metal with the sport. The Guardians beat the Sox that day with a final of 4–2.
Ghost lovers might as well get in on the jersey action now. Because who knows how long Papa IV will stick around. In a video this month, the Papa struggles with a juice box before he awakens the spirit of the related Ghost character Papa Nihil — essentially the amassed representation of Forge's past priest (I-III) characters.
Does this mean a new Papa is on the way? We don't know much yet for now. But perhaps Forge is planning another thematic Ghost re-tool for future music.
More Ghost
Ghost's latest, IMPERA, arrived last year. Their "RE-IMPERATOUR" kicks off this summer. Get tickets here. Subscribe to Loudwire's newsletter and get the Loudwire app for more.
See Ghost's first pitch below. Get Ghost tickets here.
Papa Emeritus IV of Ghost Throws First Pitch - Sept. 22, 2022
10 Rock + Metal Artists Who Released Their Own Sex Toys
These rock and metal artists got creative with merchandising when they issued their own branded sex toys.