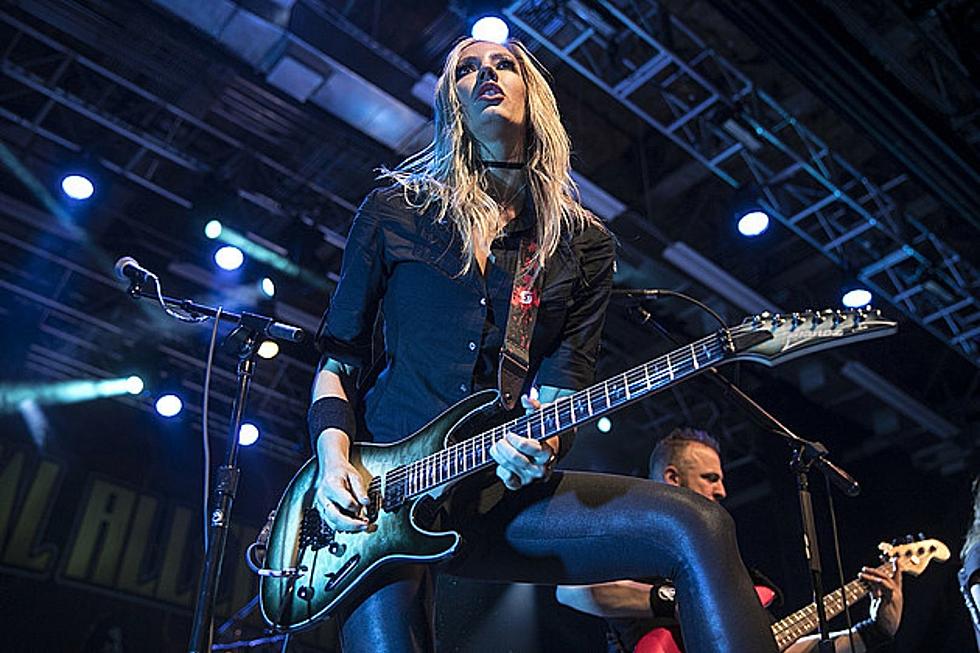 'Bad Advice' Nita Strauss Got Early in Career Shows How Misogynistic Music Industry Can Really Be
Raymond Ahner for Loudwire
Top notch shredder Nita Strauss revealed the tone-deaf misogynistic "bad advice" she was given early in her career. The now-Demi Lovato guitarist says she was told to "show some skin" and "appear available."
Strauss went on Knotfest's She's With The Band podcast and discussed the female-specific guidance she got beginning her career in the early 2000's. As transcribed by GuitarWorld, Strauss tells the podcast hosts that "I had so many people telling me what I needed to do in order to be successful, (like,) 'you can't say that you're dating anybody because you need to appear available,' (and...) 'you need to show more skin.'"
Strauss says this was when she was in her late teens. Strauss did her first national tour at 15-years-old and had dropped out of high school at 17 to try and be a professional electric guitarist full-time. Mentally, Strauss rebelled against this "advice," saying that she wanted to known as a musician and not for how she looked.
"I wanted to be known as a guitar player and that was it," says Strauss. "I started really dressing down. I dyed my hair darker… to stand out less. I'd wear a men's large t-shirt onstage and baggy cargo shorts and started touring with heavier bands."
"I was like, 'I don't want to be the hot chick. I just wanted to be the guitar player.' But that's not who I am either, you know? I kept getting pulled back and forth through this dichotomy of 'No, you have to be the sex symbol.' And it's like, 'No, you want to be a serious musician.' But the reality is (that) where I am doesn't fit into either of those molds."
Strauss states that as far as showing the world that she has a boyfriend, "fans don't need to think they have a chance with me in order to be respected and have people come to my shows." And looking back on what those earlier people were counseling  her, "I just wish that I could go back and tell my younger self to stop trying to fit into what other people tell you you should be, and just be who you are."
You can check out Strauss in full on the She's With The Band podcast at the end of this post.
Strauss had 2022 full of milestones and changes. Early in the year she made history as the first solo female act to top the mainstream rock charts with her hit "Dead Inside." Then later in the year she left her long-standing gig with Alice Cooper to become guitarist for pop/rock sensation Demi Lovato. She reflected a bit on her big year in a tweet below.
Nita Strauss on Knotfest's She's With The Band Podcast
15 Rock + Metal Bands Whose Guitarist Is the Only Original Member Left
The following bands no longer have any original members left except for a sole guitarist.