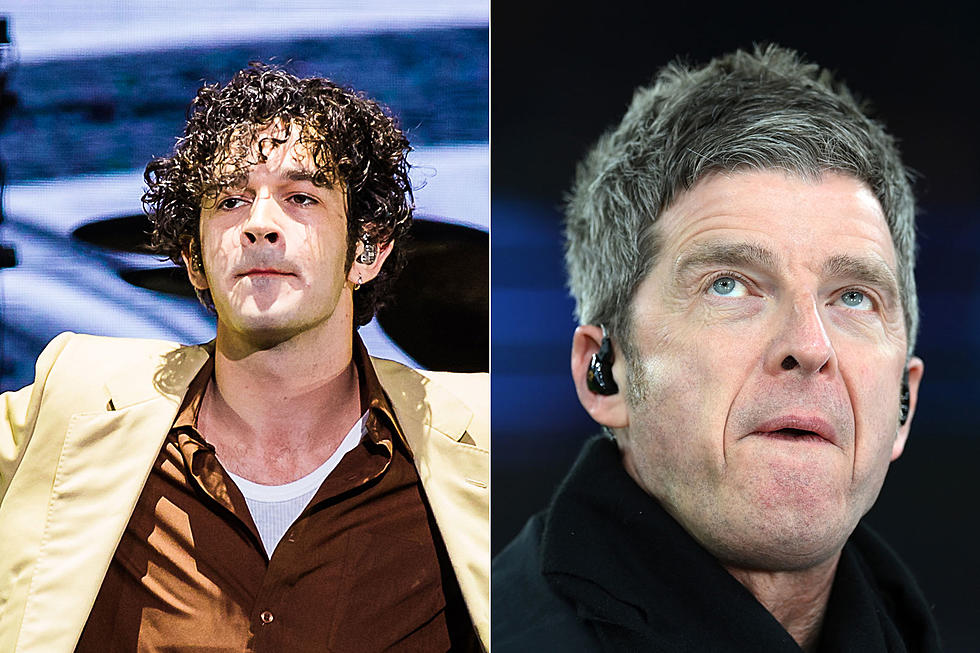 1975's Matty Healy Responds With Sharp Dig to Noel Gallagher Diss
Mauricio Santana / Shaun Botterill, Getty Images
The 1975 are not the first band to draw a barbed critique from Oasis' Noel Gallagher and they likely won't be the last, but singer Matty Healy showed that he can give as good as he gets with a sharp retort to Gallagher's recent criticism.
Earlier this month, Gallagher was asked about comments made by Healy earlier this year suggesting that the Gallagher brothers should "grow up," get past their issues and reunite, sharing his love for the band's music in the process.
In response, Gallagher took a couple of shots at Healy and his band in a pair of interviews. In a recent interview with Spin, the Oasis guitarist and songwriter referred to Healy as a "fucking slack-jawed fuckwit," before responding to Healy's comments that they should reunite by suggesting, "He needs to go over how shit his band is and split up."
In a separate interview with NME, Gallagher once again dug into The 1975 in a bigger discussion on contemporary bands.
"It's just a pity guitar music has become marginalised," stated Gallagher. "You've either got to be rock, or that fucking [The] 1975. At the BRITs, The 1975 won Best Rock or some fucking shit."
"I was watching it with my kids, two teenage lads, thinking, 'Is it me being a grumpy old man, or is this shit?' They were both going, 'Oh no, this is fucking shit.' The 1975, Best Rock Band? Someone needs to re-define that immediately, because that is . . . I don't know what that is, but it's certainly not fucking rock. Whatever rock is, that's not it."
That brings us to The 1975's recent stop in Dublin, where Healy used the concert stage as his platform to share his love for Gallagher, before turning the tables and dropping a dig at the musician as well.
The band's opening act, Caroline Polachek, had to bow out of the performance after losing her voice, so Healy stepped in with a solo set opening for his own band during the Dublin show.
While seated with an acoustic guitar, Healy started sharing with the crowd how members of Coldplay and U2 had been kind to them of late, sharing supportive messages to the band. It was at that point, he flipped the conversation to Gallagher, noting, "Noel Gallagher called me a 'slack-jawed fuckwit,'"
He went on to share, "I love Noel Gallagher. We asked Liam to open up and he said he would have done it but he was busy. But I love Noel Gallagher, give it up for Noel Gallagher. He's just getting on."
Then Healy dropped the humorous reply, "The difference between me and Noel is that I do a series of interviews to promote an album, whereas he does an album to promote a series of interviews (laughs). But we love you Noel, get Oasis back together!"
READ MORE: 10 of the Wildest Insults Rock + Metal Stars Have Hurled at People
Where the Oasis-1975 Beef Started?
Back in February, Healy was speaking in an interview what he was most proud of over the course of his band's career. While he initially started discussing how they as men were able to get beyond any tensions for the betterment of the band and now amassing some longevity, he then turned to Oasis as the opposite of how they handle their internal business.
"What are Oasis doing?" he commented at the time. "Can you imagine being in potentially – right now, still – the coolest band in the world, and not doing it because you're in a mard with your brother?" "Mard" is slang for "a tantrum."
"I can deal with the dressing like they're in their 20s and being in their 50s, but acting like they're in their 20s, they need to grow up," he continued. "They're men of the people, and they're sat around in, like, Little Venice and Highgate, crying over an argument with their brother. Grow up! Headline Glastonbury! Have a good time! Have a laugh!"
Healy then continued his point, weighing in on the brothers' respective solo efforts. "There's not one kid, not one person, going to a High Flying Birds gig or a Liam Gallagher gig that would not rather be at an Oasis gig," stated Healy, adding, "There's not one person that's there going, 'You know what? I loved Definitely Maybe but my favorite thing is Noel Gallagher's fucking High Flying Birds. Do me a favor. Get back together, stop messing around. That's my public service announcement for today."
As we've seen in recent months, the potential reunion talk is something that's not gone away, with Noel Gallagher suggesting that Liam should call him if he's serious about wanting the band to reunite, but baiting him that he wouldn't. Liam, in turn, has responded to Noel's comments in interviews through his Twitter account, taking the opportunity to shade Noel over damaging the band and their brand and calling him out for previous missed opportunities to reunite.
Earlier this week, Noel once again issued a public challenge to his brother to call him if he's legitimately interested in a reunion. Liam, in turn, responded on social media, laughingly stating, "Rkids been in usa 2 days and he's turned into RIC FLAIR it's coming up it's DARE."
When one fan asked why Noel doesn't just call him, Liam stated, "Exactly he split the band up put lots of people out of jobs ruined many folks lives and he wants me to do the calling he is fucking DELUSIONAL he can call me though id love to hear from him it's been to long." When asked by another fan if he'd called Noel, Liam added, "Don't be silly."
A Timeline of the Beef Between Oasis' Noel + Liam Gallagher