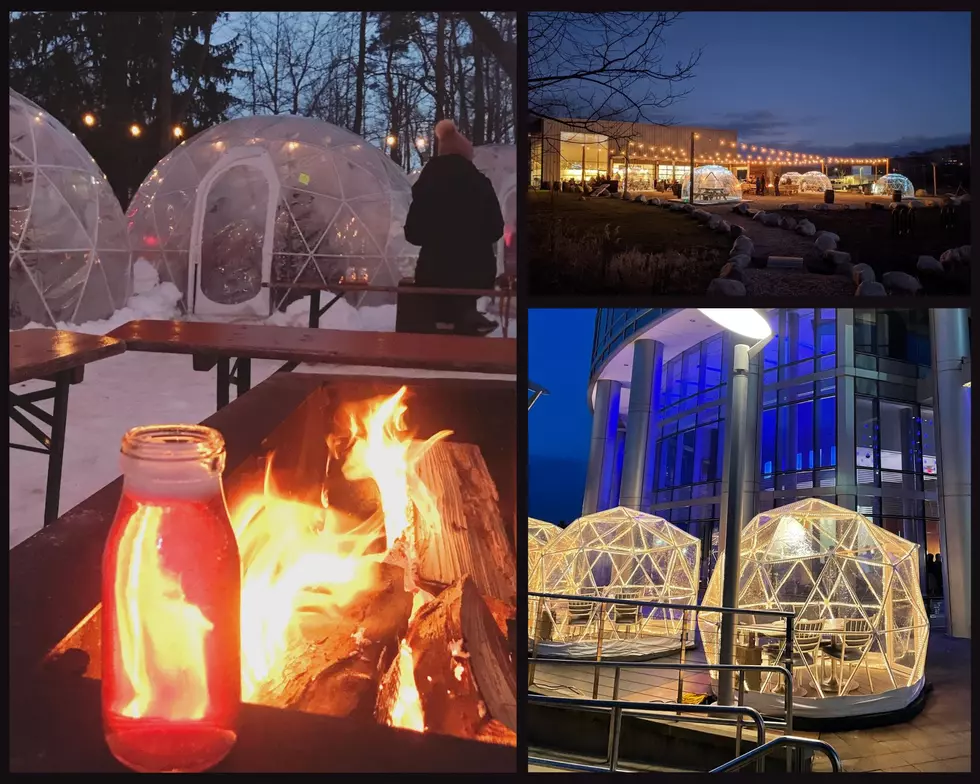 Stay Warm in These Cozy Heated Igloos for Outdoor Dining in West Michigan
Farmhaus Cider, Third Nature Brewing Company, JW Marriott/ Facebook
A trend that began during the pandemic is here to stay - and I for one, am here for it!
Eating outside in heated igloos and greenhouses is such a fun experience and there's plenty of places to do it in West Michigan!
Igloo Dining Gains in Popularity
While outdoor dining has been around forever, more places adopted it during the COVID-19 pandemic. Restaurants and bars had to get creative with different ways to support social distancing.
The increasingly popular "social districts" allowed customers to enjoy adult beverages and food in designated areas outside of bars and restaurants.
Of course in Michigan, we've got winter to deal with. In order to keep guests warm and able to properly distance, igloos and other heated structures started popping up outside of restaurants and bars.
Even though it's not in lower West Michigan, one of the first "igloo" experiences I ever had, was at Hop Lot in Suttons Bay.
Hop Lots' igloos have been around since before the pandemic, as a way to help guests enjoy all four seasons at the brewery. Each of the twelve igloos is heated with ionized furnaces and you're able to order food and drinks using QR codes. Hop Lot also has five natural wood burning fire pits outside to keep you extra toasty!
Things to Keep in Mind About Outdoor Igloo Experiences
It's important to note that many restaurants and bars with igloo dining require a reservation. At some establishments there is a food and beverage minimum you'll need to meet as well, and possibly included gratuity.
While outdoor dining experiences in West Michigan are heated, it's still a good idea to dress warmly, with a coat, hat, gloves, etc.
So bundle up and get ready to get cozy with these igloo dining experiences in West Michigan!
12 West Michigan Restaurants with With Igloos or Other Outdoor Heated Dining
Winter weather in West Michigan can be a bit frightful - but that doesn't mean dining outside in the wintertime has to be!
Here are twelve bars and restaurants in West Michigan that offer cozy outdoor dining inside an igloo, greenhouse, or other heated structure.
Some even have outdoor fireplaces and holiday lights to keep you feeling festive!
Any igloo dining experiences we missed? Let us know and we'll add 'em to the list!
West Michigan Christmas Light Displays to Light Up Your Holiday Season in 2022
'Tis the season for sparkling, twinkling Christmas lights. From walk-through and drive through options, find out when and where you can see holiday light displays in West Michigan here:
8 Cozy Getaways: Michigan Rental Homes with Heated Indoor Pools
From Kalamazoo County to the Upper Peninsula, there are tons of great rentals in Michigan with heated indoor pools. At different price points, these different Airbnbs and VRBOs sleep 8 to 30!