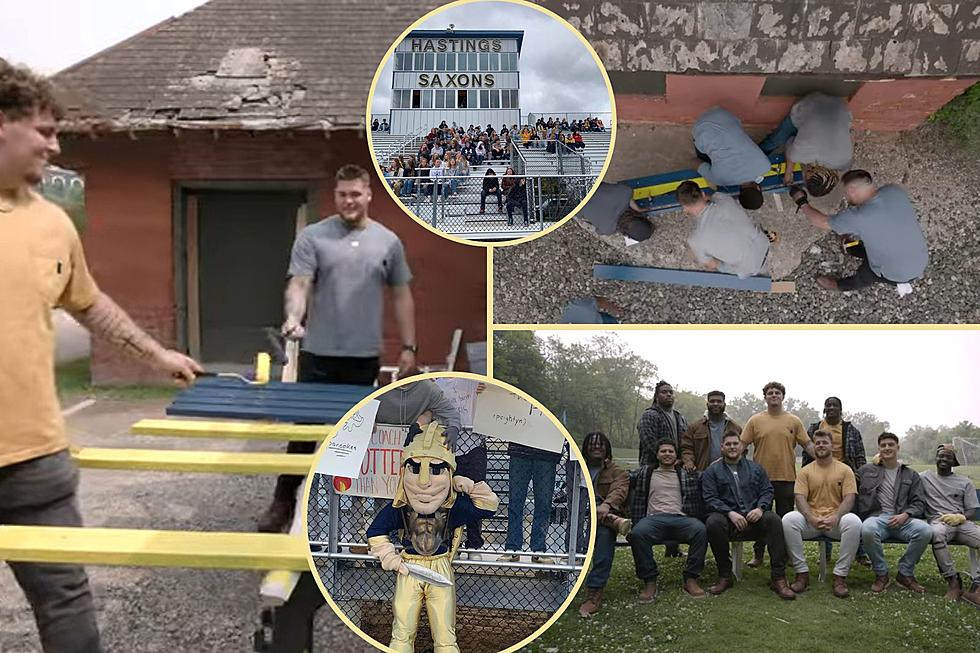 Hastings Football Team to Get New Benches Built By U-M Players
Wolverine Boots/ Hastings High School
A school's homecoming is always special - well Hasting's homecoming is going to be even more special, thanks to University of Michigan football players.
Wolverine Boots teamed up with 13 University of Michigan Wolverines to build seven new benches for the Hastings High School football program.
It's part of Wolverine Boots' ongoing Maize and Blue Collar Campaign.
Wolverine says,
Blue collar work ethic is something we live by and champion at Wolverine, no matter the job site or industry.

That's why we've partnered with members of the University of Michigan Football team, who exhibit this grittiness in their daily grind.
In addition to a special Maize and Blue collar line of footwear and apparel, there's also a video series highlighting each player.
Wolverine Boots will be presenting the benches at the district's homecoming football game Friday, October 13th prior to kickoff time at 7p.m.
The presentation will include a special video featuring the University of Michigan
players who built the benches.
University of Michigan players involved include Blake Corum, Colston Loveland, Junior Colson, Mason Graham, Zak Zinter, Donovan Edwards, Trevor Keegan, Kris Jenkins, Mike Sainristil, Benjamin Hall, Mike Barret, Ladarius Henderson and Cornelius Johnson.
In addition to the special presentation, there's also Hastings' Homecoming parade before the game, which begins at 5:30 p.m. There will also be hot dogs served starting at 6p.m. 7p.m. is kickoff. The Hastings Saxons are taking on Jackson Northwest.
Michigan's Best High Schools Ranked- Here are the Top 25
Michigan is home to some incredible schools that consistently rank as some of the best in the nation. A recent study from
Niche
on the best high schools in Michigan has ranked the top 25 in the state.
Gallery Credit: Google Maps