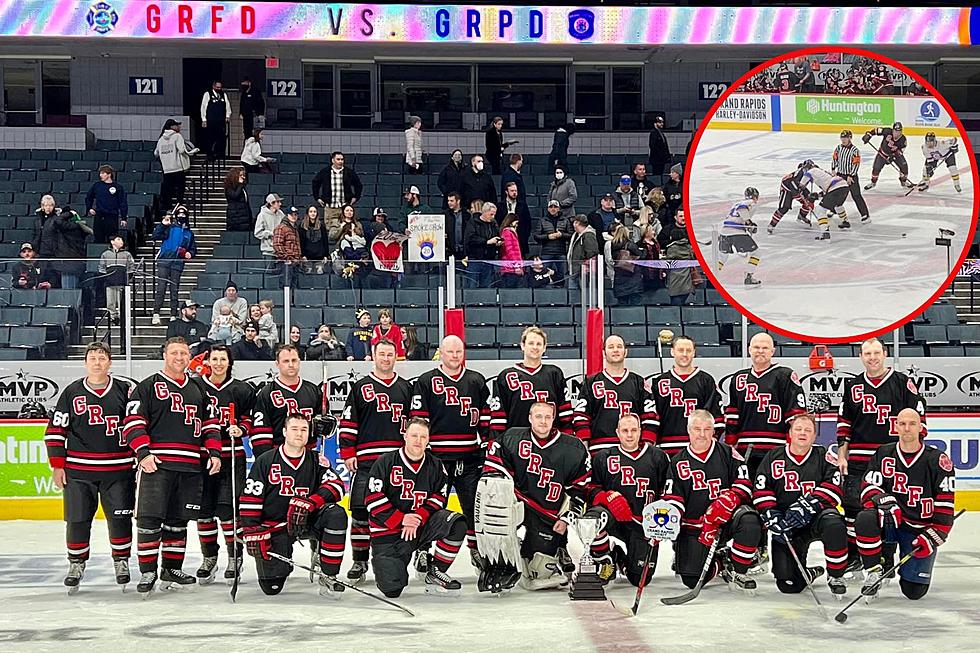 GRFD vs. GRPD Hockey Game for Charity Coming Up in Grand Rapids
GRFD, Facebook
The Grand Rapids Fire Department and Police Department will once again face off on the ice at Van Andel Arena!
GRFD vs. GRPD Hockey Game 2023
The second annual GRFD vs. GRPD Hockey Game is coming up at Van Andel Arena March 11, 2023.
(If you're wondering who won last year - the fire department, by one point! The final score was GRFD 4 - GRPD 3.)
The game starts at 12:30p.m. Purchasing tickets to the 7p.m. Grand Rapids Griffins vs. Cleveland Monsters game that night also gets you into the charity game as well.
A portion of each ticket purchased will benefit the Muscular Dystrophy Association.
According to GRPD, almost all the players have a background in competitive travel, high school, and/ or college hockey. A number of the team members also provide coaching and mentorship with the Grand Rapids Griffins Youth Foundation.
Tickets for the GRFD vs. GRPD Hockey Game.
Ticket Pricing
Upper Level Faceoff tickets: $22
Upper Level Center Ice: $25
Lower Level Faceoff: $28
Lower Level Center Ice: $32
(The $7 per ticket shown as a "fee" goes directly back to the Muscular Dystrophy Association.)
Get your tickets here.
Note that your specific game seat does not matter during the GRFD vs. GRPD game – just the Griffins game that night.
Unbreakable Sports Records and the Athletes That Set Them
There are just some sports records so amazing that it's unlikely any other athlete will even be able to approach them.
The 10 Largest Sports Venues in the State of Michigan
Capacity at arenas and stadiums varies based on location and the team. Check out the ten biggest stadiums and arenas in the state of Michigan.