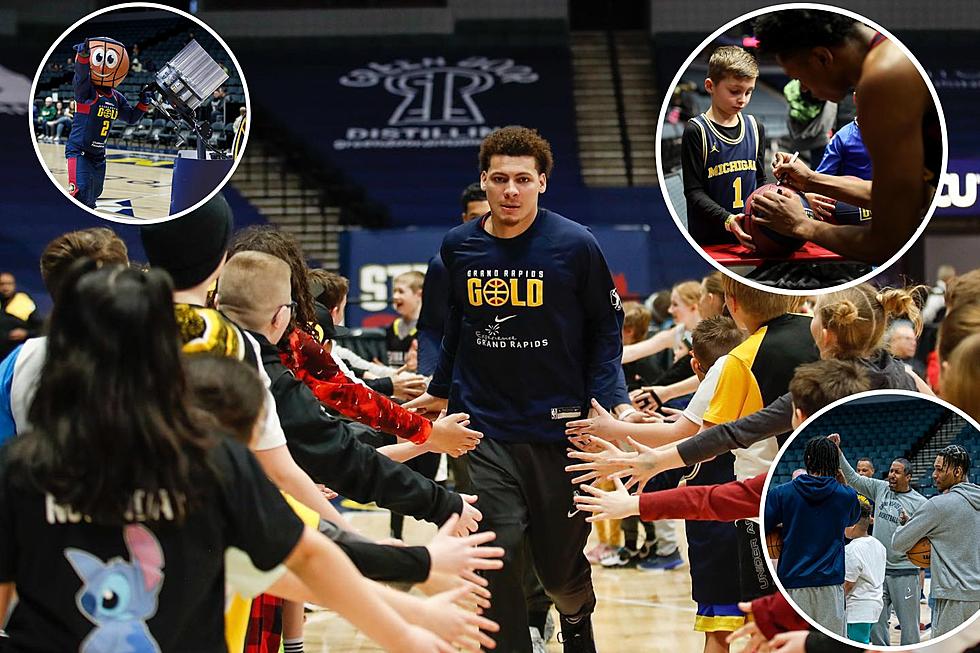 Grand Rapids Gold Holding Open Practice – Meet Players, Get Autographs
Grand Rapids Gold, Facebook
Heads-up basketball fans! The Grand Rapids Gold is holding an open practice this week where you can meet the players.
Now in its second season playing at Van Andel Arena, The Grand Rapids Gold is the Official NBA G League Affiliate of the NBA Championship Denver Nuggets.
The team began as the Anaheim Arsenal in 2006, before relocating to Springfield, Massachusetts, in 2009, becoming the Springfield Armor. After five seasons in Springfield, the franchise moved to Grand Rapids in 2014 and were renamed the Grand Rapids Drive, before changing the name again to the Gold in 2021.
Grand Rapids Gold Open Practice
Ahead of the 2023 basketball season, The Gold has resumed practice at Van Andel Arena.
An open practice is schedule for Thursday, Nov. 2 at Van Andel Arena, starting at 6p.m.
Watch the team practice and then meet the players and get autographs after. Admission is free!
The team didn't specifically say, but I bet the Gold's mascot, Buckets will be there!
The Grand Rapids Gold 2023 Schedule
The Grand Rapids Gold's 2023 season kicks off November 12 at Van Andel Arena. The team is taking on its in-state rival, the Motor City Cruise. Get tickets for upcoming games here!
Six specialty jersey theme nights and four promotional nights are coming up. All specialty jerseys will be worn in-game and sold through auctions to benefit different charities and non-profit organizations.
The first theme night of the 2023-24 season will be the Nov. 18 game dedicated to celebrating the 2023 NBA Champions, the Denver Nuggets. Fans will have the chance to take home a piece of history with the Commemorative Nuggets Championship Ring Giveaway. The night will feature a halftime performance by the famous Red Panda.
Other theme nights will include the return of Flint Tropics night, Star Wars Night, Marvel Super Hero Day, and Fan Appreciation Night. The Gold will launch their new Bluey Night featuring a Bluey character meet and greet for fans. Find out more here!
The World's Largest Basketball Player, Sun Ming Ming, Playing for the Grand Rapids Flight
In 2007 the Grand Rapids Flight signed the tallest person in the world to ever play basketball to their team, Sun Ming Ming from China.
Gallery Credit: Getty Images
Every Basketball Team From Michigan to Ever Make the Final Four
The Michigan State Spartans and Michigan Wolverines have been responsible for 18 trips to college basketball's Final Four. Here's a trip down memory lane.
Gallery Credit: jrwitl
See Inside This Michigan Mansion With a Pistons-Themed Basketball Court Inside
This Michigan mansion on sale right now is a Detroit Piston fan's dream!
Gallery Credit: Lisha B