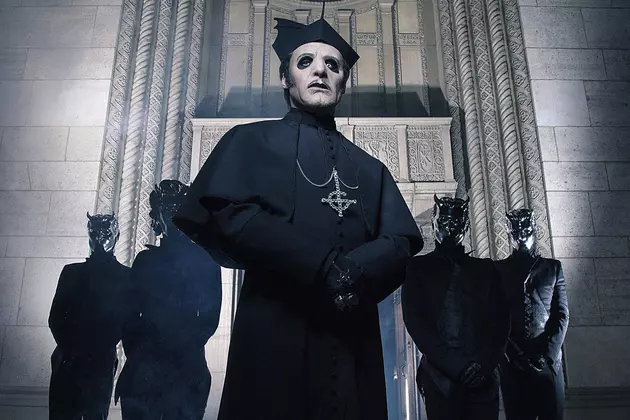 Ghost's Tobias Forge Says Fans 'Lack Perspective' on Rock's Future
Loma Vista Recordings
Ghost frontman Tobias Forge used the debate over Kiss continuing without any original members to argue that rock fans have a "lack of perspective" when it comes to the future of the genre.
Paul Stanley has said on a number of occasions recently that he has no problem with Kiss moving forward without him and Gene Simmons, saying the band had earned the right to "evolve" without them.
"I think that there's a lack of perspective that we have as a music-loving community — the general population, I guess," Forge told Z93 when asked if Ghost could maybe perform without him one day. "I mean, I've never heard Beethoven's music played by him, and that's fine. Same as Bach and Vivaldi. … And I think that just because we're living at the tail end of the classic rock era, where the masters are still — half of them, at least — are alive, there's no way for us to understand how they will live with the idea of rock 'n' roll 50 years from now when all of them, all of us, might be dead."
You can listen to the interview below.
Forge added that his job was to deal with his career as best he could and to "box it as neatly as possible in the future for anyone who's gonna take care of it." But he insisted it wasn't his role to decide what form that future might take.
"It's not up to me to think about," he said. "And it's not up to me to talk about Kiss that way. I've liked Kiss from when I was three years old. I've seen them, the real deal, with all the original members when they came back in '96 and all that, and that's fine. How that is being revered and treasured in the future when they're not able to do it anymore because of physical conditions or not, basically, being alive … That's for the future to decide whether or not they wanna be entertained with that."
Forge said it would be "lovely" to take his grandchildren to a Kiss show when he was 60 or 70 years old. "It wouldn't be the same thing, but it's fine," he noted.