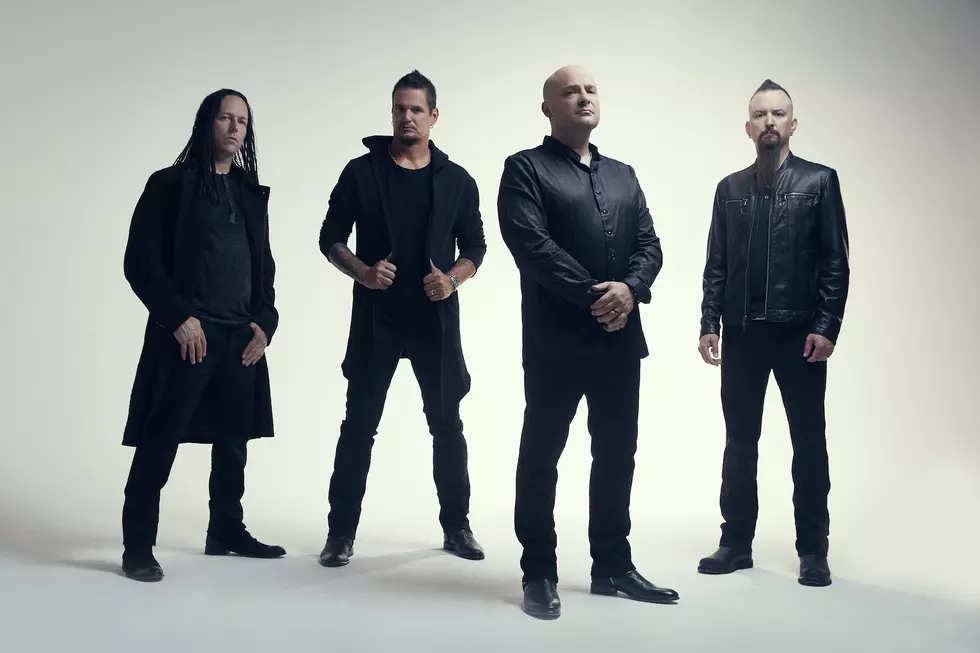 Disturbed's David Draiman and the Demon That Unites Us — Interview
Travis Shinn
Disturbed are one of the leading voices in bringing the mental health conversation to the surface. "A Reason to Fight," one of the singles off the band's 2018 album, Evolution, confronts mental battles against demons. In a new video, Disturbed strip the song down to a powerful acoustic rendition, splicing in interview footage with fans who discuss their own personal struggles. The resounding message of both the song and the video confessional is that if you're afflicted with mental suffering, you are not alone.
Below is David Draiman's interview with Loudwire and Psychology Today, as he talks about the responsibility of spreading awareness for mental health, helping to end the stigma once and for all.
Read the interview and watch the video for "A Reason to Fight" below.
---
"When the demon that's inside you is ready to begin;
And it feels like it's a battle that you will never win;
When you're aching for the fire and begging for your sin;
When there's nothing left inside, there's still a reason to fight"
From "A Reason To Fight" by Disturbed
The paradox of mental illness in our society is as baffling as it is dangerous.
On the one hand, mental illness is incredibly common, with almost 30 percent of people worldwide experiencing some form of mental illness during their lifetime. This practically ensures that most of us will either suffer from or know someone who will suffer from mental illness. Shouldn't we be familiar and comfortable with mental illness at this point?
The answer is a resounding "No," as people who suffer from mental illness face significant stigma by which they are labeled not only as defective but also as weak for not having more control over their mental health. As a result of this stigma, people who struggle with mental illness often try to isolate and avoid their condition rather than seek the support and treatment they need.
The stakes couldn't be higher. The billions of people who will suffer mental illness in their lifetime may face extreme suffering as well as poor work and social functioning. In fact, mental illness — particularly depression — is the number one cause of workplace disability in the world. The tragic and profound consequences of mental illness is perhaps best illustrated by the fact that 800,000 people die every year from suicide worldwide, and suicide is the second leading cause of death in young people ages 15 to 29.
We must do everything we can to reduce the stigma of mental illness so that people can get the support and treatment that they need.
To this end, David Draiman and the members of Disturbed are challenging the stigma of mental illness in their new video for the song "A Reason to Fight." The song addresses the struggle that many of us have with mental illness, and the video gives Disturbed fans the opportunity to share their stories of struggles with mental illness in the hopes of demonstrating how common and devastating mental illness can be.
"Every member of the band has been personally affected by this. That's where 'A Reason To Fight' comes from," Draiman shared. "And what we're really inspired by is our own personal experiences with it — whether it's ourselves as individuals battling addiction and depression, or whether it's watching loved ones of ours battle with it. It's something that's very close to our hearts."
In "A Reason to Fight," Draiman invokes the image of a demon to describe mental illness. He feels that by depicting mental illness as a frightening and horrible concept, he disabuses us of the stigma that people with mental illness are weak and should be able to just "get over it."
"Depression and addiction … The only way to attribute the correct and adequate amount of power, horror and fear that deserves to be evoked from these two things is by referring to them in an almost demonic sense — the ultimate evil … that which tempts you, that which pulls you down, pulls you in … Often theology and mythology and bedtime story monsters are very useful to … come to terms with that which is afflicting you," Draiman explained. "Far too many people minimize and brush off and do attach this stigma to it — that it is something that is avoidable, that it's the fault of the individual, that they let themselves succumb to it. When you all of a sudden make these things the personification of some horrible, evil infection, like a cancer, it really takes on a different meaning and people are forced to view it in a different light. The minute you accept the fact that this is something that could happen to anyone no matter how strong they may or may not be, then it becomes much more frightening. And it becomes much more ominous. And I think it's deserving of that level of power, because there's no one who's invulnerable to this.
"They're diseases like any other, and they take hold of a person whether they want it to or not."
Draiman has watched mental illness take hold of many of his colleagues and friends. In recent years artists such as Chester Bennington and Chris Cornell have died from suicide, and Prince and Scott Weiland have died of drug overdoses. Draiman was appalled at how people discussed the death of his friend Bennington, particularly the suggestion that Bennington's personal and professional success should have shielded him from mental illness.
"When Chester passed … everyone saw him being happy in the recent days prior, having good experiences — frontman of one of the most successful bands in the world, beautiful wife, children. And then the classic question from all of the people I wanted to punch in the fucking face when they said it, 'Why? What did he have to be depressed about: He had everything?'" Draiman recalled. "You have no idea what the fuck you're talking about. You think that because on the surface everything looks rosy that there isn't a cancer inside festering? You can't pretend to know what goes on in somebody's psyche."
But we cherish our rock star fantasies. We get enough reality in our own lives and often don't want to hear about the stress and toil that goes into making the music we love or the struggles that our favorite artists face. We need our rock gods to be perfect so we can escape into the songs and concerts. Unfortunately, this feeds into the stigma of mental illness, as we may harshly judge artists who struggle.
"Don't get me wrong. I have an incredibly blessed existence. I'm very fortunate. I have a beautiful family. I have a beautiful home. I'm doing what I've dreamt of doing since I was a little boy and do it at a level that I never expected to in my life … But with every great success and with every situation that on the surface looks all shiny, rosy and gorgeous and attractive, there's aspects of major sacrifice, there's aspects of major loss. No matter how real I might be about it, no matter what I might say, people do not want to sympathize with the rock star. They don't. They so desperately want to believe the mythology … It's diffusing the fantasy – we're supposed to be superhuman and have everything. And the minute that myth is destroyed, they get very bitter as a result … People get angry when you try and deflate the fantasy. They hang onto it. It's like 'Okay, my life sucks, but I can at least fantasize about people whose lives perceivably don't,'" Draiman said. "And these are all people who have no idea what we go through … They want to believe the whole mythology of sex, drugs and rock 'n' roll and think this is just one long party and everything is just so exciting and so fulfilling and so momentous. People are very quick to talk and people are very quick to rush to judgment. And you have the world in your hands and what possible reason could you have to fall prey to depression or addiction? Or, God forbid, start having thoughts of suicide."
And yet there are many aspects of rock star life — constant public scrutiny, erratic sleep and eating schedules, months of travel away from friends and family — that may destroy one's mental health. "No matter how strong you think you are mentally, physically, it doesn't matter. The minute that all of a sudden you become the focal point of things and you're under the microscope 24 hours a day — every word, every move, every behavior is measured and recorded, and everyone in your organization's well-being and livelihood and future is completely resting upon your shoulders, it's a tremendous, tremendous weight," Draiman described. "And let the idiots of the world go ahead and have a field day with trying to pick you apart at your weak points. It's very easy for the demon to gain strength. And I genuinely feel that's what happened with Chester and with a lot of my colleagues. People don't realize how isolating this can be and how lonely it can be and how the depression feeds your own perception of that."
Draiman described how he personally experiences these stressors. In particular, Draiman describes feeling the pressure to project an image of strength and confidence regardless of how he is actually feeling. That type of emotional suppression often worsens mental health and well-being.
"I always have to put on the game face, whether I'm in a great mood or not. And whether I'm feeling good or not feeling good, whatever the case may be — whether I like it or not, I'm the barometer by which everybody else kind of measures themselves by in the organization at times," he said. "And if I'm walking around all sullen and pouty and non-communicative, or just seem depressed, it automatically transfers. It automatically affects everyone. I didn't realize how much it did until midway through my career. You start to see it. And that in and of itself — the weight of the additional responsibility of knowing that everyone is following your rhythm, can make things worse, not better."
And while the lives of rock stars may seem very different from our own, the "game face" that Draiman describes is unfortunately very universal, as many of us suppress how we are feeling so that we may portray a certain image. Because just as rock stars are emulated and feel that they may need to portray a certain image for fear of being judged, all of us may be in roles as parents, spouses, friends, co-workers where we may feel pressure to isolate and hide our mental illness for fear of stigma.
"It certainly isn't exclusive to rock stars. It's anyone who embodies the fantasy… somebody that is not susceptible to this sort of thing, as somebody that has those superhero qualities. The parental figure that the child is looking to … you don't want the child to realize that you're not as they think you are or that you have flaws … That whole façade is maintained, that whole fantasy … of the child to the parent – that the parent is keeping the fantasy going and that everything is fine when you're not. Relationships with friends are like that too," Draiman described. "It's the worst thing in the world to know that you have a problem, try to deal with the problem, but still keep up the front to everyone around you that you don't have one. It definitely exacerbates the problem beyond belief when you feel like you can't show your hand. And the desire to continue to drown yourself in whatever it is that is available to you to mask what's going on. To either medicate or to remove yourself from society — the demon is always more than happy to help. The isolation and the loneliness that comes with it is what leads people to making horrific final decision."
Draiman and the members of Disturbed hope that by drawing attention to the demon of mental illness with the song "A Reason to Fight," they will stop the cycle of stigma of mental illness. Draiman describes the powerful moments at Disturbed's concerts captured in the "A Reason To Fight" video in which he shares that all of the members of Disturbed have direct experience with either their own or a loved one's mental illness and asks how many members of the audience have direct experience with mental illness.
"I didn't know if it would work until we tried it one night. When we have a moment in our show and I ask the audience by a show of hands, 'Who here has dealt with addiction or depression or know someone who has?' and when nearly the entire arena raises their hands — that's an incredible moment for everyone who's dealing with it. People all over the arena are sobbing, crying, smiling — it's the most surreal and powerful moment of the night at times," Draiman explained. "And I think that people were able to feel that it isn't something that isn't so uncommon, that it isn't something that they need to hold onto themselves — the burden is often too much for one person to carry. So I think that it takes community to unite people in that way. And we're more than happy to try and foster that."
Ultimately, Draiman and the members of Disturbed hope that their campaign to challenge the stigma of mental illness will make people feel less alone, and motivate them to seek out help or help others. "When we do what we do, we're trying to make people know more than anything else that they aren't alone. And this is something that so many people deal with, and so many people share, and that it isn't something to be ashamed of … Know that there are other people who feel the same way that you do. They're fighting the same fight, and it's a daily one. The biggest contributor to it is isolation and the feelings of isolation," he explained. "And you know sometimes the individual themselves battling with it doesn't have the strength they've succumbed to it so much … If there's anyone around them who's seen irregularities, or hasn't seen or heard from their friend in far too long or hasn't checked in on them. If any of the warning signs are there, don't hesitate. It never hurts to reach out to a friend to check to see how they're doing, to see if they're okay. And it's really important for us to not stand idly by. I really do believe that. I think far too many people have been far too passive about it for far too long. There's a lot you can do. Reach out to them, talk to them, spend time with them. Send them something. Just a few words every once in awhile makes a huge bit of difference. And letting someone you know that you do actually care makes a good bit of difference. Don't assume everything's fine when it seems like it's not.
"It's a common affliction, which whether we like it or not unites us in a fucked up sort of way."
Michael Friedman, Ph.D. is clinical psychologist with private practices in New York City and New Jersey. Dr. Mike is also a freelance writer whose work has appeared in CNN, USA Today, Fox News, Psychology Today and Huffington Post, and he has appeared on NPR and CBS News Sunday Morning with Jane Pauley. He lives with his wife and two children in Maplewood, New Jersey.
Disturbed 2019 North American Tour Dates
May 18 – Columbus, Ohio @ Sonic Temple
May 26 – Pryor, Okla. @ Rocklahoma
July 20 – Oshkosh, Wis. @ Rock USA
July 21 – Mankato, Minn. @ Verizon Center
July 23 – Winnipeg, Canada @ Bell MTS Place
July 24 – Regina, Canada @ Brandt Centre
July 28 – Billings, Mont. @ Rimrock Auto Arena
July 30 – Boise, Idaho @ Taco Bell Arena
July 31 – Spokane, Wash. @ Spokane Arena
Aug. 02 – Auburn, Wash. @ KISW's Pain In The Grass
Aug. 03 – Portland, Ore. @ Moda Center
Aug. 06 – Sturgis, S.D. @ Sturgis Buffalo Chip
Sept. 19 – Estero, Fla. @ Hertz Arena
Sept. 21 – Tampa, Fla. @ Amalie Arena
Sept. 22 – Orlando, Fla. @ Amway Center
Sept. 24 – Greenville, S.C. @ Bon Secours Wellness Arena
Sept. 25 – Duluth, Ga. @ Infinite Energy Arena
Sept. 27 – Huntington, W.V. @ Big Sandy Superstore Arena
Oct. 01 – Saginaw, Mich. @ Dow Event Center
Oct. 02 – Cleveland, Ohio @ Wolstein Center (Cleveland State University)
Oct. 04 – Hershey, Pa. @ GIANT Center
Oct. 05 – Wilkes-Barre, Pa. @ Mohegan Sun Arena (Casey Plaza)
Oct. 07 – Fort Wayne, Ind. @ Allen County War Memorial Coliseum
Oct. 09 – Cedar Rapids, Iowa @ U.S. Cellular Center
Oct. 11 – St. Louis, Mo. @ Chaifetz Arena
See Disturbed in the 30 Best Hard Rock Albums of 2019