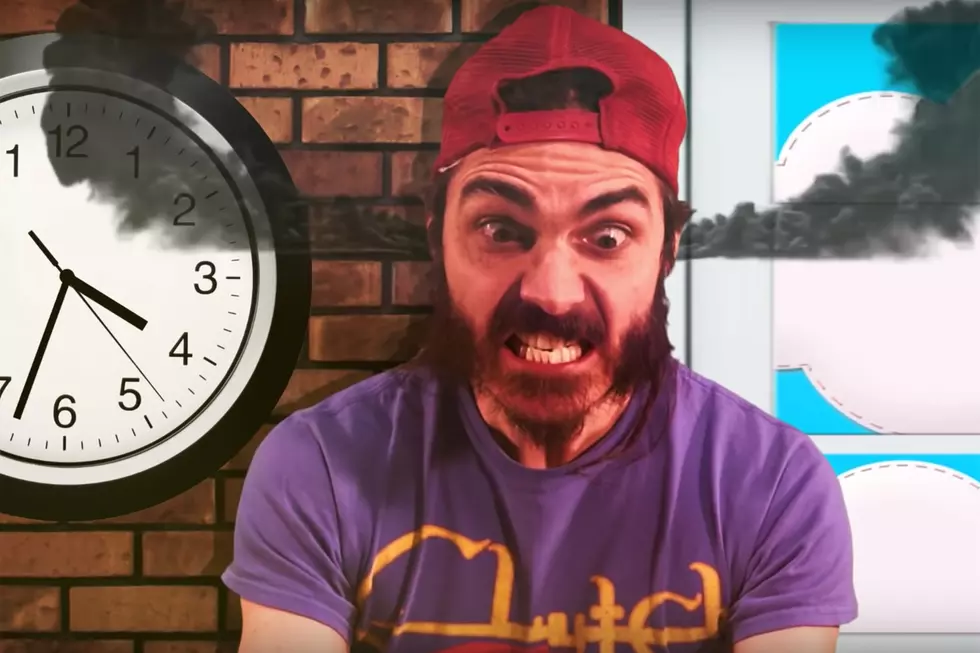 Crobot Come Out Swinging With New Song 'Keep Me Down'
YouTube: Crobot
It's been a few years and a lineup change since we last heard from Crobot, but the rockers are back with a brand new song and video for "Keep Me Down," a defiant riff-heavy rocker that shows they're ready to step back into the ring.
The band teamed up with director Mike Danger for a humorous clip that takes a shot at Internet trolls as well as their own self-image, all against a light hearted green screen backdrop. Check out the video below.
The track is their first new music in three years, and finds the current lineup of returning singer Brandon Yeagley and guitarist Chris Bishop rocking alongside their new rhythm section of bassist Eddie Collins and drummer Dan Ryan. Speaking about the song, the band describes it as "a kick to the teeth and a punch to the dick" that lets fans know that "Crobot's back and we're comin' out swinging, baby!" You can pick up the song here.
The guys have been in the studio with producer Corey Lowery working on their next record, and while no details concerning the album title or release date have been announced, the arrival of new music and a video signifies that we should have some information soon.
Another sign that things are moving along is that the band has returned to the road. The group is currently playing shows with The Damned Things. Dates can be found below and ticketing info can be found here.
Crobot With The Damned Things Tour Dates
May 17 - Chicago, Ill. @ The Bottom Lounge
May 18 - Springfield, Mo. @ Outland Ballroom
May 19 - Dallas, Texas @ Gas Monkey
May 21 - Denver, Colo. @ Oriental Theater
May 22 - Colorado Springs, Colo. @ Black Sheep
May 24 - Phoenix, Ariz. @ Tempe Marketplace
May 25 - San Diego, Calif. @ Brick by Brick
May 26 - Los Angeles, Calif. @ The Viper Room*
May 29 - Austin, Texas @ Come and Take It Live ^
May 30 - Little Rock, Ark. @ Stickyz *
May 31 - Knoxville, Tenn. @ Open Chord *
June 1 - Marietta, Ohio @ Adelphia Music Hall * *Headline dates
11 Best Stoner Rock + Metal Albums