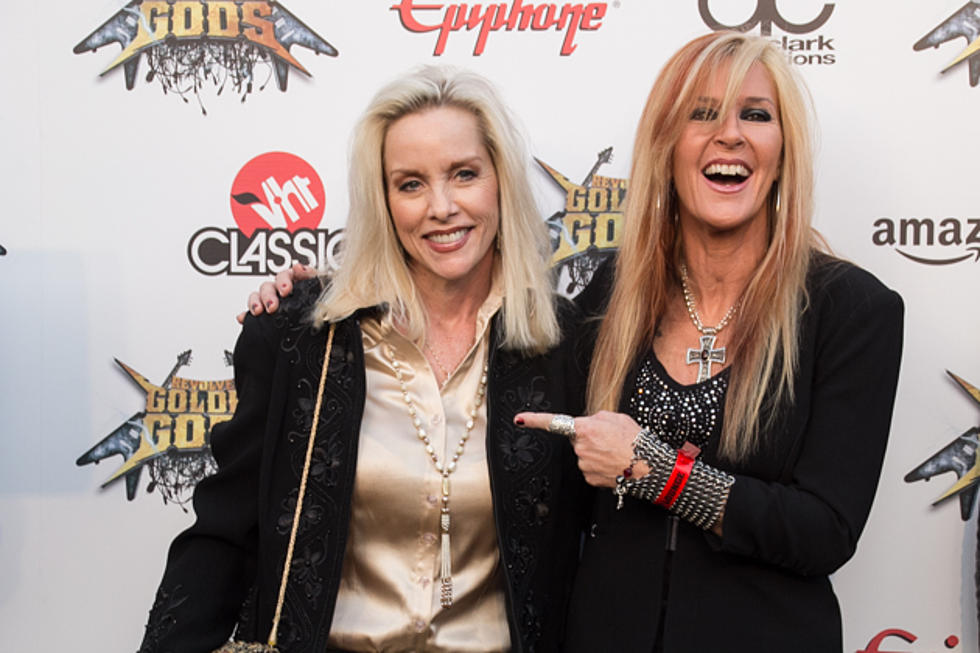 Cherie Currie and Lita Ford Talk The Runaways, Joan Jett and Influencing Women in Rock
Kathy Flynn, WickedGoddessPhotography.com
While there are plenty of women in hard rock today, they definitely owe a bit of gratitude to The Runaways. The band arrived on the scene with their 1976 self-titled debut and despite their young age and gender, both of which presented barriers at the time, they went toe-to-toe with many of the male-driven acts of the day.
After their split, Joan Jett and Lita Ford went on to have the most solo success and with Jett being awarded the Golden God honor at the 2014 Revolver Golden Gods, her Runaways bandmates -- singer Cherie Currie and guitarist Lita Ford -- turned out to support her at the event. Loudwire spoke with Currie and Ford on the black carpet of the Golden Gods about growing up in The Runaways, their reflections on Jett and the influence the band has had on generations of female rockers.
Here we are tonight in celebration of Joan Jett. Can you can share what it feels like to see Joan getting honored this evening?
Lita Ford: Well, we're here to support women in rock. We're here to support The Runaways and the legacy of the Runaways and the legacy of what we created, the path that we created. We were the ones that actually got out the hatchet and cut down the trees and carved that path and now everyone else has to walk in it.
For both of you individually, take me back to what it was like at that time being such a young girl band. I can't imagine some of what you had to deal with coming along at that time.
Cherie Currie: Well it just hadn't been done. I think it was actually just a whirlwind. From the time we actually got together, we were signed in just a few weeks, made the record in another couple of weeks and next thing we knew, we were on the road. I'd never been away from home, and Lita, I don't know if you'd ever been away from home either, and I think our first tour was three and a half months. So we had to depend on each other just to stay grounded.
LF: But we lived up to our legacy of rebellious teenage jailbait hell raising bitches from hell. We lived up to it and it was f---ing fun.
CC: We had to because we were up against a lot of guys that really I think were a little frightened, cause initially they thought we were just a novelty until Lita starts ripping on guitar. Then they realized they needed to go back and take lessons.
LF: And we always had handcuffs [laughs]
CC: You did, that was your thing [laughs]
Was there anyone who paved the way for you when the Runaways were starting out?
CC: Well Suzi Quatro, and Lita and I were just talking about that. I mean she really [was great]. I don't know what it would have been like if she hadn't been around. Because she really opened that door, but we just kind of kicked it down. But she was definitely big shoes to fill. She was awesome.
LF: But she wasn't a teenager like we were. So …
CC: Yeah, we were the first.
I have to share this but my friend's daughter, when she was 6 and first getting into 'Guitar Hero,' the song she always wanted to play was 'Cherry Bomb.' I think it's just great that even today young women and girls are still being inspired by what The Runaways did back then …
LF: Ahhh! That's awesome. Well we're flying out tomorrow to do M3 in Baltimore, Cherie and I are gonna do 'Cherry Bomb' and a few other Runaways tracks.
CC: I'm going to start to cry again. It's just bizarre [to play it again].
LF: Because immediately it's like putting on your old favorite, favorite, favorite pair of jeans that your forgot you had and you put them on again and they feel good and they fit perfect and you're like, "Oh, I forgot about these."
CC: Yeah, it's a dream come true for me. I've been dreaming for about 30 years just to see Lita again, cause I hadn't seen her and I would literally have dreams of us being onstage again. But then it would be one where I'm not wearing pants or something, because, you know, it just can't be. I just thought it was never going to happen, but I'm so blessed to have this woman in my life. She's just a wonderful friend and an amazing talent.
LF: We got to know each other all over again. It's great. It's really cool.
And bringing it back around to Joan Jett, can you give me a story of what she was like when you first met her?
CC: Oh my goodness. She was a real shy girl. She'd pull her hair down in front of her face. For me, it was David Bowie, but we'd kind of pretend play our heroes. She was Suzi Quatro, I was David Bowie and Lita was Ritchie Blackmore. So we used those personas until we found our way.
And as we look forward to tonight, there are quite a few female rockers hanging with the guys these days. Anyone from the current crop of ladies out there that you are particularly fond of?
LF: Oh I like Halestorm. I see Lzzy [Hale] with the Explorer guitar and the shorts and the boots and I'm looking at her and thinking, "Jeez, I wonder where she got that idea from." But that is the ultimate compliment and I root her on 1000 percent. She's awesome.
Right, and she did the cover of 'Close My Eyes Forever' with David Draiman last year. Are you a fan?
LF: Yes, yes, yes. Well a cover tune is something that you have to do on your own. You can't do a cover tune and try to sound like the band that originally did it. I did 'The Bitch Is Back,' but I don't sound like Elton John. I sound like Lita Ford and they did 'Close My Eyes Forever' and they sound like Lzzy and David, which is what they should do, so I think they did a good job on it.
Our thanks to Cherie Currie and Lita Ford for the interview. Ford's most recent studio album, 'Living Like a Runaway,' can be purchased here. Currie's memoir, 'Neon Angel: A Memoir of a Runaway' may be purchased here.
Watch Lita Ford Play 'Wikipedia Fact or Fiction'