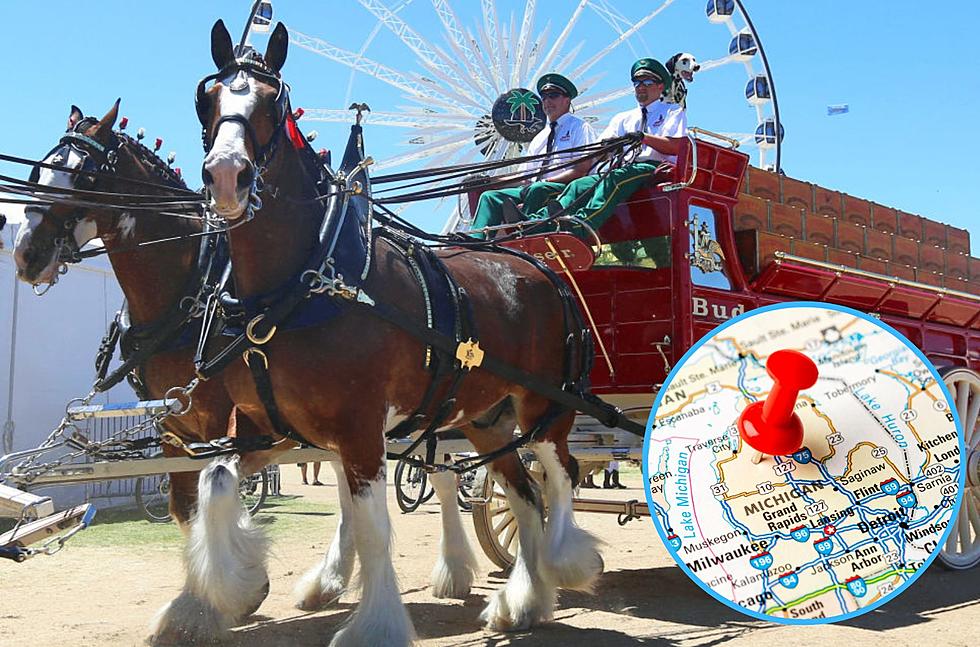 Famous Budweiser Clydesdales are Coming Back to Michigan
Getty Images, Canva
You've seen them in Super Bowl commercials and now you get to meet them in person!
Did you miss the Budweiser Clydesdales when they came to Michigan earlier this year?  Good news! The world famous horses are returning to the Mitten State this month!
In June fans of Budweiser and horses got to meet the Clydesdales in Ludington and Manistee.
Here's a look at one of the Clydedales' previous visits.
You'll have another chance to get up close and personal with the Budweiser Clydesdales in Michigan in a few weeks.
Where to See Budweiser Clydesdales in Michigan
According to ABC 12 News, here is when and where the Budweiser horses will be in Michigan:
Sharky's Sports Bar on Center Road in Burton from 7 to 9 p.m. Aug. 16
The Flint Farmers Market from 3 to 5 p.m. Aug. 17
The Lapeer Days beer tent from 6 to 8 p.m. Aug. 18
The events are free. You'll be able to grab a photo with a Clydesdale. Note that only one horse will be at each stop.
Why are the Budweiser Clydesdales Coming to Michigan?
Budweiser is working with Folds of Honor, which raises money to support fallen or disabled U.S. military service members and first responders.
You'll be able to donate to the Folds of Honor Scholarship program at the upcoming Michigan appearances.
According to Anheuser-Busch, the parent company of Budweiser, its brands and wholesale partners have raised more than $21 million to support families receiving assistance through Folds of Honor.
Do you have a favorite Budweiser Clydesdale commercial? Here are some of mine!
The Horses of Mackinac Island: 1900-1960