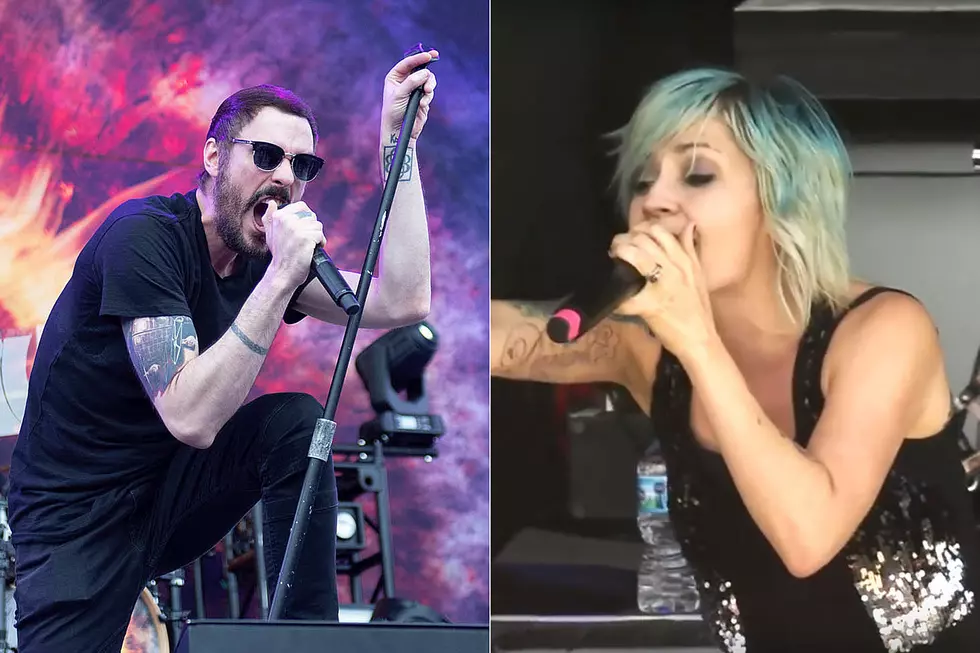 Breaking Benjamin's Ben Burnley + Ex-Flyleaf Singer Lacey Sturm May Start a Band Together
Maria Ives / YouTube
Former Flyleaf vocalist Lacey Sturm may start a new band with Breaking Benjamin frontman Ben Burnley. Sturm spoke about the potential project in a new interview, elaborating on a special musician connection the two developed on the road.
Earlier this year, Sturm toured with Skillet as a fill-in vocalist for Jen Ledger. Ledger's solo album tour had been booked to conflict with Skillet's run of dates with Breaking Benjamin, so both Sturm and a drummer were recruited to take Ledger's place.
Sturm's short stay on tour brought her much closer to Ben Burnley, as she explained to CCM Magazine. "There's definitely things we're thinking about, like a new album. There's been talk about starting a band with the singer from  Breaking Benjamin, Ben Burnley. That's exciting... I saw Ben and his wife on the road, and we had a conversation."
"I actually showed him Reflect Love Back, the soundtrack, the acoustic album, and he loved it. Then he talked with me about singing on his acoustic album, which just came out — singing on 'Dear Agony', which I think is one of their best songs... when I listened to the lyrics, I just was like, 'This is Jesus in the Garden,' and I just started crying. That's how I knew I should do it. When I was in the studio with Ben, I was like, 'Let me tell you about your song.' He goes, 'Are you going to preach to me?' I'm like, 'Do you want me to preach to you?' He's, like, 'Yeah.' I'm like, 'No, I'm not going to preach to you. You preached to me. Let me show you the lyrics in your song,' and I went through the lyrics and showed him what it said to me. He goes, 'How'd you turn my rock song into a Jesus song?'" [via Blabbermouth]
Earlier this year, Burnley teased the prospect of a possible band collaboration with Sturm. "I don't know if she'd be mad at me for saying anything about it, but me and Lacey have been talking about doing another band, putting a band together," the singer revealed. "We just wanna do, like, a record ... We've been talking a bit here and there about it. It'd just be something different. I think that'd be really cool," Burnley stated back in August.
"I was really blown away by her inflection and her style. If you think I'm unique, she is one hundred percent unique — but in a good way. Sometimes singers that are unique, for me… I don't wanna put anybody down, but sometimes people are different just to be different — it's not really good; it's just different. But she's different and… [doing] her own thing," Burnley continued, "She's a really positive person and she does put off a positive vibe, which is really refreshing, especially for me — [since] I can be a negative person," he added. "She's just a really nice, sweet, genuine person. Singing-wise, I really respect her."
Lacey and husband Josh released an album under the name Reflect Love Back earlier this year. Breaking Benjamin released their most recent album, Ember, in 2018 to positive reviews. Sturm also joined Burnley recently on an acoustic version of "Dear Agony" for a Breaking Benjamin acoustic album.
10 Christian Hard Rock + Metal Bands That Absolutely Rage