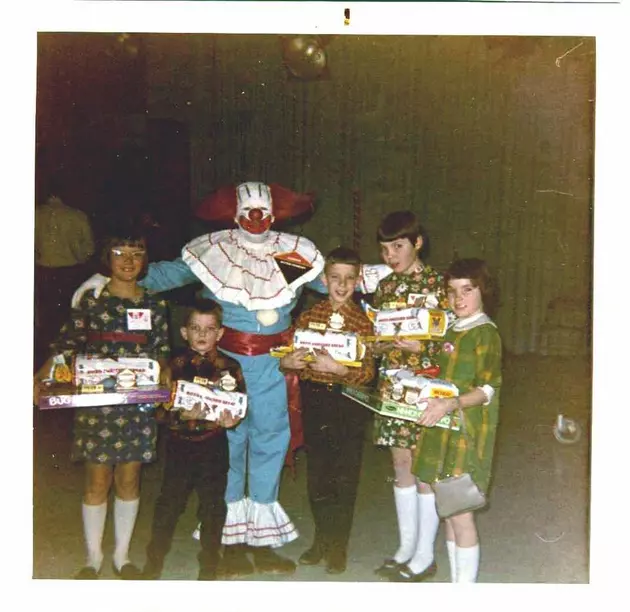 Bozo's Big Top Brings Back a lot of Memories
Jim Harryman Facebook post
Here is more classic "live and local" TV from years past, and it's non other than Bozo the Clown!
Bozo's Big Top ran for many, many years on WZZM TV13, and was a part of so many children and their families lives. Who doesn't remember being on the Bozo Show and in the Peanut Gallery.
Thanks to Jim Harryman and his post on Facebook, I was able to come up with a picture from one of the Bozo shows and happy kids with all sorts of gifts. There were always games, the Bucket Bonanza of course, cartoons and surprises. Maybe you got to be one of Bozo's Pals, too. August 28, 1999, the very last local version of "Bozo's Big Top" aired on WZZM TV-13.
Dick Richards, aka Bozo, is truly the best. He always put his heart and soul into each program, never letting down. When he got into costume, and those size 47EEE shoes, he WAS Bozo.
I think I'm right when I say that Bozo, while not on TV anymore, is still out in the community, parades, charitable events, birthday parties and more. That would mean  he's been entertaining children and adults for more than 47 years. WOW!
Do your remember his theme song? It went like this...
"Hello world, every boy, every gal.
I'm Bozo the Clown, yeah this is your old pal.
I brought you a bag full of rooting, tooting, tricks.
One, two, three, four…five or six.
The funniest man on the whole human race,
Is gonna to put a smile on your face.
Just keep laughing, get rid of that frown,
Bozo is back. The one and only Bozo the Clown."